India's Famous Diabetes Myths got busted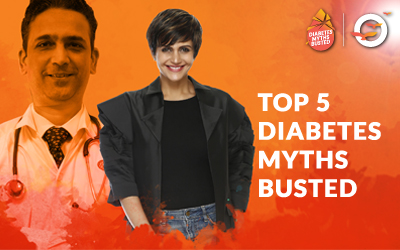 Busting Diabetes Myths with Mandira Bedi & Dr. Pramod Tripathi
It is ironic that despite India's status as the birthplace of yoga and a land where vegetarianism is a way of life, we are so heavily burdened with diabetes as to have earned the sobriquet of Diabetes Capital of the World and the numbers are only increasing. Worse, most (one in five) diabetics don't even realise they have the disease until its progress brings adverse complications and forces them on increasing medication.
The mainstream medical establishment has always insisted that diabetes is nor reversible. Yet a handful of pioneering doctors, like Dr. Neal Barnard, Dr Joel Fuhrman, Gabriel Cousenz, and India's very own diabetes reversal evangelist Dr. Pramod Tripathi have consistently proven the opposite.

As a medical doctor and diabetes specialist Dr. Pramod Tripathi has always felt the need to go beyond accepted treatments. In 2013, he founded Freedom From Diabetes (FFD) with the mission of helping diabetics sustainably reverse their diabetes. His success has been phenomenal with more than 9500+ successful reversals as of date.
The making of Diabetes Myths Busted


Despite a slew of articles, videos and presentations freely shared on FFD's website, and social media challenges, Dr. Pramod felt that more could be done to control the spread of this dread disease. His experience showed that a number of incorrect beliefs and myths were actually sabotaging treatment and forcing diabetics on on worsening spiral of medicine and medical problems.
There was an urgent need to bust these myths. But getting the message across the the vast general public, especially in India, was a challenge. He needed a special weapon. And he found that in Mandira Bedi.Celebrity presenter, chat show host, fitness enthusiast Mandira Bedi has built a formidable reputation as a social media influencer. Her health-related videos and messages on social media platforms like Instagram have won followers in the thousands. Even better, she firmly believes that lifestyle disorders can be addressed through a healthy lifestyle.

It was the ideal meeting of minds, and in 2021, at the height of the Coronavirus induced lockdown, Dr Pramod and Mandira Bedi conceived of an initiative to address India's other pandemic. And, the Diabetes Myths Busted series came into existence.

This three-part series split the myths into three categories:
overarching myths like Genetics
Diet and Nutrition related myths
myths about Fitness and Exercise.
The first session, which aired on 8 May 2021, tackled the following big five myths:
1. Diabetes is not reversible.

In fact, diabetes is totally reversible. And Freedom From Diabetes can furnish tens of thousands of proof points: diabetics who have used their protocols to successfully control, manage and reverse their diabetes.
2. Diabetes is forever

That's simply not true. With correct diet, exercise and stress control, diabetics can not just manage their diabetes but reverse it entirely.
3. A family history of diabetes mean you will suffer too.

Not necessarily. Although Type 2 diabetes has a strong genetic link the genes are dormant (not dominant). They activate only when one's diet, lifestyle and stress switch them on.
These genes can be switched off once you change your diet, lifestyle and stress levels!

4. You can live a normal life with diabetes using medicines alone

Unfortunately, modern medical science can only prescribe medicines—including insulin—that can only bring down your BSL temporarily. But they take a heavy toll on your system.
5. Lack of insulin causes diabetes

The root cause of diabetes in insulin resistance, i.e. the insulin is no longer effective in allowing glucose in the bloodstream to enter muscle cells. More insulin is not the answer. Rather, diabetics should reduce/eliminate fat in their cells. This automatically reverses insulin insensitivity, allowing glucose to enter the cells where they will be used for energy and your blood sugar levels will go down.
To learn more about such myths, watch Dr. Pramod Tripathi's interaction with Mandira Bedi in his series Diabetes Myths Busted
Also, subscribe to our YouTube and Facebook pages for getting Regular Diabetes Controlling Tips and Tricks.