Indudhar Kori: Got Rid of the Diabetic Threat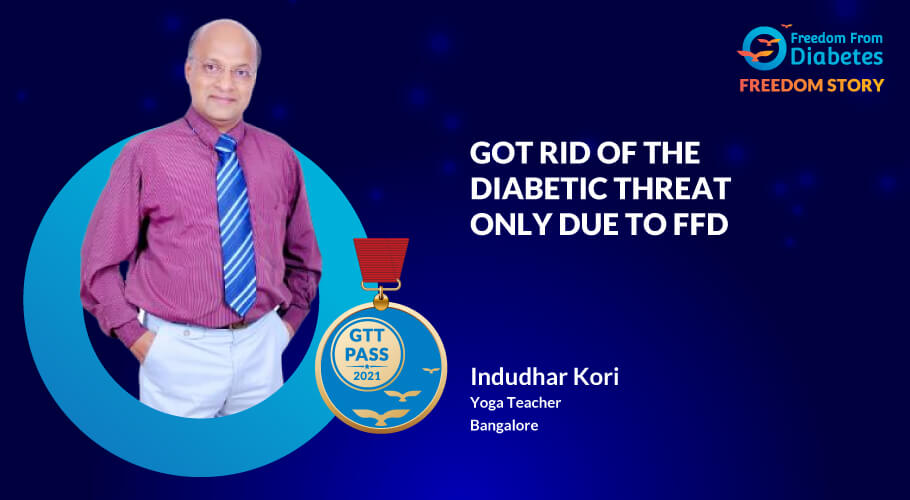 Name- Mr.Indudhar Kori
Age- 58 years
Profession- Yoga Teacher
Place -Bangalore
I was never really overweight. I was flexible too...still I became pre-diabetic! Only FFD could show me a way to reverse my pre-diabetes state and I could clear GTT twice too.
As an introduction, I am Indudhar Kori, 58 years young, Yoga teacher, from Bangalore. I also provide IT consultation.
Almost all my family members were diabetic which meant I have a strong family history of diabetes. I was into yoga and much flexible, so I never thought I would get sugar problems any time. I was wrong.
In 2006, I did a random test which revealed me to be in the pre-diabetic range. This news was quite surprising for me.
I managed to contain blood sugar with my Yoga practice since then. I also used to monitor my sugars with a self-diagnosis kit or to say a glucometer.
I always remained proactive before the disease took me up. So far, no particular problem and leading a fully normal healthy life.
Truth is, somewhere in mind, I definitely wanted to get rid of this. So, I kept looking for some solution, some way out.
Mr.Indudhar Kori
I got to know about FFD while self-searching the internet and Youtube. I wanted to try Dr. Pramod Tripati's trial session and got convinced.
I attended a Discover Reversal Session on 3rd August 2019 and immediately enrolled in HTP 49 starting from 10th August 2019.
By following the 4 FFD protocols - diet, exercise, inner transformation, and medical, I noticed my health started improving. Sugars had started falling in place.
I was 65 kg before joining FFD, I am now 62.5 kg. Dr. Malhar gave me excellent insight into "visceral fat" and how flexibility is not the only solution to beat diabetes.
I added a "Strength" perspective to my routine. Nobody gives you so much detailed knowledge about health. Me being into yoga, I thought flexibility was enough, but Dr. Malhar's inputs were an eye-opener.
I am very happy with my progress now. I got rid of the diabetic threat for a lifetime. I also cleared my GTT twice - one in the year 2019 and the second in 2021.
My BP is fully under control with the least amount of medicine; at 120/80. I am still working to know how to get rid of my uric acid problem, but I know from the inside with the right guidance from the FFD team, I will overcome this problem too.
My exercise routine consists of yoga in the morning for 1.5 hours, strength exercises like push up, mountain climbing, plank, etc.
I ensure I focus on the strength, stamina, and flexibility aspects of exercise along with meditation. I go to the gym occasionally in the evening.
Sincerely, the FFD team enlightened me on those aspects that "I didn't know that I didn't know".