Kairichi Dal | Kairichi Dal Recipe | Diabetic Kairichi Dal Recipe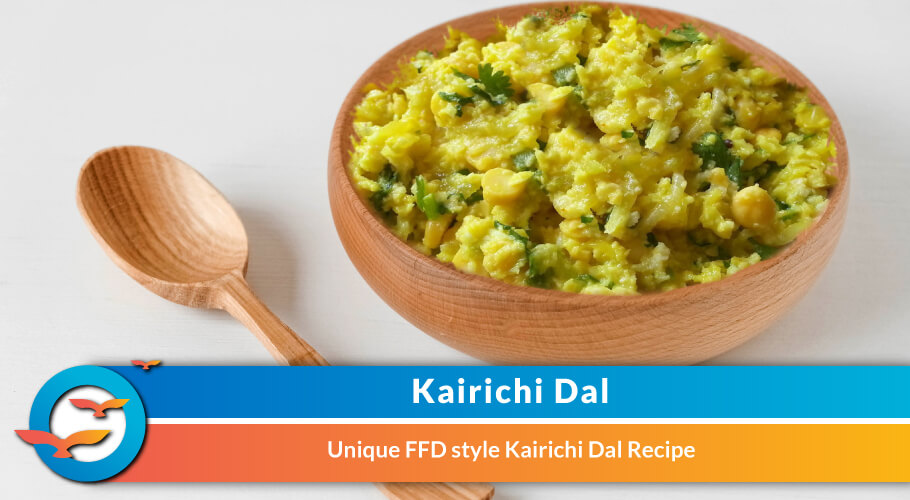 Ayurveda recommends eating seasonal and local fruits and vegetables. Seasonal food gives us life and positive energy. Hence eating according to seasons is always a good choice. Each region has its recipes based on the seasons. Maharashtra also has seasonal food recipes. Summer comes not only with ripe Mangoes but with yummy Raw Green mangoes also. Kairichi dal is one such Raw Mango salad recipe specially prepared in Maharashtra.

Can diabetics eat raw mangoes?

Raw mangoes fall in the moderate glycemic index category and hence diabetic patients can have them in moderate amounts. Plus they are rich in vitamin A and vitamin E. Raw mango helps in replenishing the reserves of sodium chloride, cures stomach disorders such as constipation, bloating, indigestion and diarrhea, detoxifies the liver all good for diabetics. Thus raw mangoes give many more benefits.
Is raw mango high in sugar?

Raw mangoes are low in calories and low in sugars. In addition to this, they are a good source of fiber. The fiber promotes better digestion and helps in balancing body weight.
Recipe Features

We all know dals especially chana dal are good for diabetes. Kairichi dal consisting of raw mango and chana dal is a wonderfully healthy combination of ingredients. Diabetics should tick the box for it.


| | |
| --- | --- |
| Course | Main/Salad |
| Cuisine | Maharashtra |
| Preparation time | 10 min |
| Serving | 2-3 |
Let us see how to make Vatli Dal?
Kairichi Dal Ingredients:
1 cup chana dal/ bengal gram dal


¼ cup grated kairi / raw mango


2 tbsp fresh scraped coconut


1-2 green chilies


1 drop stevia


¼ cup finely chopped fresh coriander


¼ tsp hing / asafoetida


¼ tsp haldi / turmeric


¼ tsp mustard seeds


1 tbsp oil


Salt to Taste
Method:
Soak the chana dal for at least 4 hours.


Drain the dal completely and grind it coarsely.


Take a bowl, add the coarsely ground chana dal, and grated raw mango to it.


Then add freshly scraped coconut, finely chopped coriander leaves, crushed green chili, salt, and stevia.

Mix it well.


Now heat up 1 tbsp oil in a small pan and add mustard seeds to it.


Once the seeds crackle, put off the flame and add turmeric powder.


Let this tempering cool down at room temperature and pour this over the raw mango and dal preparation.


Mix and check for seasoning, and adjust accordingly.


Serve this tangy tasty raw mango chutney and enjoy this spring delicacy!
You can find numerous diabetes-friendly recipes in FFD's recipe section. FFD has made an effort to make each and every recipe suitable for diabetics.
FFD's IRP is a one-of-its-kind program in the world that specializes in reversing diabetes. we have just recently crossed the landmark of making 11500+ people free of diabetes medicines and insulin. We (FFD) understand the importance of customized treatment and hence have seen to it that our team has expertise in giving customized treatment. Join our Discover Reversal Session to get a sustainable Diabetes Reversal - all good for your health!


Looking for other healthy Diabetes-friendly Recipes? Try these:

1. Vatli Dal Recipe