Lakshmi Joshi: A notable pain and diabetes reversal story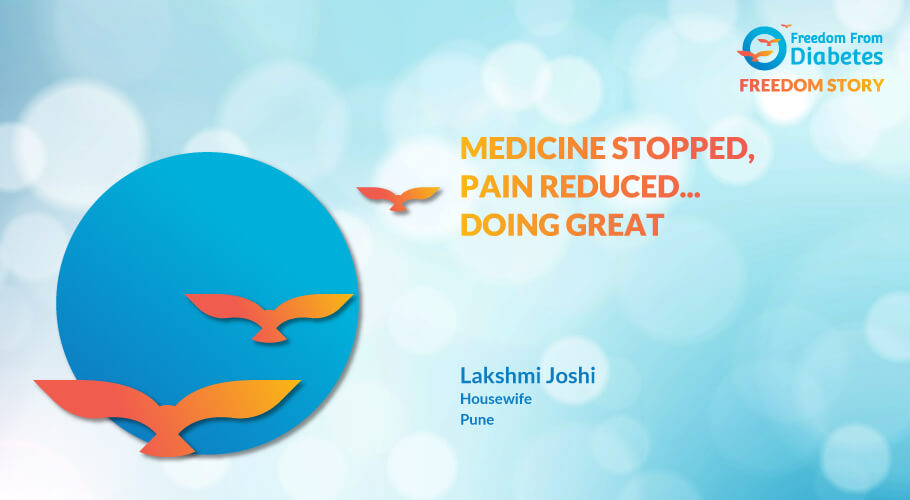 Medicine stopped, pain reduced... doing great
Name- Mrs.

Lakshmi

Joshi

Age- 59 Years Young
Profession- Housewife
Place - Pune


Hello all,
I am Lakshmi Joshi, a housewife from Pune.
My diabetes story


I was completely fine with no symptoms. Preoperative tests before undergoing a hysterectomy revealed I had diabetes. I was put temporarily on insulin but then I stopped all medicines one year before coming to FFD.
I did face problems with back pain, knee pain, and thigh pain. Bending was difficult for me. I also suffered from a chronic lack of sleep.
How did FFD happen?


It was through my daughter that I came to know about FFD. She is the one who actually motivated me to join.
Why did I choose FFD?


I never liked being on medicines. With FFD, I saw a hope of going free of medicines.
The introductory webinar by Dr. Pramod Tripathi added to my confidence and I enrolled in FFD's one-year diabetes reversal program - HTP immediately
Reversal story


My body responded very speedily to the 4 FFD protocols and my diabetes medicines stopped in just four days. This was simply unbelievable, five years of diabetes, gone in just four days.
My weight loss of 8 kg is also noteworthy. Though only 8 kg, I am free from joint pain/inflammation.
My HbA1c levels have also improved immensely.
Pain story


FFD exercise expert's guided me very well with my knee and back pain. They recommended specific exercises for the same. The exercises were a bit difficult initially but later on as the pain resolved, I could do them properly.
My back pain which was 10 on a pain scale of 1-10 has come down to 3, which is quite negligible.
My knee pain has also improved immensely. I feel better now but would like to gain some healthy weight.


Key quotes


"I am very much thankful to the FFD exercise team for this freedom from pain and to the whole team for freedom from diabetes."
Key takeaways
Medicine stopped
Weight loss 8kg
Back and Knee pain resolved