LIVING PROOF THAT FFD'S REVERSAL PROTOCOLS REALLY WORK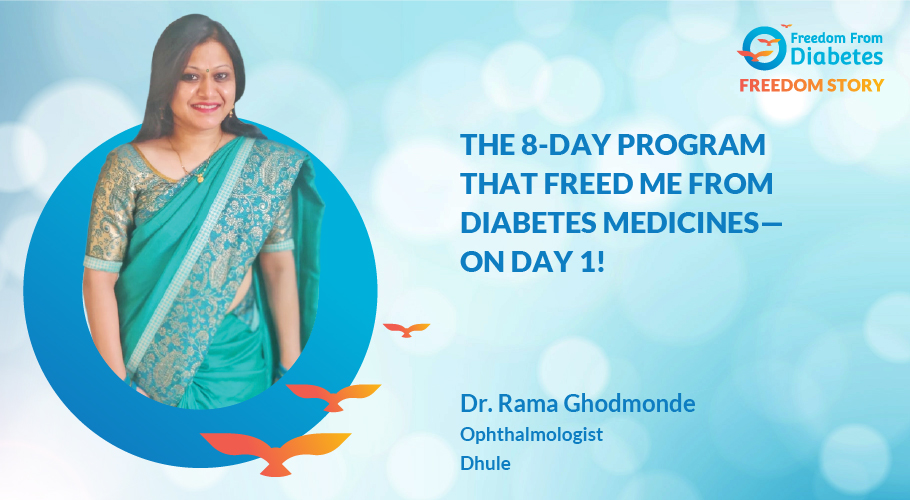 As someone with a family history of diabetes, and being a doctor to boot, I always knew I was at risk. My father contracted diabetes when he was just 35, knowing I could be next; I went for regular check ups after I crossed 35. One day, after a particularly sugar-laden lunch, I went to check my sugar level. To my horror it was around 225. My physician was shocked and immediately put me on Glycomet 500 tablets twice a day.
After 5 years with diabetes, I was diagnosed with trigger thumb—a condition that causes your finger get stuck when bent and then snap up. My condition also triggered a desire to get rid of my diabetes totally.
My brother told me about FFD, having heard about it from a friend's father who had successfully been freed of tablets.
I had earlier attended FFD's online first session in 2016, but was not able to stop milk and was also not regular about taking smoothies at the time. So I did not achieve much in terms of my diabetes and health.
My trigger thumb had triggered a desire to get free of diabetes, and I enrolled in FFD's Transcendental Residential Program (TRP) 2019. It was the TURNING POINT of my life!
TRP is truly a one-of-a-kind program that immerses participants in the 4 FFD protocols. It is an 8-day-7-night program, conducted at a beautiful place, aptly named Hidden Oasis near Pune. The program is very well organized with step-by-step guidance. It helped me realize how my diet was not proper and my stress levels were high. This was immediately corrected. I also gained a lot from the Meditative sessions with Yunus Sir. Inner transformation, which is one of the four protocols, helped me achieve a new level of mental and emotional well-being
The program's capabilities can be judged from the fact that on the very first day of the TRP, I was told to stop my medicines. I have remained medicine-free to date.
TRP changed me completely. I feel energized, my energy level is like it used to be in my 20's.
I am really grateful to Dr Pramod Tripathi, Dr Malhar, Yunus Sir and Dr Durrani. Also, my mentor Dr Jitendra Pawar who guided me all the time. And Gayatri madam the diet expert. They put me firmly on the road to a better, healthier, happier life
After TRP, my goal was to clear the Glucose Tolerance Test (GTT). I had tried it 6 months after completing TRP but could only achieve a fasting count of 101—close, but still in the Impaired Glucose Tolerance (IGT) category. But I didn't give up, and was rigorous with my diet and exercise. My hard work paid off, and I was able to clear GTT successfully in 2020.
Diabetes Reversal is really possible, I am living proof of its success.
How Freedom from Diabetes(FFD) works?
Freedom from Diabetes (FFD) is an organization that specializes in DIABETES REVERSAL and enables the creation of healthier families! It has innovated a unique approach that consists of a four-pronged protocol of DIET, EXERCISE, INNER TRANSFORMATION, and MEDICAL that is perfected over years of research and hard work. This protocol brings rather quick results and 7,000+ are free from diabetes medicines and 1,000+ from insulin completely.
Program to join - Enroll Now Join our First Online Session from the comfort of your home. FFD's ONLINE FIRST SESSION is the most important session for diabetics to open to the possibility of reversal.
For details, click at https://bit.ly/3bxW9pv