Mahesh Kulkarni: 9 Years of Diabetes Gone in Just 1 Week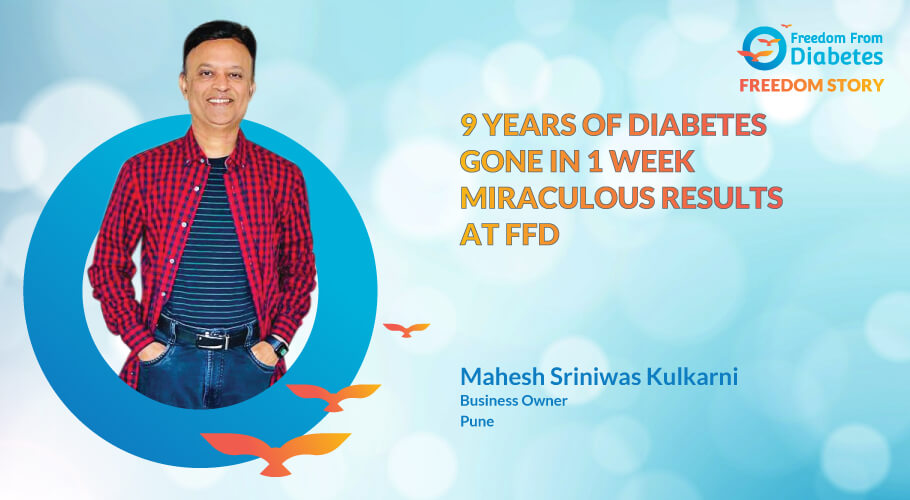 Name- Mr. Mahesh Sriniwas Kulkarni
Age- 53 years
Profession- Business Owner
Place - Pune
Every diabetic is different. The causes for having diabetes in each individual differ. Hence the treatment also differs. No one understands this better than FFD!
I own a software company based in Pune and Dallas, TX. The company is G. N. Solutions Pvt. Ltd. We are IBM business partners and Microsoft partners. I lived in the US for 15 years and then relocated back to Pune.
My diabetes was diagnosed in 2014. I was mainly in stress mode due to business and family. My father passed away during that year and it took an emotional toll on me.
I have a strong family history of diabetes from my father's side. All my 5 uncles and my father suffer from diabetes. My HBA1C went up. I used to feel tired very quickly.
A few years back, my weight dropped down. I used to do a lot of walking and have also been running marathons. Despite that, my sugar levels were always high. My cholesterol levels were high, and I was put on medication.
I never had to take any insulin. I only took Exermet 1000 (Metformin) and Fibator (10 mg) for cholesterol.
My sister is a doctor at Sancheti Hospital, Pune. She came to know about FFD through her colleague and asked me to check. I enrolled in the initial introductory session and was instantly sold by the concepts introduced in that session.
Mr.Mahesh Sriniwas Kulkarni
Both, my wife and I were impressed, and I decided to get enrolled. My medication stopped in the first week itself. It was a miracle and a dream come true for both my wife and me.
I have been religiously following all the phases of FFD and I love them. I had a dream of seeing my sugar levels below 100 which came true after joining FFD.
My HBA1C was close to 8.0 before coming to FFD. It came down to 6.0 and I am sure, it will be below 5.7. I have not tested in the last 2 months now. My cholesterol levels are getting normal, my D3 and B12 are also normal now along with Uric acid and insulin levels.
In my case, it was pretty difficult to figure out why my sugars were not under control. I was running marathons, walking, was active, still, nothing was working.
FFD's customized Diabetes treatment did wonders. FFD knows each individual's reason to have diabetes is different and treats accordingly.
Honestly, I feel great and top of the world. I do meditation regularly. I also do exercises as recommended by FFD. My weight before starting FFD was 52 kg. It has not gone too high, it is now 54. I am sure, it will go up and this will now be muscle mass rather than fatty weight.
I have religiously followed all the phases of FFD and feel blessed to be associated with Dr. Tripathi and FFD.