Manav Bansal: A story of total transformation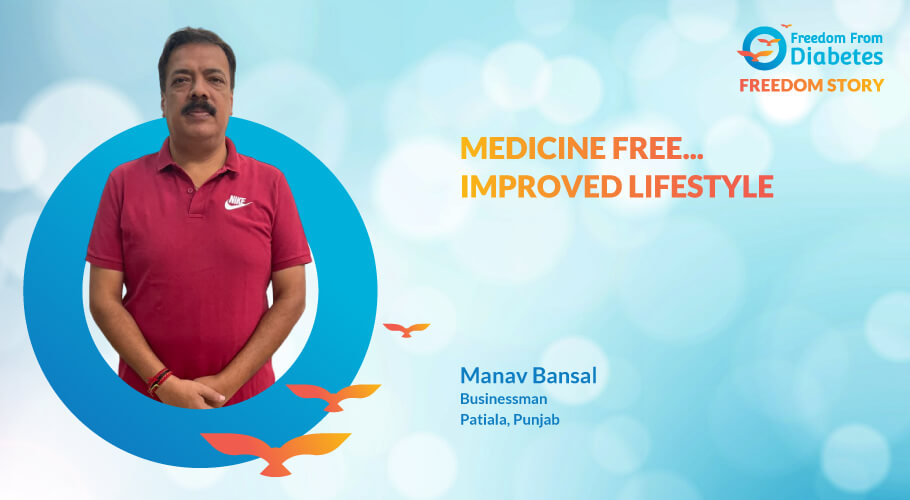 Medicine-free... improved lifestyle
Name- Mr.

Manav

Bansal

Age- 48 years young
Profession- Businessman

Place - Patiala, Punjab
Why did I join FFD?
After watching YouTube videos, I learned it would benefit me in all ways.
Introduction
Hi
I am Manav Bansal, a 48 years young businessman from Patiala Punjab. Being a businessman involves some amount of stress. Medical history-wise, my grandfather and father both suffer from diabetes. I can say there is diabetes on the paternal side.
How did I get to know about diabetes?
COVID happened and this brought along 2 gifts (negative manner) for me - diabetes and BP. My sugar levels were very high up to 450 and so was immediately started on insulin. After some control, was shifted to medicines. All this was very difficult to digest mentally.
Difficulties faced
I did not face any major problems due to diabetes as it was just recently detected in November 2020.
Mr. Manav Bansal
How did I get to know about FFD?
A friend of my father-in-was already a participant in Freedom from Diabetes. It is from him I first came to know about FFD.

I watched several YouTube videos after that, which were quite convincing. Later on, I discussed this with our doctor friend Dr. Aman about this type of treatment. He and my wife both inspired me to join.
My FFD journey
I attended the introductory session of Dr. Pramod Tripathi named DRS first and then joined the FFD diabetes reversal program HTP batch 80.
Everything about FFD's line of treatment is scientific and natural. I was given a customized diet and exercise plan for me which is amazing.
Within 3 months all my medicines stopped. My initial weight was around 98 kg which has now come down to 85 kg. It is a good 14 kg of weight loss. There has been a remarkable improvement in waist size too. It has reduced from 38 to 34 and now I wear XL size T-shirts instead of XXL.
Impression
FFD has changed my whole lifestyle, only for the better. Tiredness has disappeared, become more, energetic. I have started exercising now. Can compromise on food which was not possible earlier.
It's a great feeling overall.
Key Takeaways
Freedom from medicine
14 kg weight loss
Improved lifestyle