Medicine free and 10 kg weight loss...and a lot more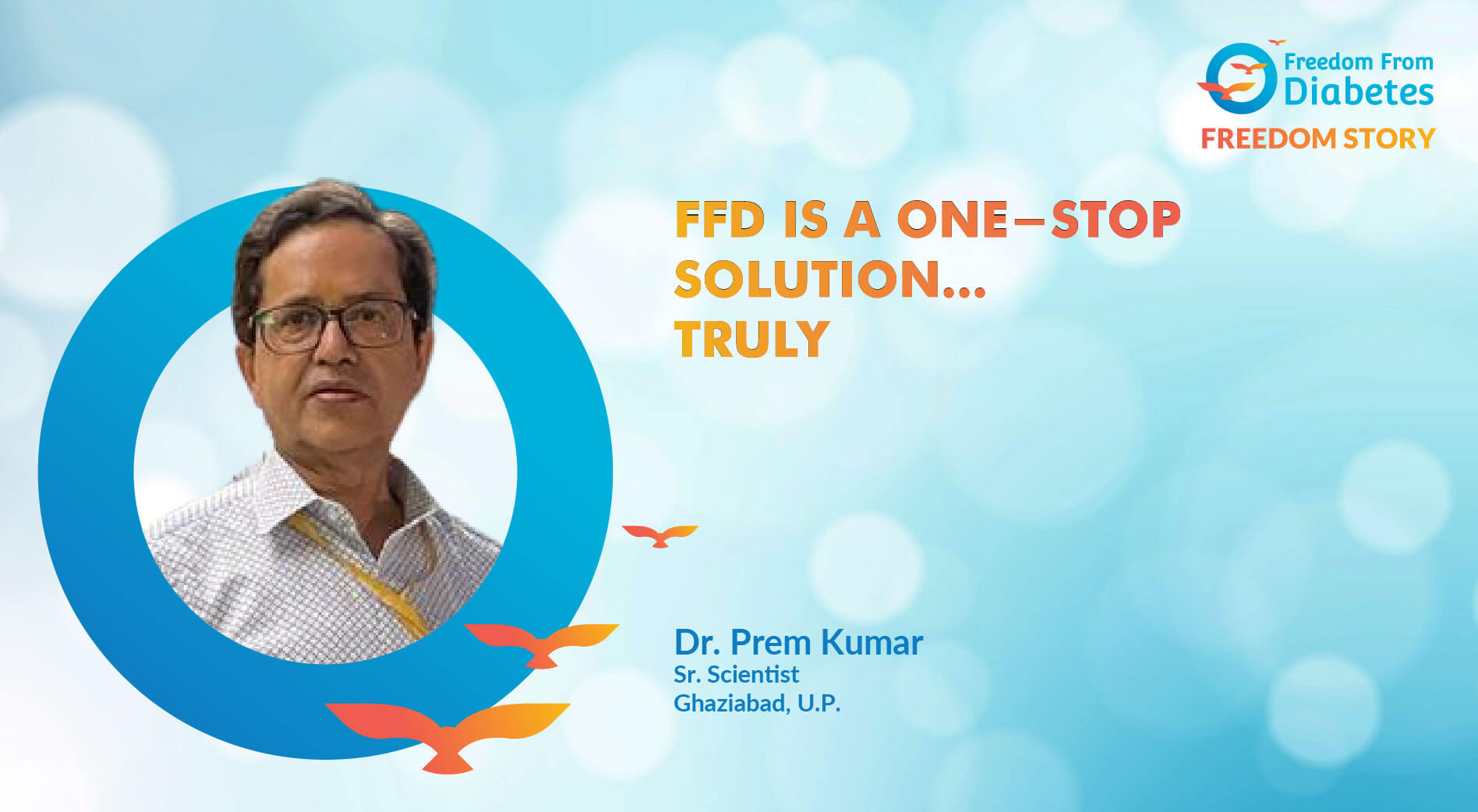 Name-

Dr

.

Prem

Kumar

Age- 59 years
Profession- Sr. Scientist

Place - Ghaziabad, U.P.
Freedom from Diabetes' main area of work is Diabetes Reversal. But it does not stop here...once you join it, you see a remarkable improvement in your overall health. I am Dr. Prem Kumar, 59 years old, working as a senior scientist in the Central government, from Ghaziabad.
Even though there is no family history of diabetes and hypertension, unfortunately, I got both. 2015 was the year that revealed I suffered from high cholesterol and blood pressure problem. Was started on medicines for those.
2016 routine medical check-up revealed me to be a diabetic too. I did suffer from bilateral kidney stones also.So, the last 5-6 years were not very good health-wise.
My research on the internet, led me to Freedom from Diabetes which is the best thing that happened. I attended the August 2021 Discover Reversal Session of Dr. Pramod Tripathi . It was a very educative session and inspiring session. I soon joined the FFD diabetes reversal program - HTP batch 73.
As our program began, I realized, that FFD has evolved through very clear diet, exercise, inner transformation, and medical protocols that are facilitated by experts to provide step-by-step guidance.
As I have a history of kidney stones, the very first instruction given to me was about renal diet which was simply great.
Dr. Prem Kumar
My primary reason to join FFD was to reverse diabetes which happened positively. Surprisingly, I got the good news on the very 7th day of joining my program. My happiness had no leaps and bounds.
The program just did not stop at diabetes, it helped me in other aspects too. My cholesterol medicines have reduced to half now and I am pretty sure I will get rid of BP medicines also.
I am proud to share that I could successfully do 60 hours of water fasting. FFD has proved that diabetics can fast under proper guidance.
My weight has remarkably reduced now, I am 10 kg less than earlier. I am very happy with the results and wish more and more success to FFD and Dr. Pramod Tripathi sir.