Mohamed Kaleem Ulla: An inspirational freedom story from Bahrain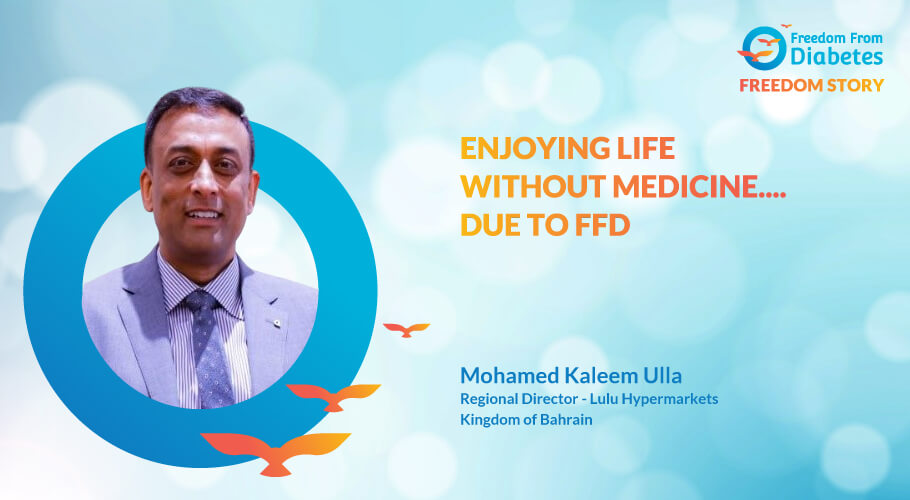 Name- Mr. Mohamed

Kaleem

Ulla
Age- 55 Years Young
Profession- Regional Director - Lulu Hypermarkets

Place - Kingdom of Bahrain
I joined FFD because


I wanted to defeat diabetes and live my life freely without depending on medicines.
Introduction
Hello Friends
I am Kaleem, 53 years young residing in the Kingdom of Bahrain. I started my career in the Middle East 23 years back and am working for one of the largest retail groups as a regional director.
Although my work schedule is rather hectic, I must admit, I enjoy my work.
Medical history-wise, my parents were diabetic. My father recently passed away due to diabetes and other related complications.
This is how I came to know I have diabetes


In 2018 my medical checkup showed high blood sugar levels which earned me the diabetic status.
Mr. Mohamed Kaleem Ulla
Difficulties I faced


As my diabetes was under control, I didn't face any major issues.
Introduction to FFD


Luckily I spoke to friend on mine who happened to be an FFD'ian. He recommended me to join the one year program and get free!
FFD and me
The first step after attending DRS the introductory session of Dr. Pramod Tripathi was to enroll in the FFD diabetes reversal program HTP.
My journey was challenging initially. I soon realised that one needs to invest time and follow a strict diet & exercise plan as instructed by the FFD Dietician and exercise expert.
Along with these I understood the importance of Inner transformation.
I also lost around 10-12 kilograms. Though, there has been concern from my family members & colleagues about my sudden weight loss, I have convinced them that I am alright and healthy. I know that this is just in the process of reversing diabetes.
I am happy that my medicines have stopped in just three months of joining HTP and my HbA1c stands between 5.5 – 5.7 which is normal.
I became free from medicines and am proud to say, I have been able to maintain it.
I am extremely happy to share that I passed my initial GTT tests too.
Impression
After having gone through this incrdible program I must say I feel energetic, optimistic, and 20 years younger than before, both mentally and physically. Now I can concentrate more on my day-to-day work not constantly worrying about my health.
Along with my diet plan, I have a full week of exercise plan (2 days of Gym, 2 Days of Yoga classes, 2 days of badminton & a day of cycling or 10 km walking). This is my routine which I follow strictly.
I would like to thank my family, especially my wife Ayesha for fully supporting me in my diet plan. She took a lot of effort to implement it. She even cooked separate food for me when we used to go to our friends' parties.
Finally, I would like to thank Dr. Pramod Tripathi, Dr. Smita, Dr, Srishti, Dr. Swathi & Dr. Monica who guided and stood by me in this journey.
Takeaways
Medicine free
12 kg weight loss
Feeling energetic and optimistic