Mr. Krishnan Sudarsanam: I reversed insulin and regained health ...with FFD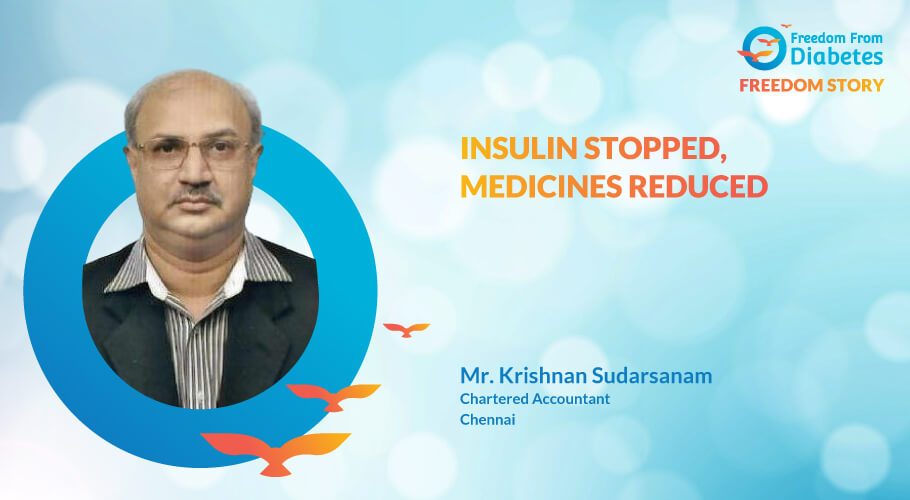 Insulin stopped, medicines reduced
Name- Mr.

Krishnan

Sudarsanam

Age- 61 Years Young
Profession- Chartered Accountant
Place - Chennai
Hello all,

I am Krishnan Sudarsanam a chartered accountant and company secretary from Chennai.
Why did I choose FFD?


I was on insulin and wanted to stop it somehow!
Diabetes story


The dual roles of a chartered accountant and a company secretary have been stressful professionally, but I enjoy it. Heredity-wise, there is diabetes on my paternal side. I think these two factors led me to this disorder.

My diabetes was diagnosed in 2012 when I experienced sudden weight loss. Tiredness was another symptom. Initially, was managing with medicines but the year 2021 gave additional bad news. I was put on insulin post-COVID treatment when I needed steroids.

Mr. Krishnan Sudarsanam
Introduction to FFD


FFD was introduced to me through a friend of mine. It raised hopes of becoming free of insulin and medicine and I joined the FFD diabetes reversal program HTP batch 80 soon after attending the webinar of Dr. Pramod Tripathi.
Reversal journey


Before joining the FFD program I was on 4 units of insulin along with two tablets. The good news of the stoppage of insulin came to me within 19-20 days and I was on top of the world. Finally, I was off insulin which was my primary aim to join FFD.

Diabetes tablets have reduced remarkably from 2 tablets in a day to just half a tablet. I am confident that with FFD, I will be soon medicine free too. There has been improvement in other health parameters also. My blood pressure is under control. Weight-wise, there has been a 5 kg weight loss. I am much better now.

On the exercise front, I follow all the instructions of FFD exercise experts and they have been a great support.

Key quotes


"FFD has helped me get out of the shackles of insulin. "

Key takeaways
Insulin stopped
Medicine reduced
BP under control