Not only Diabetes Medicine stopped but Thyroid in control too!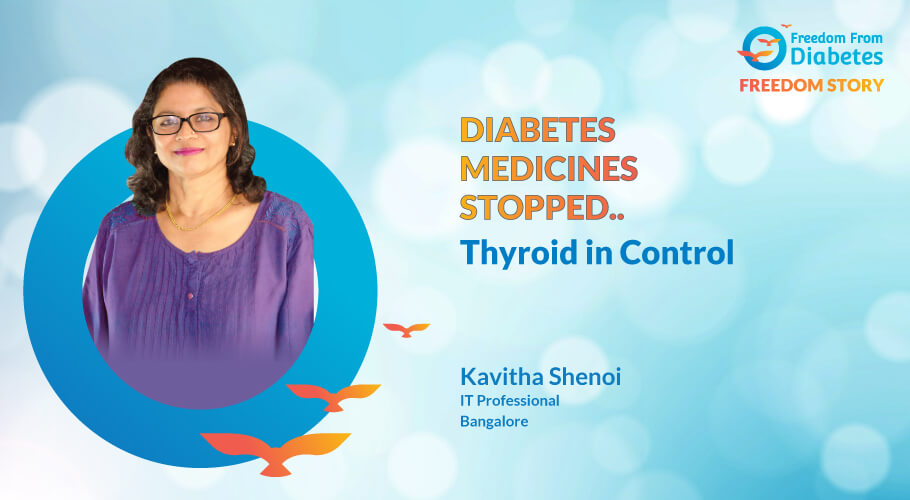 Name- Mrs.Kavitha Shenoi
Age- 53 years
Profession- IT Professional
Place - Bangalore, India
I am Kavitha Shenoi, 53 years young Electronics Professional, Personal Excellence trainer presently authoring a book.
In the year 2017, all of a sudden while shopping I felt extremely dizzy and had to squat down to prevent myself from falling... subsequently, while checking my health, to my surprise I got to know I was severely diabetic.
What was really worrying me was that I had no apparent symptoms of diabetes. Although my mother is diabetic, never thought one day I would face it.
That was the beginning of an annoying journey of diet restrictions, low energy, and new medicines added along with the one I was taking for hypothyroid. Note that these medications can only control the disease to some extent.. health deterioration was inevitable.
To tell the truth, I never felt allopathic medicines could provide relief from chronic health conditions. Didn't have much faith in them for diabetes and was always looking for effective alternatives with a holistic approach.
So, I consulted Dr. Nanditha Shah (Mumbai) online who asked me to follow a vegan diet and exercise. So, I substituted Soya milk for cow's milk and let go off all dairy products (one of my favorites), reduced oil in my diet, and moved to a lifestyle of healthy diet and exercises from a sedentary one.
A vegan diet did me real good and eventually, in 4-8 weeks my diabetic medication was stopped. However I could not sustain the diet for long and unfortunately, my sugars began to fluctuate.
In a year or so, I was back on Metformin tablets, low energy, dryness of mouth, tingling fingertips, and more. My health condition began to annoy and worry me, causing enough stress by itself.
Mrs.Kavitha Shenoi
In 2019 while browsing YouTube videos, I came across a video of Dr. B. M. Hegde. He was the chief guest in one of the FFD's Muktotsav. There I got a ray of hope to reverse diabetes rather than manage the disease and I was motivated enough to join FFD.
FFD's Diabetes Reversal protocol consisting of a balanced diet, exercise, inner transformation, and medical is amazing.
It really gave me the results. My diabetes medicines stopped within 3-4 weeks of starting the FFD's Holistic Transformation Program. I lost 10-12 Kg of weight in 3-4 months
The FFD diet and exercise protocol has brought down my weight to 59 kg which puts me in a good BMI category. This weight loss has improved my agility and I feel fresh like never before. I follow the regime prescribed by my dietician regularly.
I am still on thyroid medication (with a balanced thyroid level) but very happy as I am free of Diabetes Medicine. My overall journey is super awesome, I do tell about FFD to my family & friends….trying to spread awareness.
Nowadays, I feel so happy energetic, and in great health. I am about to publish my book. As I am very much a foodie, I eat what I feel, but yes, of course, I follow the protocols.
I wish that the entire FFD family will continue this awesome job of ridding India of diabetes. My sincerest regards, respect & A Big Thank you to Dr. Pramod Tripathi for starting this diabetes reversal journey for the world.
Thank you so much Sir and wish you all abundance in life.