Mrs. Shikha: 11 Years of Diabetes Reversed in Just 1.5 Months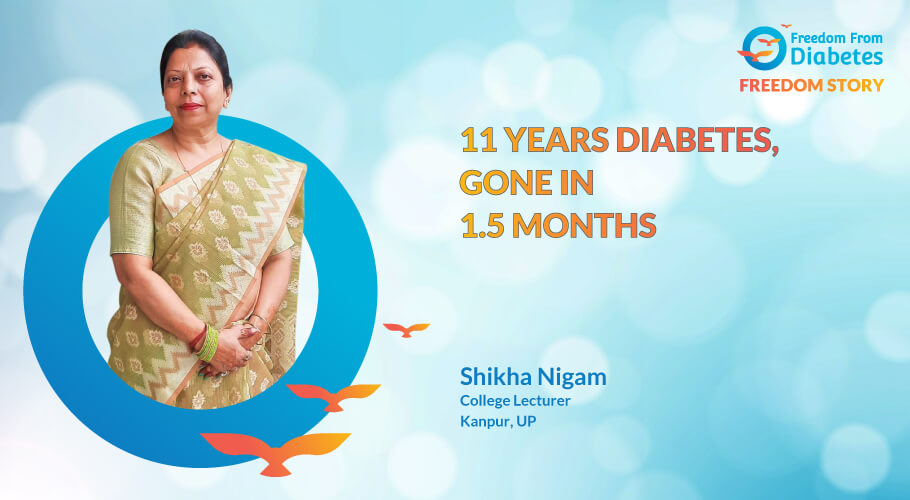 Name- Mrs. Shikha Nigam
Age- 55 years
Profession- College Lecturer
Place -Kanpur, UP, India
FFD has taught me to be aware of my own self, to create goals, and finally achieve them.
Hello, myself Shikha Nigam, 55 years young, Lecturer in Kanpur college. Talking about my family history of diabetes, my parents and siblings have it. So I was aware that I would be a Diabetic at some point. I understand that we should not intrude on the negative, but the truth is the truth.
Over to my fear, in 2010, I had a urine infection that would not go away despite my best efforts, so my family doctor advised me to go for a check-up, and it was there that I found my diabetes.
There was not just one problem, but a slew of several. Obesity, and especially the inability to work as a working woman, fatty liver grade 1, acidity, hypothyroidism, hypertension, joint pain, etc.
So, I was on thyroid medicines (since 2008), diabetes and hypertension medicines since 2010, and medicines for high cholesterol since 2016. The only thing that was consoling was I never had to prick myself, by injecting insulin.
While surfing on Facebook, came to know about Freedom from Diabetes, and out of personal interest, I wanted to learn more about it.
I really wanted to be free of medicines as I had to take tablets three times a day. So, when I learned about it, all I wanted to do was join FFD and enroll in the program.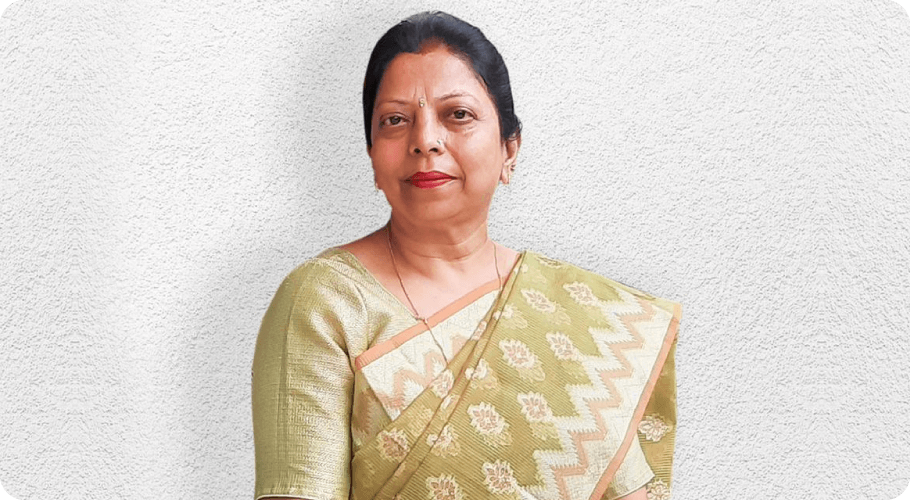 Mrs.Shikha Nigam
Dr. Pramod Tripathi's online session on diabetes reversal was astounding. The force of his words inspired me to believe in myself. Soon, I enrolled myself for the Holistic Transformation Program (HTP) batch 61. It's been a fantastic ride with FFD.
I found all 4 protocols to be so powerful and effective that my diabetes medicines of 11 years stopped within 1.5 months. My weight loss has also given me a lift; I used to be 72 kg and now I am 56 kg, 16 kg lighter!.
It is a journey that will continue to transform me not just outwardly but inwardly too. The Inner Transformation phase has converted me to the point where I tell myself, "Eat to live, don't live simply to eat!!"
In the eyes of many, I have become an ICON...believing in myself and leading a life without the use of diabetes medications. My hypertension, cholesterol, and thyroid medicines are now reduced to a minimum. My fatty liver issue is now resolved.
My gratitude to Dr. Pramod Tripathi and the dedicated team of FFD is limitless, with a special mention for my mentor, Sri Mahesh Chandra Dhebe. In him, I have met a true buddy.
Thank you, FFD team.