Neha Dasadia: An inspiring reversal story from Gujarat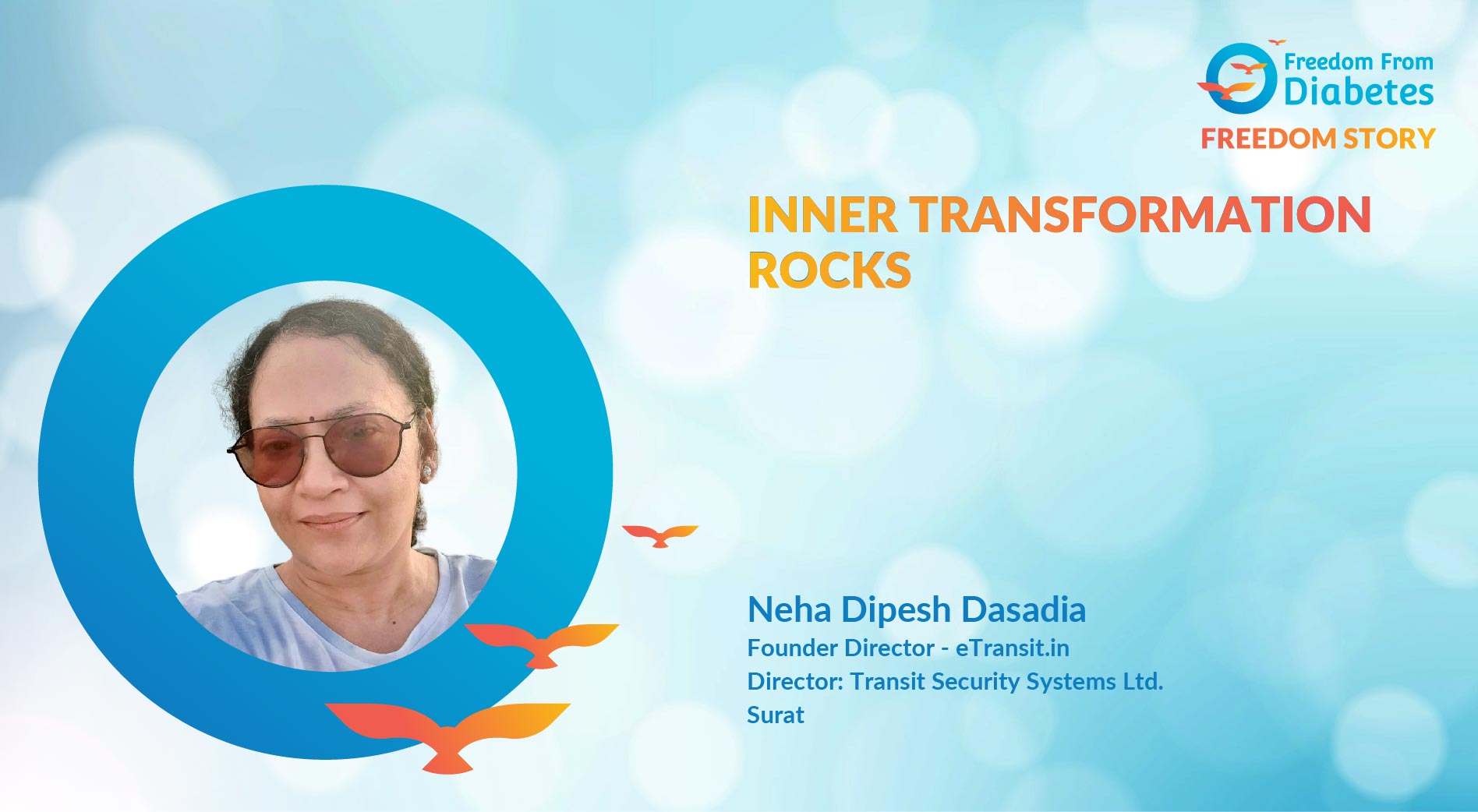 Inner transformation rocks
Name- Mrs.

Neha Dipesh Dasadia

Age- 51 Years Young
Profession- Founder Director - eTransit.in
Place - Surat
Hello all,
I am Neha Dasadia, from Surat, Gujarat. I am the founder and Director of eTransit.in and director for Transit Electronics Ltd.
Why did I join FFD?

I believe impossible itself means I M Possible…and one should explore every option when one is faced with adversity.
Diabetes story

In the year 2021, I faced issues of feeling extremely fatigued all the time. There was weight loss, blurred vision as well as typical restlessness and brain fog.
During the complete Health check-up, my HbA1c was found to be high 8.3, and diabetes was confirmed. Lastly, the COVID lockdown was very hard on me and I faced a lot of issues during that time.
Difficulties faced

Severe weight loss, fatigue, lack of concentration, unable to perform my daily tasks. My vision was also affected so much that it made me put on eye drops frequently.
How did FFD happen?

While browsing, I watched Dr. B. M. Hegde's video where he mentioned Dr. Pramod Tripathi I then visited the YouTube channel and found it would help me as there were perfectly logical and scientific explanations for every step.
I was amazed to see the energy level of the people being interviewed as well as Doctor himself- it just made me dream- can I be like this again?
Mrs. Neha Dipesh Dasadia
FFD journey

I enrolled myself in the FFD diabetes reversal program HTP batch 76 and began my beautiful journey. I feel smoothie is the true fuel of one's body.
FFD has helped me improve my lifestyle and taught me about appropriate portion sizes and enjoying all food while being disciplined.
My sugars are normal without medicines now. And the pigmentation on my face is gone… which was told to be irreversible. My vision has improved.
The breakeven point was "Inner Transformation". The ho'oponopono prayer, journal writing, positive affirmations, and SAAF goals all were amazing.
During this process, I was able to conceptualize and launch the startup ( which is DPIIT recognized) -a commercial online platform to offer services as well as a training center.
Thanks to FFD- and the powerful inspiration from Doctor Tripathi. I have read almost all the books he recommended and also tried to implement them.
Key quotes
I believe the "Body is a machine which has an amazing capacity to repair itself given proper nutrition and condition"
" If it is a lifestyle disorder then logically there must be some way out which I found in FFD"
And Trust The Process…
Key takeaways
Medicine stopped
No LPP (Lichen Planus)
Improved lifestyle