Never thought, I could get rid of my 10 years of diabetes within 8 days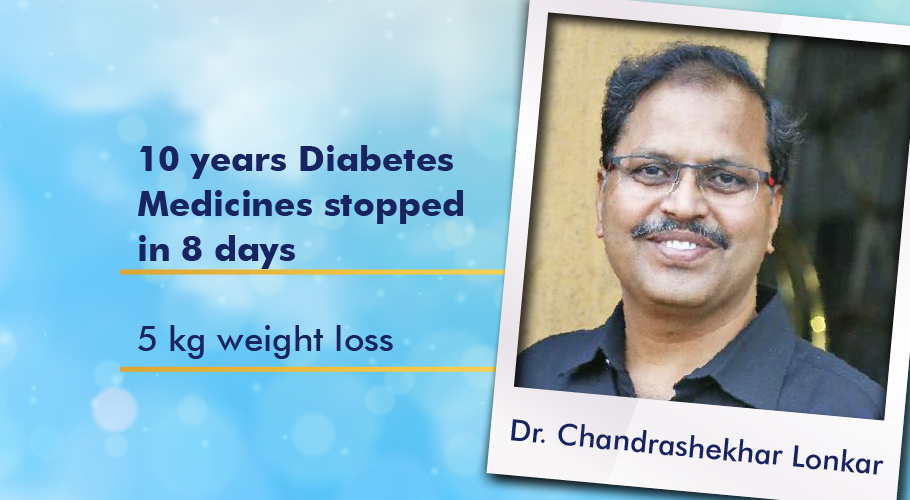 Dr. Chandarashekar Lonkar, 52 years old, Doctorate in Materials Science in Pune.

My diabetes was detected long ago in 2007 and I was started with a small dose of Metformin.
In due course, it increased to Metformin 500mg+Glimepiride 1mg thrice a day. In spite of being on these tablets, my BSL was uncontrolled and unmanaged, especially on holidays.
I used to get exhausted in the afternoon. Other problems like weakness, stomach upset, laziness, etc. were also affecting me a lot. Now the time was to go for a higher dose.
The thought itself was very upsetting.

At that time, I happened to read Mrs. Vasudha Chavan's success story.
She suggested I attend a basic Diabetes Reversal program of FFD. On 31st January 2017, I attended a 2-hour session with Diabetes specialist Pramod Tripathi which created some hope in my mind.
I started taking the smoothie and suggested diet from 1st February 2017. Within eight days only that is 9th February, I was told to stop diabetes medicines. I had also lost about 5 kg of my weight. Now, I feel very energetic throughout the day and am enjoying my life to the fullest.

I never thought I could get rid of my 10 years of diabetes medicines within 8 days by making changes in diet and exercise as suggested by FFD. FFD way has done the magic.

Thanks to Dr. Tripathi and Mrs. Chavan.