Nutriorg Diabetic Care Juice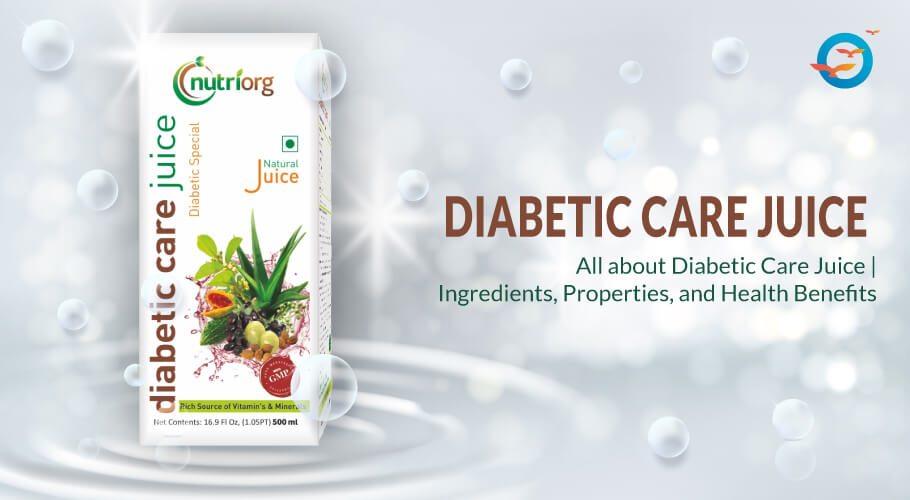 About "Nutriorg Diabetic Care Juice":

There are several common plants, fruits, and herbs that are reputed to have uncommonly powerful healing properties. Natural produce like a Bitter Gourd- Karela in Hindi, Black Plum- Jamun in Hindi, Indian gooseberry- Amla in Hindi, Gymnema Sylvestre- Gurmar in Hindi, Terminalia Chebula- Harad in Hindi, and aloe vera are particularly revered for their ability to lower blood sugar levels (BSL). These plants are often used in Ayurvedic preparations to treat a host of health conditions.
Nutriorg Diabetic Care Juice is perhaps the only one that blends all these ingredients in potent preparation that has been well received by consumers for its ability to lower blood glucose levels.
Ingredients of "Nutriorg Diabetic Care Juice":

Bitter Gourd, or karela as it is known locally, is a spiky green vegetable with a particularly bitter taste. The plant, which is known for its BSL lowering properties, is a staple vegetable preparation in Indian households, where it is also consumed as a juice. In addition to helping lower BSL, karela is said to offer a number of benefits from helping in weight loss to reducing cancer risk.
Karela is low in carbohydrates & calories and high in fiber, which makes it a good addition to the diabetic diet. The high fiber content helps induce a feeling of satiety, which can curb hunger pangs. Fiber is also good for the digestive tract.
The vegetable is rich in Vitamins A & C, as well as minerals like potassium, folate, zinc, and iron. It also contains a broad spectrum of antioxidants, such as catechin, gallic acid, epicatechin, and chlorogenic acid. These nutrients give it a diverse list of health benefits, from enriching hair to detoxing the liver to building overall immunity.

Jamun, or black plum as it is known locally, is a succulent purple-colored fruit, native to India. It has a distinctive sweet and tart taste. The fruit is loaded with antioxidants, calcium, phosphorus, flavonoids, and micronutrients like sodium, thiamine, riboflavin, carotene, fiber, niacin, and folic acid.
These nutrients have made it a common ingredient in Ayurvedic treatments for many health conditions such as heart disease, diabetes, infections, asthma, stomach pain, and flatulence, among others.

Amla, as the Indian gooseberry is known colloquially, is another fruit known for its powerful anti-diabetic properties. Studies suggest that amla can help prevent pancreatitis (a condition that affects the pancreas ability to make insulin).
Amla contains chromium, a trace mineral needed in the body to regulate metabolism, which helps burn calories and regulate BSL. Amla's high content of Vitamin C and several other antioxidants reduce inflammation in the body and give it powerful immunity-boosting properties.

Gurmar or Gymnema Sylvestre, to give it its full medical name, is a perennial plant endemic to India, Africa, and Australia. It contains gymnemic acid, a compound that suppresses the taste of sugar. This ability gives it its name and accounts for its use as an anti-diabetic formulation. The name gurmar, literally means sugar destroyer, and rightly so. Merely chewing on its leaves is said to temporarily numb taste buds, which effectively destroys any craving for sweets.
Gurmar is effective in flattering BSL spikes and improving insulin response to food. In addition to its anti-diabetic properties, it promotes weight loss by inducing satiety. It reduces LDL cholesterol levels, which helps lower the risk of atherosclerosis, heart attacks, and strokes.
5. Harad (Terminalia Chebula)

Harad, aka, Terminalia Chebula, is an ayurvedic herb with extraordinary health benefits. The harad plant is native to the Middle East and tropical countries like China, India, and Thailand. Harad is one of the ingredients of the popular ayurvedic formulation Triphala, used to treat some stomach disorders. Harad contains many beneficial nutrients including phenolic acids, benzoic acids, cinnamic acids, flavonoids, sterols, and glycosides. There are powerful micronutrients that give harad many medicinal properties, including
Anti-inflammatory, antioxidant, antimicrobial, neuroprotective, immunosuppressive, anti-viral, and anti-diabetic.
6. Aloe vera

Aloe vera is a succulent plant that flourishes in tropical climates, where its juice has long been used to treat a variety of health problems. The juice of the plant is used orally and topically. Aloe vera juice contains a high proportion of polyphenols—an antioxidant group with strong anti-inflammatory properties. Aloe vera juice is often used topically for skin disorders, however, consuming its juice is also said to improve collagen production and reduce wrinkles. Consumption of aloe vera juice is said to improve blood sugar levels.
Nutriorg Diabetic Care Juice, through its unique combination of bitter gourd (karela), black plum (jamun), harad, Indian gooseberry (amla), Gymnema Sylvestre (gurmar), and aloe vera juice, is a popular over-the-counter formulation used to manage blood glucose levels.
The combined effect of the potent ingredients in this formulation is said to help boost overall immunity as well.
Consumption
Stir 15-20 ml (~1 tablespoon) of Nutriorg Diabetic Care Juice into 200 ml of lukewarm water
Mix the decoction in a non-metallic pot and consume it on an empty stomach twice a day—in the morning and evening.
Thank you for reading the blog hope you gained the insights which you are looking for!


Disclaimer
The above information has been provided in good faith. The authors make no claim about the product. Please consult your doctor or a trained medical professional before making any dietary/pharmacological changes.