Only FFD Could Make It Possible!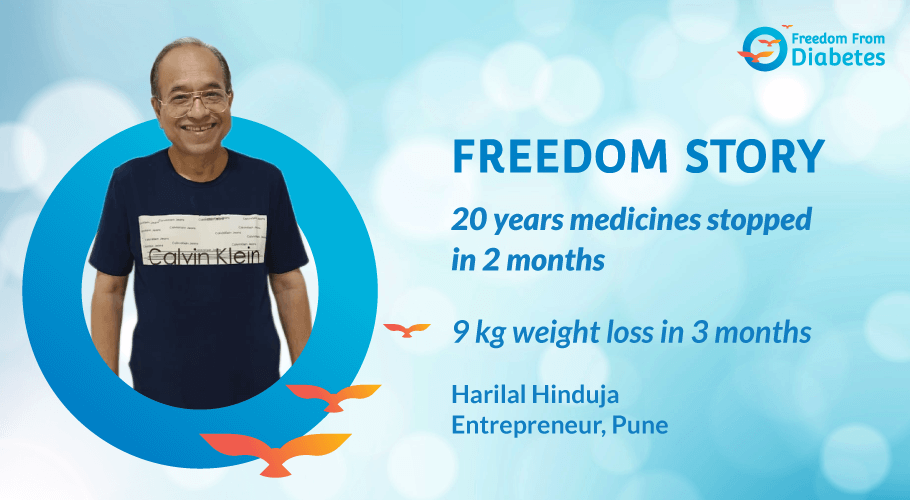 Diabetes Reversal Success Story:20 Year medicine stopped in 2 months
Name- Mr. Harilal Hinduja
Age- 70 years
Profession- Pharma Consultant
Place - Senior Management Officer from Bank Of India (retired )
I tried everything, but only FFD could really make it possible! Myself Mr. Harilal Hinduja, age 70, a retired Senior Management Officer from Bank Of India, presently a Director in Sentosa Resorts Pvt Ltd, Pune. I am also a partner in Building construction.
I was detected to have diabetes in 2000. Before that in 1987 I was advised to take tablets for hypertension. In 2010, my stress test was positive so I was advised for ANGIOGRAPHY which I did not go for as I was determined to eliminate the ailments with DIET AND EXERCISE.
Meanwhile, I was prescribed tablets for BP, diabetes, heart ailment, and one medicine for urination. I consulted many Doctors, Everyone prescribed medicines.
I WANTED TO LIVE MEDICINE-FREE.
With this aim in mind, I also did several courses like one of PATANJALI YOG-PEETH, Advanced meditation of ART OF LIVING, RAJ YOGA MEDITATION COURSE at Brahamakumari to name a few. Meanwhile, I used to walk regularly at about 3-4 km.
In the absence of proper guidance, I started walking daily 8 to 12 km for 2 years 2018 and 2019. My health reports showed lots of improvement. All my tablets except DIABETES were stopped. Even BP became normal. Only DIABETES, every doctor said is incurable.
BUT I WAS DETERMINED. I was in search of proper guidance continuously. Ultimately in January 2020, I saw a video of DR.PRAMOD TRIPATHI, saying DIABETES CAN BE REVERSED. AND my DIABETES REVERSAL journey started.
I attended Diabetes Specialist Dr. Pramod Tripathi's Lecture at FFD headquarters on 1st February 2020. The same day, I paid the fees for the Holistic Transformation Program and started my Reversal Journey. On 2nd April 2020, I became diabetes medicine-free.
Hurray! I did it!
My happiness knew no bounds.
I am extremely thankful to Dr. Mrunalini, Dr. Malhar - the exercise expert, my dietician Rhythm, my mentor Mr. Kulkarni, diet experts Jacintha, Sanjana, and Vasudha, and of course Dr. Pramod Tripathi sir.