Rajani Rajkumar Mandan: A speedy diabetes reversal story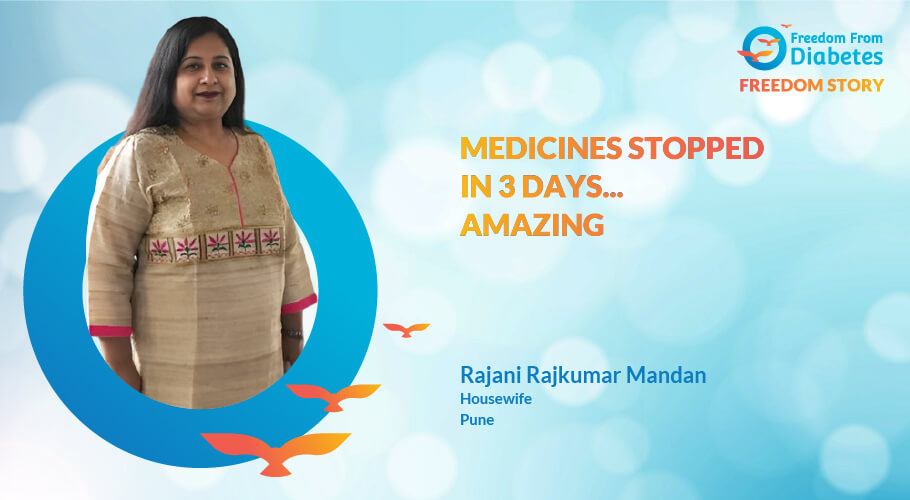 Medicines stopped in 3 days... amazing
Name- Mrs.

Rajani

Rajkumar

Mandan

Age- 54 Years Young
Profession- Housewife
Place - Pune


Hello friends,

I am Rajani Rajkumar Mandan a housewife from Pune.
My diabetes story

My body did not show classic diabetes symptoms except I faced a lot of burning sensations first in my hands and legs and then throughout my body. Confused, I even took antacids thinking it was due to acidity but the tests revealed the main cause to be diabetes.
How was FFD introduced to me?

YouTube videos were the initial source for me to know about FFD. Following that, I watched many videos of Dr. Pramod Tripathi sir.
Why did I join FFD?

I knew diabetes leads to many complications. Plus, there was an inner urge to be fit and healthy. The introductory webinar by Dr. Pramod Tripathi added to my confidence and I enrolled in Freedom from Diabetes type 2 diabetes reversal program - HTP immediately.

Mrs. Rajani Rajkumar Mandan
Reversal story

My diabetes medicines were stopped within just three days of joining the FFD program which was amazing. My weight loss of 5-6 kg was also something I enjoyed.
The FFD diabetes reversal diet does not make you starve yet you can lose weight. I go to the gym regularly and am enjoying it. The tiredness has completely gone. I am feeling more energetic.

Key quotes

"It is a great feeling to live a medicine-free life! I am loving every bit."

Key takeaways
Medicine stopped
Super energetic