Reversal of diabetes, weight, and age at FFD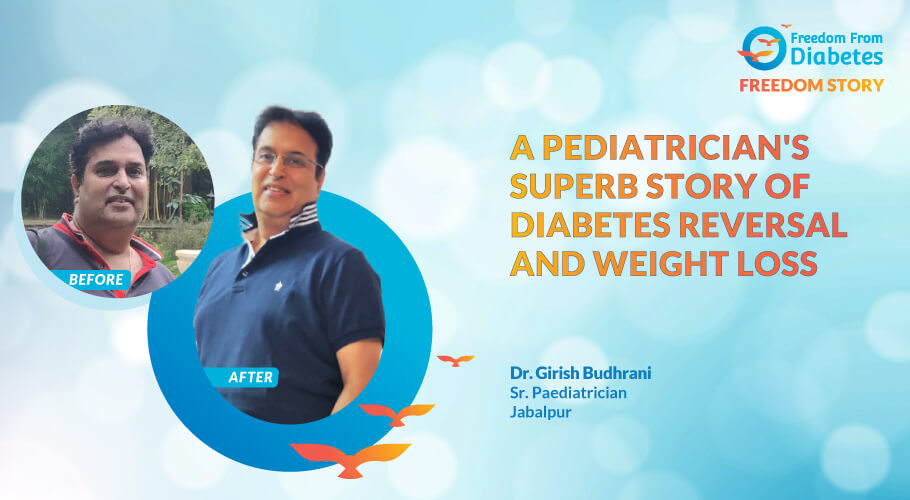 Name-

Dr

.

Girish

Budhrani

Age- 53 years
Profession- Sr. Paediatrician
Place - Jabalpur
I am immensely pleased with the way my health has progressed with FFD. I see myself as a totally new me now... a better version, of course.
I am Dr. Girish Budhrani, 53 years old, a senior pediatrician from Jabalpur, Madhya Pradesh. I have been working as an independent professional and have my own clinic with freelance attachments to a few hospitals. I'm blessed with a lovely wife Dr. Anita Budhrani and 2 handsome young boys Pranshu 21 years & Pranjal 17 years.
I was diagnosed with type 2 Diabetes around 10 years ago accidentally when I did my fasting glucose and was aghast to see it so high.
Interestingly, neither of my parents had diabetes at that time, but off late borderline hyperglycemia is there with both of my parents probably because of age. Here, I would also like to share that I was obese since my college days and have been suffering from ankylosing spondylitis for the last 20 years or so.
Initially, I was put on plain Metformin, and my medicines continued to be added up with each passing year. Before joining the program, I was on Jalra M 50/1000 in the morning along with Reclide XR 60.
In the evening, I was taking Jalra- M 50/500 along with Reclide XR 60 & HCQS 400 and Sazo 1 gm bd for Ankylosing Spondylitis.
Despite my escalation in medicines, whenever I would eat heavy meals, my sugars would shoot up. My physician had told me if my sugar levels are not getting under control, then I'll have to be put on Insulin. This was really scary. I remember whenever I used to travel, the first thing I would pack is my bag full of meds.
I was introduced to FFD in the month of December 2021 by my childhood friend Chand Narayan who's also in FFD batch 77. He told me FFD has helped several 100s to reverse diabetes.
Initially, I was pretty skeptical about it, but thanks to my friend, he persuaded me to go through some videos. When I saw the videos, very long ones but they did seem convincing.
But still, I wasn't prepared to go Vegan. Finally, I took up the decision of joining FFD as I was totally frustrated with my obesity and diabetes. I joined the FFD diabetes reversal program - HTP batch 78 starting from Jan 2022.
At the start of the program, I could sense that this will be an effective one but never knew that this will be the most important life turning decision. I started losing weight and my sugars started to go down, In fact, many a time I would experience hypoglycemia with medications on.
My FFD doctor was very patient with me and started reducing my meds keeping a close watch on my vitals. I started feeling lighter, looking good with the shedding of my weight and in less than a month, I was off medications. I was ecstatic!
Now, I started putting more efforts in a regular exercise schedule and properly following all FFD diet protocols. I have been fortunate enough to get the best of results with the support of the FFD team, Dr. Siddhi, diet expert Ms. Niyati and my mentor Mrs. Rakhi.
I'm so happy to have become free of the toxic medications, which being a doctor myself, I already knew. All thanks to Dr. Pramod Tripathi and his wonderful team of FFD.
Not only am I free of all medicines, but have significantly lost more than 20 kilos of weight and have started looking much younger, fitter, and more confident than before.I am proud to share that I could sustain 96 hours fast happily, the credit goes to FFD.
One very important thing I need to add up is that this journey of mine wouldn't have been so effective without the help of my lovely life partner Dr Anita Budhrani who is also a doctor, Fetal medicine and Gynaec specialist.
She also followed my protocol and fortunately, she also lost weight significantly and her lipids also improved substantially. I would like to gift my new look like a 25th wedding anniversary gift to her.
I persuaded my friends' families and acquaintances about FFD, my sister Mrs. Ranjna Tanwani & a few of my closest friends Mr. Vipin Lunawat and Mr. Sanjeev Gulati also joined batch 79. A few more are joining shortly.
I need to emphasize that I have started looking a totally different man in my life-changing journey of FFD.
I'M EXTREMELY THANKFUL TO THE WHOLE FFD TEAM !