Samudrala Ravi Shankar: Story of Magical transformation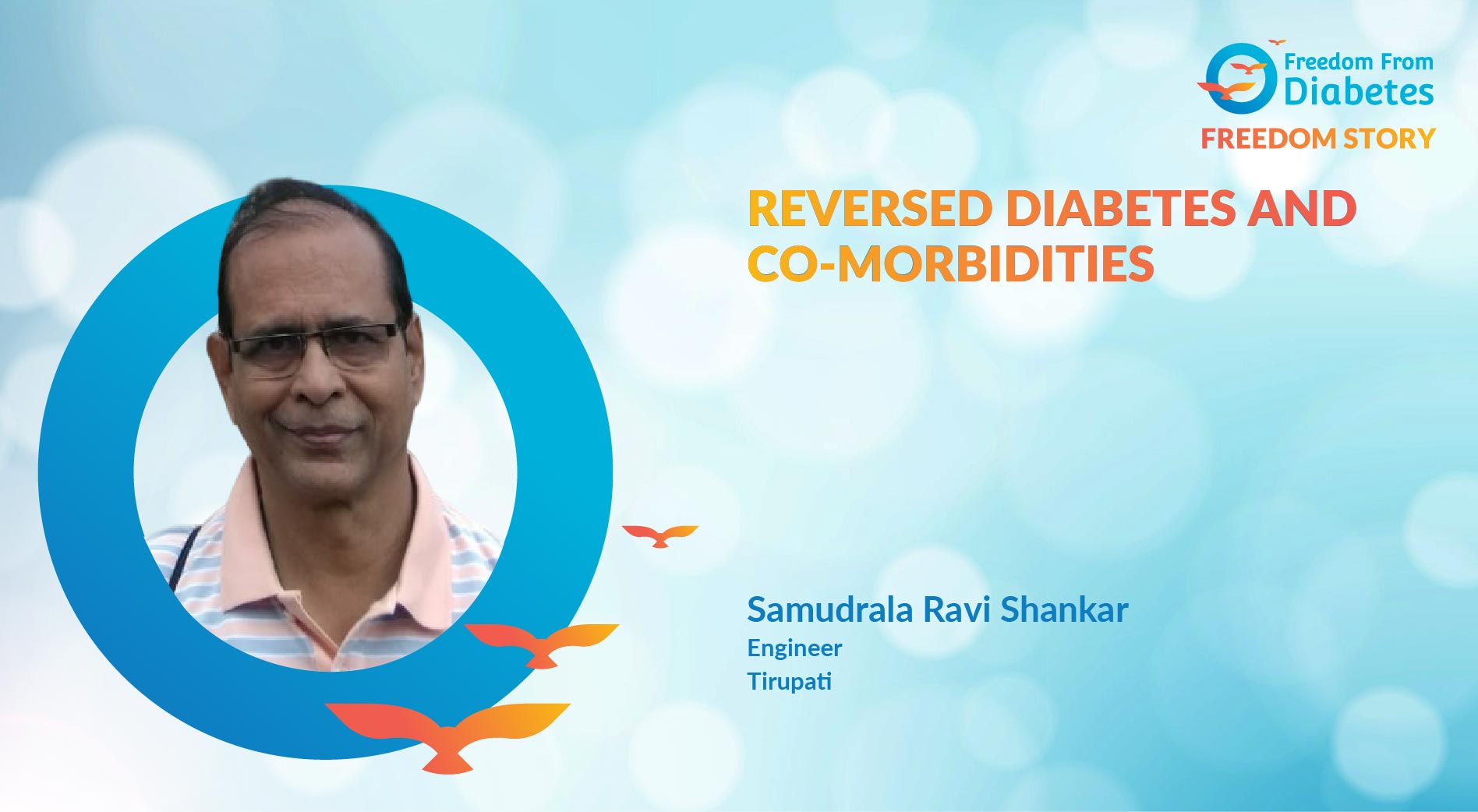 Reversed diabetes and co-morbidities
Name- Mr. Samudrala Ravi Shankar
Age- 68 Years Young
Profession- Engineer
Place - Tirupati
Hello all,
I am Samudrala Ravi Shankar, a retired engineer from Tirupati.
My motive behind joining FFD

The positive results after following just a few FFD tips inspired me to join.
Diabetes story

I have a strong family history of diabetes having had it across three generations. So used to getting regular checkups done. One such check-up in 2000 revealed I too was diabetic.
My treatment started with 1 Metformin which increased to more tablets per day After reaching a certain point, it was the doctor's advice to go for insulin.
How did FFD happen?

It was destined. I first heard about Dr. Pramod Tripathi in one of Dr. B. M. Hegde's videos. I then joined the FFD diabetes reversal program HTP batch 76.
Mr. Samudrala Ravi Shankar
Reversal story

Before joining, I was taking Metformin, Glimepiride, Voglibose, and Teneligliptin in combinations divided three times a day. All these stopped in just 45 days. Hypertension medicines too stopped within 20 days of joining FFD.
Triglycerides came to normal range. My thyroid dose has been reduced by 25%. My initial weight was 76 kg, and the current is 61 kg. So many benefits!
Dr. Pramod Tripathi's different perspective is appreciable. My family is very happy with my healthy lifestyle with almost no drugs, except a reduced dose for a thyroid problem.
Key quotes
"Dr. Pramod Tripathi is a Magician more than a doctor"

" Winners don't do different things. They do things differently! "
Best suited quote to Dr. Pramod Tripathi.
I strongly believe " Kanchanam karma vimochanam"

I paid, participated, and got rid of karma, " Diabetes and related diseases"
Key takeaways
Medicine stopped
BP reversed
Triglycerides in the normal range
Thyroid medicines reduced
Weight loss 15 kg