Srikanth P V: Freedom from diabetes & BP (co-morbidity)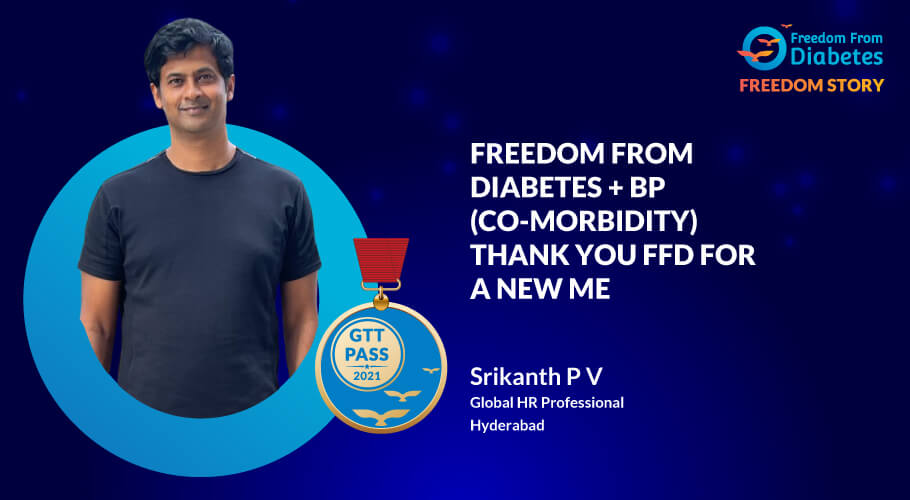 My journey with FFD is a journey of Self-Discovery.
Name- Mr.

Srikanth

P V
Age- 44 years
Profession- Global HR Professional
Place - Hyderabad
I am, Srikanth P V, 44 years young, from Hyderabad. Currently, employed with Novartis as a Global HR professional. I do have a family history of diabetes with my mother being a diabetic.
My diabetes was diagnosed in 2015-16 in a routine check-up as a result of a skin infection. Upon further investigation, it was ascertained that diabetes was a contributory factor.
Diabetes happens due to various reasons - wrong lifestyle, wrong eating habits, heredity, stress, and many more. I think mine is due to the wrong lifestyle and some percentage of heredity.
I was on medicines like Metformin initially and later was advised to take Gluconorm SR 500 for diabetes.
My poor food choices coupled with late-night binging resulted in me weighing 90 kgs (BMI of 29). As a result of my weight gain – the most frequent problem encountered was acid reflux. This was a major issue concerning me and I had to often take over-the-counter medicines.

Mr.Srikanth P V
Diabetes, excess weight had badly affected my life. But I had decided I will not allow it to get any worse. I was very young.
I was introduced to FFD by my Uncle based in the U.S. and a past participant of FFD. I first attended the Discover Reversal Session of Dr. Pramod Tripathi which now I call a turning point. I enrolled in HTP batch 66 immediately.
My journey at FFD is a journey of self-discovery. My diabetes medicines stopped within 1 month of joining HTP. The BP medicines which I was on since 2018 also stopped within a span of just 7 months.
In addition to becoming more healthy and improved self-esteem, there are personal learnings that extend beyond this program.
The weight loss started with the COVID National lockdown. I started the habit of walking 10,000 steps a day.
After joining the FFD Diabetes Reversal program, and following the 25% portioning I could lose a further 8 kg to reach 76 kg. I pushed myself a bit further to reach my target weight of 73 kg (BMI of 23).
Through FFD, I have had a complete inner transformation. I enjoy my daily routine of healthy food choices along with exercise.
Thank you, Dr. Pramod Tripathi and FFD for giving me a NEW LIFE, helping me become a better version of myself!