Stunning Freedom Story From Tamil Nadu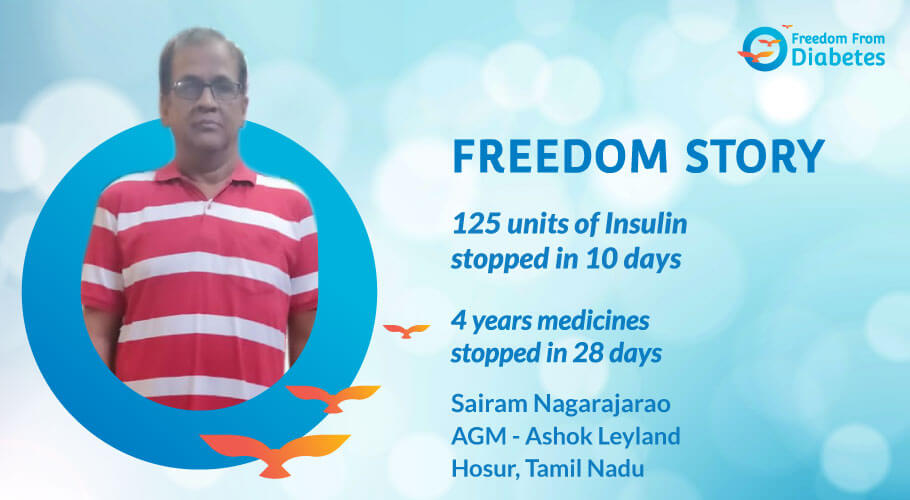 Name- Mr.Sairam Nagarajarao
Age- 58 years
Profession- General Manager for Ashok Leyland
Place - Hosur, Tamil Nadu
"Now by BSLs are below 120 even if I eating anything" Hello, myself Sairam Nagarajarao, age 58 years, from Hosur, Tamil Nadu. I work as Asst. General Manager for Ashok Leyland, Hosur.
My diabetes was detected in October 2016 during my routine annual medical check-up. As the days passed, my sugars started remaining very high and uncontrolled and I had to take 70 units of insulin in the morning & 55 units in the night along with medicines for it.
I came to know about "Freedom from Diabetes" through Facebook. Then I took part in a Diabetes Reversal Program i.e. Discover Reversal Session on 19th December 2019. The Discover Reversal Session was very impressive and I got convinced that there is definitely a way out. So I enrolled in Holistic Transformation Program Batch 54 and my reversal journey took off.
Joining the Holistic Transformation Program was like a miracle in my life. My insulin of 70 units in the morning and 55 units in the night was stopped completely within 10 days after joining FFD.
My diabetes medicines also stopped within 28 days. Not only that, but the cholesterol tablet I was on from August 2017 also stopped after 30 days.
In addition, I also got a bonus of 12 kg weight loss along with this. I lost weight from 98 kg in Dec 2019 to 86 kg in May 2020. On my path to complete reversal, I am happy to share that after 4 months and stable BSL, I tried white rice idli's, white rice masala dosas, complete lunch with white rice, sambar, rasam & curd , poha, upma, and my BSL after 2 hrs were all below 120!
I also tried one elakki banana, one orange, papaya cut into pieces-8 numbers, apple cut into pieces-8 numbers, mango -10 pieces of malgova variety, one item every day at 4.30 pm and my BSL again were below 120! Wow.
A strict FFD diet & daily exercises were the keys to this transformation. My gratitude once again to my doctor, Dr. Jitendra, Dr. Malhar, my dietician & Dr. Pramo