Sudesh Chandrawonshi: FFD's inner transformation rocks!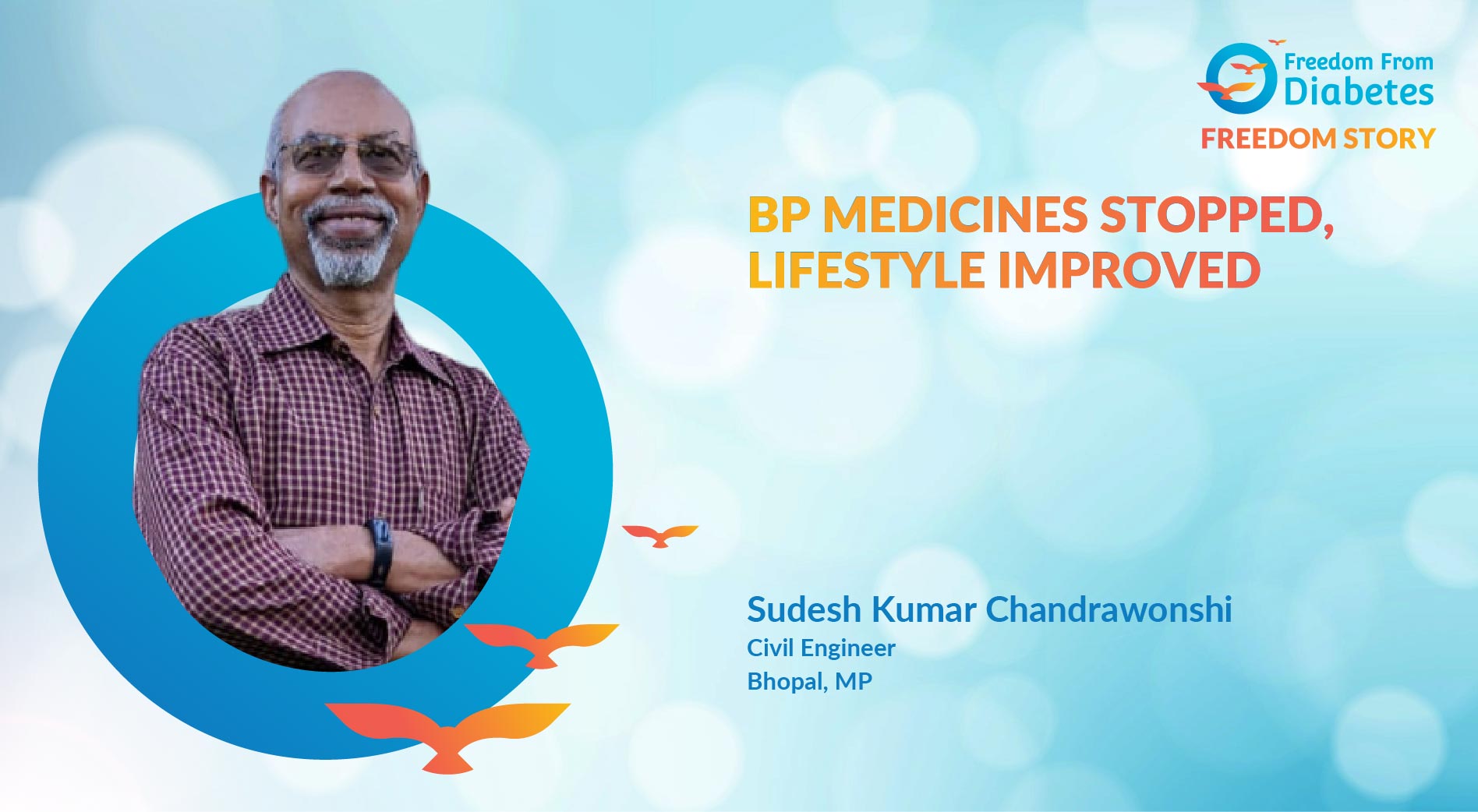 BP medicines stopped, lifestyle improved
Name- Mr. Sudesh Kumar Chandrawonshi
Age- 62 Years Young
Profession- Civil Engineer
Place - Bhopal, MP
Hello All,
I am Sudesh Kumar Chandrawonshi from Bhopal, Madhya Pradesh. Professionally, I am a civil engineer from Indian Railways (now retired), presently consulting.
What was the motive behind joining FFD?

Wanted freedom from diabetes and its complications.
Diabetes story

A routine checkup in 2010 disclosed I had diabetes and BP. Medicines began from there. My experience with different specialists especially endocrinologists and cardiologists were not good and this put me under tension all the time about future complications. I realized nobody teaches to control things, only adds medicines.
How did FFD happen?

My son did a lot of research on how to control this medical issue and found a youtube video of Dr. Pramod Tripathi. I and my wife took part in the webinar named DRS and impressed with the content, joined the FFD diabetes reversal program HTP batch 71 together.
Mr. Sudesh Kumar Chandrawonshi
Reversal journey

My diabetes tablet reduced dramatically within six months of joining FFD.
My BP tablet was totally stopped by my cardiologist based on good results of the Holter test, TMT, echo, etc. in three months. My current BP (Nov 22) is 124/73-75 without a BP tablet.
My improved parameters are like

| | | |
| --- | --- | --- |
| | Before | After |
| Weight | 78 | 71.30 |
| BMI | 26.27 | 24.10 |
| HbAc | 06.8 | 06.4 |
| BP | 113/75/70 | 124/83/70 |
Inner Transformation phase (The game changer)

FFD diet and exercise are incredible but the inner transformation did wonders for me. With the motivation of my Inner transformation expert, I am able to do 110 hours of meditation in 10 days of the vipassana course.
Doing meditation has brought a 30% improvement in my lifestyle and wish to develop even more patience. I am more peaceful now.
After completing one year of IRP, I have qualified for mentorship and enjoy helping in the royal mission of Dr. Tripathi.
Key quotes
"Now I am a free bird without BP medicine and with very less diabetic medicine."
Key takeaways
BP medicine stopped
Diabetes medicine reduced
Lifestyle improved