Sudheendranath K: Unbelievable weight loss story from Bangalore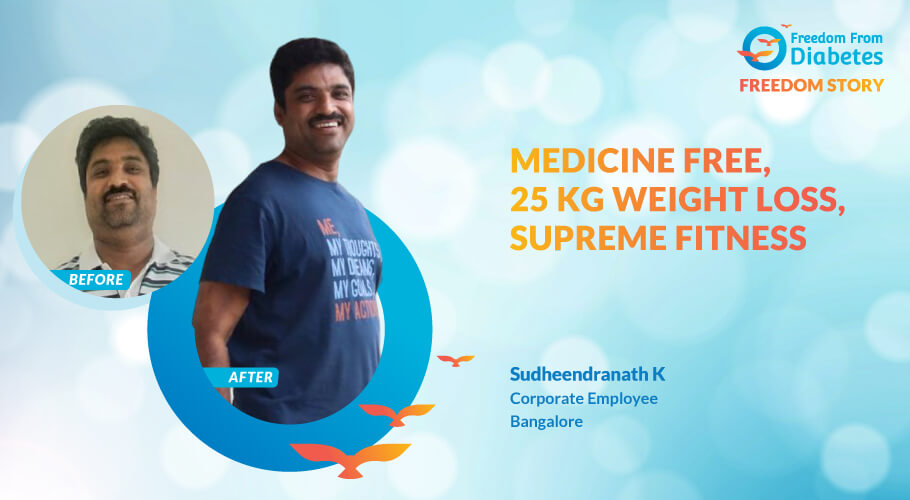 Medicine free, 25 kg weight loss, supreme fitness
Name- Mr.

Sudheendranath

K
Age- 50 years young
Profession- Corporate Employee

Place - Bangalore
Why did I join FFD?
I hate visiting doctors and did not want to be on medication. This was the primary drive to join FFD.
Introduction
Hello
I am Sudheendranath K a 50-year-old Gentleman from Bangalore. My job in corporate is such that I need to work night shifts. My lifestyle was wrong and due to this, I had put on a lot of weight too. At one point it had reached up to 90 kg.
Diabetes and obesity
I came to know about my diabetic status in August 2011. It was detected during a medical checkup. Another major problem that I was struggling with was obesity.
How did I get to know about FFD?
My sister had heard Dr. Pramod Tripathi's name in one of B. M. Hegde's speeches. She suggested me the same.

Mr. Sudheendranath K

FFD journey
I joined the FFD diabetes reversal program HTP batch 75 with the aim of achieving diabetes reversal and weight loss. As I began following the protocols as per the FFD team's advice, my sugars started falling in place.
I am very happy to share that on the very sixth day of joining, all my diabetes medicines stopped. No sugar medication from last 3 months.
The weight loss journey has been amazing. Below are the stages in which I lost weight.
Initial Weight 90 Kg
1-3 Months – 10 Kg due to long Fasting and 3-2-1 meal pattern
4-6 Months - 9 Kg with 2-1-2 meal pattern and Juice Fasting
7-9 Months – 3 Kg with 1-1-1 meal pattern athletic identity along with food protocol
10 -11 Month -4 Kg – With Gym and food protocol
Total weight loss - 25 kg
Impression
The inner transformation session has helped manage stress which has resulted in good decision-making not only in business but also in my personal life.
I was very agitative before. Now, I am the cool person in the family. Feeling confident and also got back the interest to live long. Enjoying the freedom from heavyweight. Doing gym and trekking.
I think I achieved what I wanted - diabetes reversal and weight loss. Rather, I have got more than what I asked for.
Thank you, FFD.
Key Takeaways
25 kg weight loss
freedom from medicine
Health and Fitness