Weight Loss Tips which helped Me Lose 34 Kgs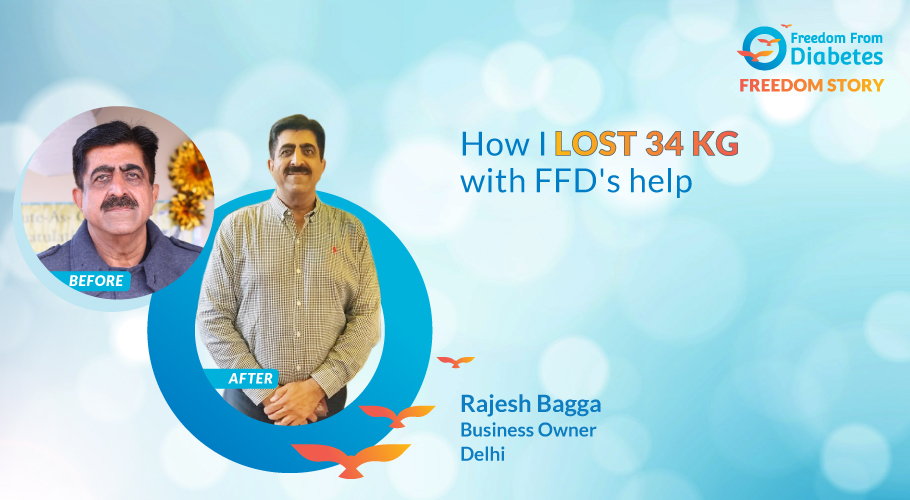 Can You Believe I Went From 149.5 to 115 kgs
Name- Mr.Rajesh Bagga
Age- 61 years
Profession- Business Owner
Place - Delhi
Very truly said 'Health is wealth' or I would rather say 'Health is the real wealth' and lot of it depends on various factors such as stress, diet, exercise, etc.
Though you plan and set proper goals and work in that direction, you never know what will happen and lead to stress.
I am into a small business of garment exports and was doing really well. My business, meant a lot to me as it gave me everything I aspired for. Then the most unexpected happened.
COVID pandemic came and disturbed everything. All my work got shut down amidst lockdown which put me under a lot of stress. I had seen a lot of ups and downs in my business but never faced a situation like shutting down of business.
No work, a lot of time, pushed me into other favourite areas of mine - cooking. I started spending most of my time cooking and eating my favourite food. The result was but obvious...I put on a lot of weight. My weight reached a whopping 149.5 kg.
This wrong lifestyle had made me 149.5 kg heavy. It was difficult for me to even do usual day-to-day activities for example climbing stairs.
I visited my orthopaedic doctor. After a detailed test, he suggested I get a knee replacement done. What a shock it was. The thought of getting my original bones replaced just did not go well with me.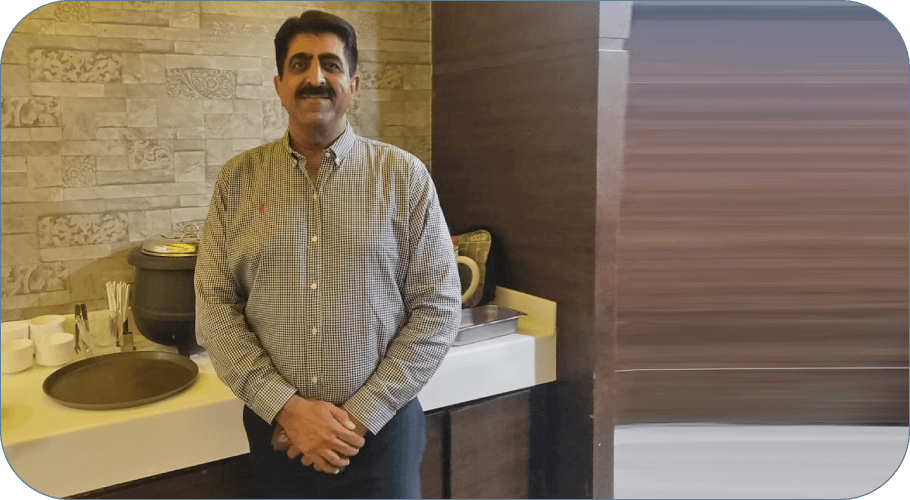 Mr.Rajesh Bagga 
Later on, he also explained to me that the real cause was my excess weight and even if I go for knee replacement I would eventually face the same issue again if I do not pay attention to my weight and the sole remedy was to lose weight.
The immediate action was I searched out my old diet chart and started following it. It helped me lose 5 kg in a span of 25 days but then it came to a plateau... another worrying and depressing situation for me and my family members, especially my son.
He started looking for information about weight loss and health for me. While doing so, he bumped into FFD.
At first, his impression was that FFD only works towards diabetes reversal but later came to know that FFD not only works for diabetes reversal but it also works for people who are looking for weight loss, has thyroid problems, has blood pressure problems, has high cholesterol, etc.
I joined FFD's Diabetes Reversal Program HTP batch 62 which started on 12th September 2020 with the chief aim of weight loss. Though I was diagnosed to be borderline diabetic, I never took any medicine for it.
I diligently followed all the advice and by November end came down to a weight of 117 kg. WOW, what a weight loss it was. In between, I also suffered from Corona, which again broke my link.
That time, I was advised to only focus on getting well from corona and leave aside the protocols for time being. I have got back to my FFD protocols now and doing great.
I avoid potatoes, white rice, dairy products, and have khapli wheat. I do sometimes binge into my favourite food but not much.
I truly feel healthy and hearty and have become a good example at the age of 62 for my friends. Now I am maintaining a hectic work schedule and my weight moves between 113 to 115. Even though I am still overweight, I am happy with the progress.
This would not have happened without the strong support of my family.
All thanks to FFD and its great team.