15 days to a medicine-free life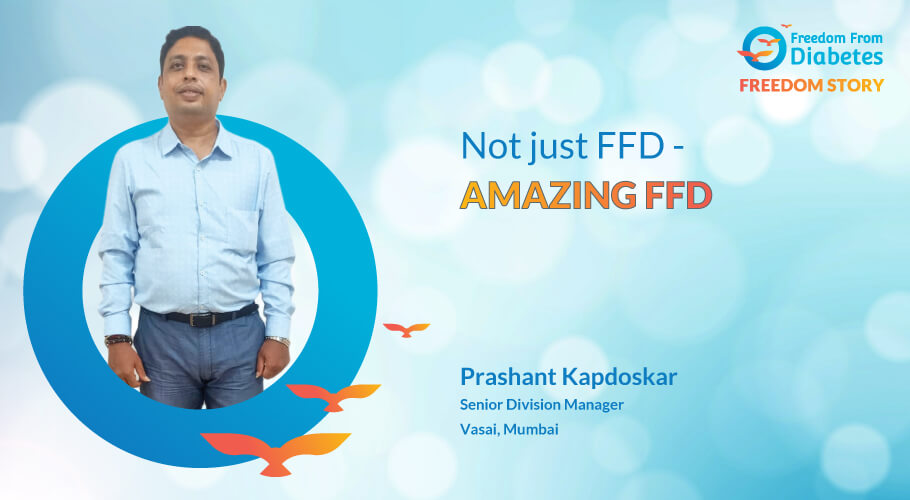 In just 2 weeks, ALL MY MEDICINES WERE STOPPED
Name- Mr.Prashant Kapdoskar
Age- 45 years
Profession- Sr. Div. Mgr. Health Insurance Major
Place - Vasai, Mumbai
One day, whilst passing a railway station I noticed a poster about a medical camp. I was 35 years at the time, and I thought it would be a good idea to get a health check done. And I'm relieved I did because it turned out I was diabetic!
Having seen my mother suffer from diabetes, I was well aware of the disorder, but never imagined I would get it myself. Ironically, I probably had it long before I knew it.
I initially bemoaned my decision to get checked, but, after a while, I realized it was better to know and treat it early than suffer in ignorance.
The doctors put on my medicines, and for a time I was ok. But, soon, other health issues began popping up… eye problems with my retina; joint pains; frozen shoulder; BP; and abdominal pain, which was due to kidney stones.
I was on multiple medications, and it looked as if this was going to be my life now. I was falling into depression.
Then one day, while surfing the net, I stumbled upon a Facebook post by FFD. I was intrigued. Till now, even the idea that diabetes could be reversed hadn't occurred to me, quite the opposite, in fact.
My doctor had made it clear that while diet and exercise could help me manage my condition, my medicines were probably for life.
These were pre-COVID days; Diabetes specialist Dr. Pramod Tripathi used to conduct live sessions. The Mumbai Mega Event was coming up, and I immediately enrolled in it.
The session was an eye-opener for all of us. Dr. Pramod Tripathi convincingly and clearly explained the causes of diabetes and introduced us to the world of diabetes reversal. I was excited and exhilarated.
I had an additional reason to be happy. With all my health problems, my medical expenses had reached Rs 5000-6000 every month. Clearly, my financial health was also being affected.
I decided that I would invest the money being spent on medicines in my reversal, and I joined the Intensive Reversal Program—Batch 62.
It was the best decision I could have taken: in barely 2 weeks, ALL MY MEDICINES WERE STOPPED! It was unbelievable. I had never ever imagined that this could happen to me… that I could go back to a life without medicines.
From the various sessions, I had understood very well, the need for healthy weight loss. And I was all prepared to do whatever was needed. But I never imagined it would be so easy.
I followed the four diabetes reversal protocols of diet, exercise, inner transformation, and medicine to a 'T', and I drank my green smoothie daily. Incredibly, my weight began to drop as if of its own accord. When I began the Diabetes reversal program i.e. Holistic Transformation Program (HTP), I was around 106 kg. I am now down to 80 kg—a 26 kg healthy weight loss.
The green smoothie did me an additional favor. It not only helped me in reducing my health issues, but it also helped flush out my kidney stones.
I can't express my gratitude to FFD for saving me from a life of ill health and medicines. I am very happy that I joined the FFD's Diabetes Reversal program, my daughter and wife are also very happy for me.
Everything about FFD is amazing - the doctors (especially Dr. Jadhav, Dr. Urjitha), dietician, mentor, exercise experts, and last but not least Dr. Pramod Tripathi.