20 years of diabetes...no more, enjoying being a mentor at FFD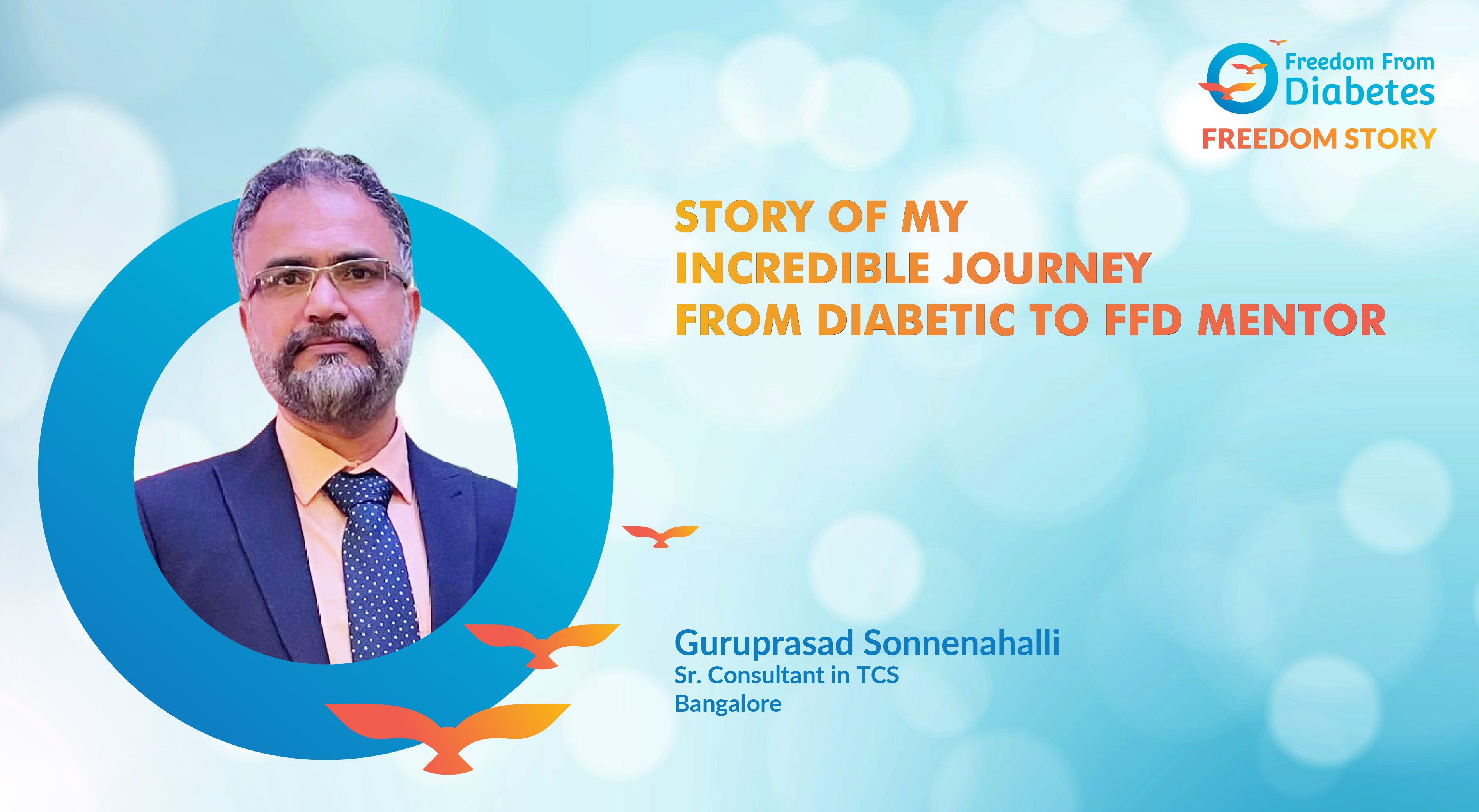 Story of my incredible journey
Name- Mr.

Guruprasad

Sonnenahalli

Age- 53 years
Profession- Sr. Consultant in TCS
Place - Bangalore
My freedom journey was incredible I think. Though I faced a few hurdles during it, I sustained.... the credit goes to FFD. I am Guruprasad Sonnenahalli, a 53-year-old who works as a senior consultant in TCS from Bangalore. Diabetes was not new to me as my mother was a Type 1 diabetic. Still, I never thought I would get it.
I remember clearly, around 20 years ago, I had developed a cyst in my right ear. It was not healing in spite of aggressive treatment. I felt fatigued and lethargic.
So my doctor suggested I get my sugars tested. Diabetes was the diagnosis. The routine test showed microalbumin in my urine. Life gave me another blow at the same time, I was suffering from T.B. too.
My other sufferings were constipation, high cholesterol, GERD, etc. I was never on Insulin. Oral tablets started with Daonil, Metformin, Ramipril 2.5 mg...Got to know about FFD via YouTube and Facebook. The information was very inspiring and I decided to give it a try.
Enrolling in HTP was the best decision I took. My medicines stopped on the third month of the journey. However, in phases 3 & 4 I had to be started on diabetes medication again which went on for the next 5-6 months on/off and I finally got free.
Mr. Guruprasad Sonnenahalli
FFD helped me stop by cholesterol medicines too which was an added bonus for me. I got rid of the comorbidity too.I was in the normal BMI category from the beginning but lost a total of 8 kg of my weight during the program.
When I put forth my concern, FFD experts guided me on how to gain good muscle weight. I feel great as I started putting on weight and gained some muscle. Enjoying normal food once in a while. The guilt is gone.
Follow the FFD diet and exercise protocol 3-5 days a week. Do take the liberty of cheating on your diet sometimes. Suffering from COVID in the meanwhile was another setback for me. But I came out of it victoriously with FFD's help and my inner strength.
Always wanted to share/guide people with diabetes and FDD has given me the platform to share my experience and help the people to achieve their reversal being a mentor.
Thank you, FFD for everything.