5 Best North Indian lunch recipes for diabetics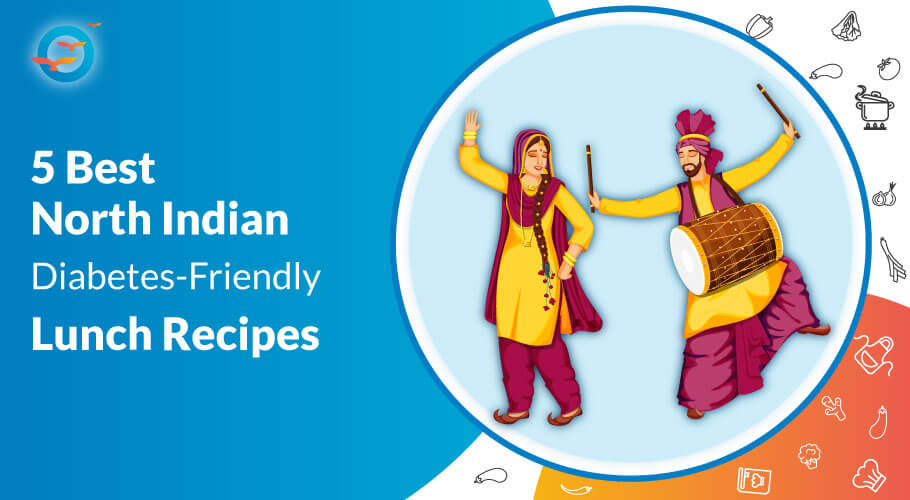 North India has many states that are packed into one region. These include Haryana, Punjab, Jammu and Kashmir, Himachal Pradesh, Uttarakhand, and more. Each state brings in its style of food variety which makes this region's cuisine rich too.
Diet plays a very important part in being healthy. Especially, if one is diabetic, he/she needs to pay attention to the diet.
Better control over health can be taken if one pays attention to what he/she eats each time.
Today, we are going to learn the 5 best North Indian Lunch Recipes that are modified/fortified to make them diabetes-friendly.
1. Kashmiri Rajma



Jammu rajma or Kashmiri rajma is grown in Jammu & Kashmir region. It looks similar to red rajma but is smaller in size with a glossy look.
Recipe features
Freedom from Diabetes suggests the use of this rajma it is a good source of magnesium, potassium with protein, and soluble fiber. We also suggest having this with brown rice which makes it more diabetes-friendly.
Ingredients
250 gm Rajma/Kidney Beans (Soaked overnight)
1 Tbsp Oil
3 Bay Leaves
1 Tbsp Cumin Seeds (Jeera)
2 Tsp Red Chilli Powder
2 Tsp Garlic Paste
2 Tsp Ginger Paste
2 Medium Size Onions Paste
2 Tomatoes Paste
Salt to taste
Method
Pressure cook soaked rajma with enough water till they are cracked.
Grind onions and tomatoes.
Keep aside.
Heat oil.
Splutter cumin seeds and bay leaves.
Roast onion paste, and ginger-garlic paste till oil separates.
Add boiled rajma.
Adjust taste with salt.
Add water.
Simmer for 15 mins till rajma bean soaks up gravy and aroma.
Serve Kashmiri rajma with hot brown rice.
2. Lyodur Tschaman (Soy paneer gravy)