5 Best north Indian breakfast recipes for diabetics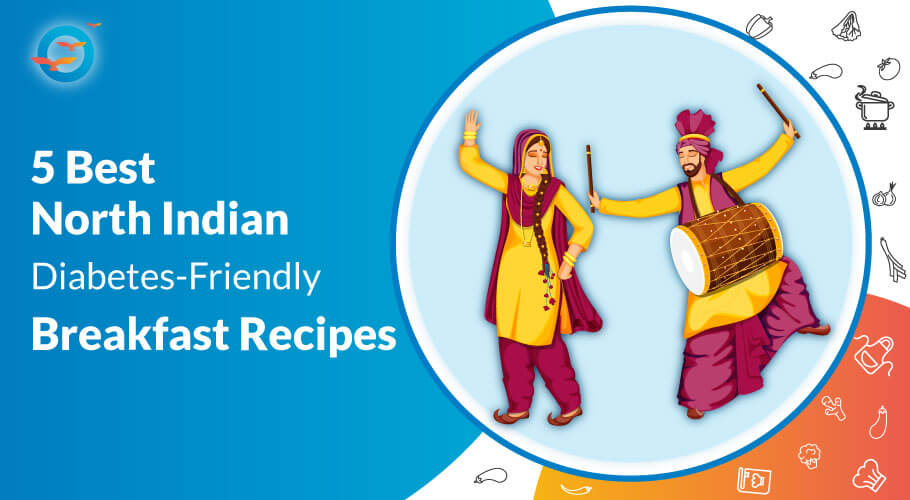 We bring to you our top 5 north Indian breakfast recipes



North India includes various regions like Haryana, Bihar, Jammu & Kashmir, Punjab, Himachal Pradesh, and Uttar Pradesh. The climate in this region is extreme.
Due to its geographical location, it has been seen that this region has strong Central Asian influences both in its culture and its food.
This region too has a collection of food recipes in its stock. If one is diabetic, he/she needs to make a wise choice of food. The dishes chosen must not only be tasty but healthy too.
Here are the North Indian Breakfast Recipes that are good for health-conscious and diabetics.
1. Dahi Vada


Dahi vada is a popular food item from North India. It consists of fried lentil dumplings that are dunked in yogurt. This is then garnished with coriander and spicy tamarind chutney.
Recipe features
This FFD style Dahi Vada is a special recipe as we use vegan curd in it. The tamarind chutney is made using dates and not sugar. All these things make this recipe even more healthy.
Ingredients:
½ Cup Whole Moong/Green Beans (Soaked overnight)
½ Cup White Urad Dal (Soaked overnight)
Ginger Chilli Paste
Salt to taste
For Vegan Curd
Roasted Cumin Powder
Red Chilli Powder
Black Salt
Ginger Paste
Method
Grind both the soaked beans separately to make a smooth paste.
Mix them in a large bowl.
Leave this paste to ferment for 8 hours.
It will double in size. Add ginger chili paste, salt and mix well.
Put this batter in an idli pan and steam.
They are ready when you put in a toothpick and it comes out clean.
You can soak the Idlis in a chaash made from the vegan curd and then add more thick curd with masala.
Mix black salt, ginger paste, and roasted cumin powder in the vegan curd.
Pour peanut or soy yogurt on top and serve with date tamarind chutney, garnished with fresh coriander, chili powder, cumin powder, and salt.
2. Rajma Tikki


This is a beautiful North Indian Breakfast recipe. These tikkis are prepared from kidney beans (rajma), boiled potatoes, crushed bread, and spices.
Recipe features
FFD style rajma Tikki includes useful seeds like Magaz and almond milk both of which are a good addition. Cutting the potatoes from it reduces the carb content too.
Ingredients:
2 Cups Speckled Red Beans/Rajma (Soaked overnight and boiled)
1 Inch Ginger (Chopped)
10 Cloves Garlic (Chopped)
6 Green Chillies (Chopped)
4 Tbsp Almond Milk
1 Tsp Pepper (Kali Mirch)
1 Tbsp Lemon Juice
Mint leaves (For garnishing)
Onion Rings (For garnishing)
Salt to taste
2 Tbsp Oil
1 Tbsp Oil
For The Paste:
2 Tbsp Melon Seeds (Magaz)
2 Tbsp White Poppy Seeds (Khuskhus)
2 Tbsp Chironji
For The Spice Powder:
1 Tsp Carom Seeds (Ajwain)
1 Tsp Garam Masala/ curry powder
Method
For the paste:
Dry-roast the melon seeds, poppy seeds, and chironji till the chironji begins to give off an aroma and the melon seeds begin to change color. Take off the flame and set it aside to cool. Grind the mixture using some water to make a smooth paste.
For the spice powder:
Dry-roast the ajwain till it starts to splutter. Turn off the flame. Cool the roasted spice and grind it into a smooth powder. Then add the Garam Masala to create an interesting blend of flavors.
​For the Rajma Tikki:
Soak rajma overnight and pressure-cook through 9 to 10 whistles on high flame. Lower the flame and cook the rajma for 10 more mins. Let the steam release naturally. Keep aside to cool. Heat oil in a pan and fry the ginger, garlic, and green chilies for about 2 mins. Add the boiled rajma to this and stir for a few mins.
Add the masala paste and sauté for 5 mins. Stir in the almond milk, salt, and pepper and mix well. Cool and mash the rajma mixture with the masala powder. Add lemon juice and mix well.
At this stage, check to see if the seasoning is right and make 1-inch round patties from the mixture. Heat 1 tbsp oil in a pan. Shallow fry the patties well on both sides.
Garnish with mint and onion rings and serve hot.
3. Galauti Kebab