5 Best North Indian Diabetes-Friendly Sweets Recipes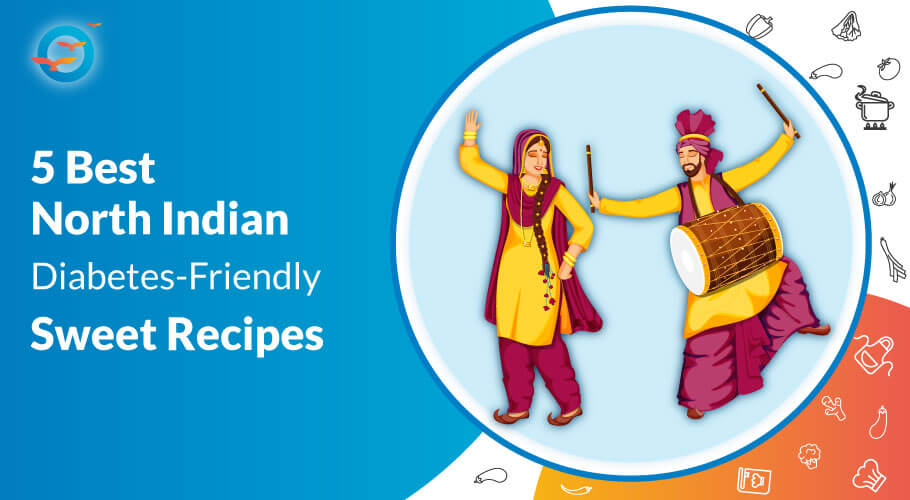 Sweets are an inherent part of food in every country and every region. North Indian cuisine is rich in sweet dishes too. A variety of sweet dishes from this region are famous all over the world. The taste, texture, and richness of every sweet dish from this region are distinct.
Here is a list of the 5 best North Indian sweets recipes that are diabetes-friendly.
1. Bakheer recipe


Bakheer also called Gud Chawal ki Kheer is a traditional North Indian sweets recipe made during festivals like Dussehra, Ramnavami along with Dal Poori. Bakheer is prepared from rice, dark brown jaggery, and milk.
Recipe features
FFD-style Bakheer recipe avoids the usage of animal milk and suggests the use of vegan milk. Jaggery is substituted with dates paste and stevia which puts it in the best North Indian sweets recipe category that is diabetes-friendly too.
Ingredients
1 Cup Brown Rice
¼ Cup Thick Dates Paste
Few Drops Stevia
½ Tsp Green Cardamom/ Hari Elaichi
1 Tsp Raisins/ Kishmish
2 Tbsp Cashew Nuts/ Kaju
2 Cups Vegan Milk
1 Cup Water
Method
Wash and soak the rice in water.
Drain the water from the rice.
In a pressure cooker, add the rice, date paste, and water and cook through to 4 to 5 whistles.
Once the pressure has naturally released, open the cooker lid and gently mash the rice.
Meanwhile, bring the milk plus water to a boil and then switch off the flame.
In a kadhai, dry roast the cashews and raisins until they have turned golden brown.
Then, add the vegan milk plus water, fried dry fruits, stevia, and cardamom powder to the cooked Bakheer.
Mix well.
Serve hot.
2. Date & Coconut Kulfi recipe


Kulfi is a traditional Indian sweet recipe that comes in various flavors. Its main ingredient is khoya or milk solids and sugar and flavoring materials.
Recipe features
The date and coconut kulfi in FFD style avoid dairy. We suggest using coconut milk instead. The added coconut flour gives a nice grainy texture and date syrup makes it fuller in taste and more satisfying.
Ingredients
1 Cup Coconut Cream
1 Cup Coconut Milk
1 Tbsp Coconut Powder/ Flour
1 Tbsp Date Syrup
Few Drops Stevia
¼ Cup Sliced Almonds + Cashews
Method
Take a large mixing bowl, pour coconut milk and coconut cream into the bowl and start beating the mixture with an electric hand mixer.
Once it is fluffy and creamy start adding coconut flour, stevia, and date syrup a little at a time while continuously mixing with a hand mixer.
Beat till all the ingredients are well combined and check for sweetness, if needed add a few more drops of stevia.
Mix in the sliced nuts.
Pour the mixture into a container and place it in the freezer.
Let it set for 3 hours.
The kulfi will be ready to serve.
Variations:
With this recipe, we can experiment many variants such as pistachio, almond, and cardamom. Also, add more crushed nuts if you like.
3. Peda recipe


Peda is another delightful sweet recipe that is very popular. The original recipe is prepared from khoya (dried milk solids), sugar, nuts, and different fragrant spices.
Recipe features
This is an easy-to-make 100% vegan recipe that is made from nuts, dates powder, and stevia. One of the best North Indian sweets recipes.
Ingredients
2 Cups Cashew Nuts (Powdered)
2 Tbsp Cup Date Paste (Thick)
Few Drops Stevia
¼ Cup Dry Date Powder
1-½ Tsp Cardamom/ Elaichi Powder
Pistachios for Garnish
Method
Blend, adding enough date powder to create consistency.
Shape into flattened balls/ pedas.
Garnish with pistachios.
4. Rabdi recipe