5 Best North Indian dinner recipes for diabetics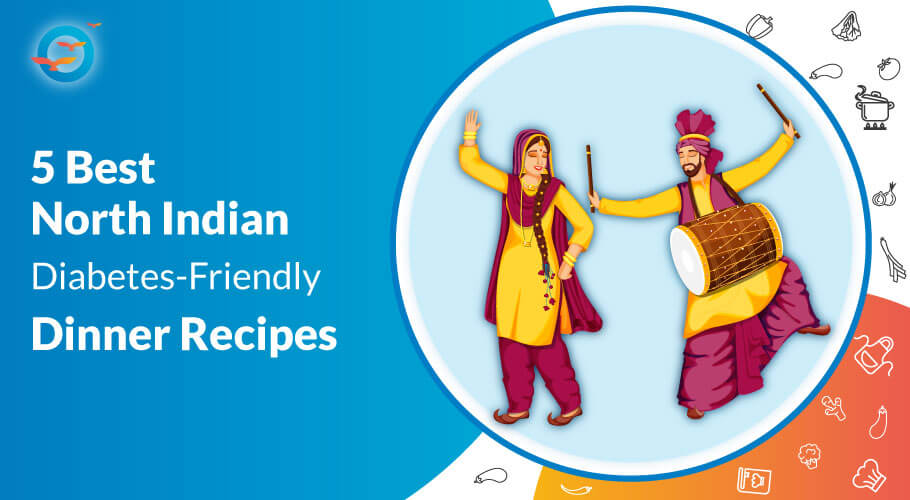 Dinner is an important meal of the day. A satisfactory and healthy dinner has its benefits. If you are a diabetic each meal counts. Hence it is more important to see what you are eating for dinner. North India is also rich in its cuisine. Today, we are going to learn;
5 best North Indian Dinner recipes that are good for diabetics too.
1. Baingan Ka Bharta- Punjabi Style


Bharta which is commonly pronounced as Bhurtaah is a dish of North Indian origin. In this, the eggplant is roasted and then cooked with onions, tomatoes, and other ingredients and spices.
Recipe features
This is an easy-to-make vegetable plus it is very healthy too. This dish is served with emmer/khapli wheat makes a great combination.
Ingredients
2 Large Eggplant/Aubergine
1 Cup finely chopped onions
2 Cups finely chopped Tomatoes
1 Cup pureed tomato
6 Cloves of Garlic
3 Tsp Coriander Powder
½ Tsp Red chili Powder
Coriander Leaves
Rock Salt
1 Tsp Cold Pressed Mustard or Sesame Oil (Optional)
100 gm Peas (Optional)
Method
Chop onions and tomatoes finely and keep aside.
Wash the eggplant and wipe it clean with a kitchen towel.
Make deep cuts all around the eggplant using a sharp knife.
Smear a few drops of oil all around the eggplant.
Hold the brinjal by the stem or poke a skewer or a sharp knife into the eggplant to hold and roast it directly over direct flame turning it around so that the skin gets charred and the insides of the eggplant get cooked well.
You can also roast it in an oven.
Remove the skewer and let the eggplant cool down completely.
You can also immerse it in water.
Peel off the charred outer skin and mash the eggplant along with the garlic using a fork or a potato masher.
Keep aside.
Heat the wok with or without the oil.
Put a green chili for flavor into the wok and let it lend its taste to the oil.
Add onions and cook over medium flame till they become translucent.
Add the tomatoes, red chili powder, and mix well and cook for 1 min.
Sprinkle a handful of water, mix, close with a lid, and cook for 2-3 mins over low flame for the raw smell of the powders to go away.
Add mashed eggplant and salt, mix well and cook over low flame for 10 mins allowing it to simmer.
Cook over low flame till the veggies are done and exude a red color.
Garnish with chopped coriander leaves and take off the stove.
2. Amritsari Chole