5 Best South Indian Diabetes friendly Dinner Recipes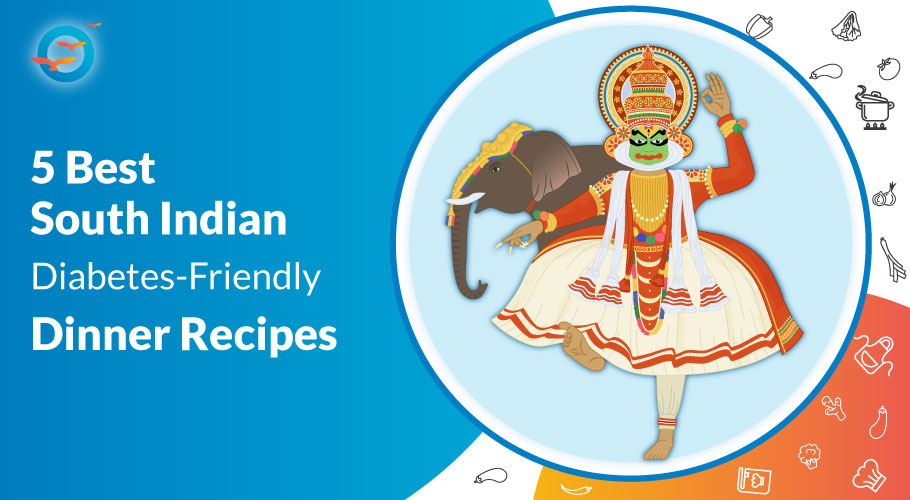 Dinner is the meal that is taken in the evening. It is important like any other meal and eating a healthy and light dinner is always advisable. This helps one in many ways. It does not load you and helps in getting better sleep too.
Like all other regions, South Indian cuisine is also loaded with a number of delicious dinner dishes. In the last 2 articles, we saw South Indian Breakfast and South Indian Lunch recipes that are friendly for diabetics.
Here are the 5 healthy south Indian breakfast recipes for diabetics
1. Millet Upma Recipe


This is a healthy and delicious savory breakfast dish from South India made from foxtail millets, vegetables, and spices.
Recipe features

Millets are a great source coarse of fiber, protein, minerals, and vitamins. They are good for diabetics and health conscious as they fall in the low glycemic index category.
In addition, this recipe is a zero oil or no oil recipe where we follow the dry tempering method. All this puts this upma in a healthy dish list.
Ingredients
1 Cup Little millet/ Foxtail millet
2 Tsp Split Black gram /Urad Daal
½ Tsp Mustard Seeds (Rai)
½ Tsp Cumin Seeds (Jeera)
Pinch of Asafoetida (Hing)
2 Green Chillies (Split into halves)
¾ Inch Ginger Finely Chopped
1/4 Cup Green Peas
1/4 Cup Carrots cut into small pieces
1 Sprig Curry leaves
1 Onion – medium – Optional
Salt to taste
2 Cups Water
1/4 pcs cut Lemon
Coriander to garnish
Method
Roast the urad daal to a golden brown.
Add the mustard seeds, jeera, and roast till it splutters.
Quickly add green chilies, ginger, and curry leaves.
Now add asafoetida and then the roasted millet semolina.
Roast it on a low flame for a couple of mins.
Put the peas, carrots and onions, and salt.
Put 2 cups of water and pressure cook to 3 whistles.
Take it out on a serving bowl and garnish it with coriander and lemons.
You can add any vegetables like spinach and other greens.
Variation:
You can make millet rotis just like you make wheat Rotis. With vegan curd, you can make millet curd rice. Cook millet in a pressure cooker like you would cook rice. Cool it. Beat some vegan curd and add ginger and salt to it. Mix the millets and vegan curd. Do a dry tempering with split urad daal, mustard seeds, jeera, asafoetida, and curry leaves. Garnish with coriander
2. Milagu- Poondu Recipe (pepper-Garlic Rasam)


This is a famous rasam variety from South India.
Recipe features

The best quality of rasam is that it aids digestion and helps get rid of any gas or acidity. It is a highlight of a light meal and the best part of a heavy full meal. It has the goodness of pepper, cumin and garlic.
Ingredients
1 Small Lemon size ball of Tamarind
1 Tbsp Black Pepper Corns
2 Tsp Cumin Seeds
8 Cloves Garlic (with skin)
Handful Coriander leaves
¼ Tsp Asafoetida/ Hing
1 Tsp Mustard Seeds
1 Sprig Curry leaves
1 Small Onion
1 Tsp Oil
Salt to taste
Water
Method
Pre-soak Tamarind in a small bowl of water.
In the small mixer jar, add garlic cloves, cumin seeds, pepper and coriander leaves.
Pulse it 2-3 times to grind coarsely.
Chop onion finely.
Heat oil in a saucepan, when the oil is hot, add mustard seeds and let it splutter, add curry leaves and onion, sauté for a few seconds then add the ground mixture and asafoetida, sauté a little till aroma arises, pour the tamarind water after straining it.
Add some more water (about 2 glasses) and salt.
Let it start simmering, just when it starts to bubble, put off the flame.
Variation:
Half a cup of boiled and mashed toor dal can be added to this rasam before the boiling stage to make it more textured and wholesome
3. Kozhikodan Vegetable Biryani Recipe


Biryani is a one pot meal. This is a beautiful rice dish from Kerala that is full of flavor, delicacy, and aroma.
Recipe features

FFD style Kozhikodan Vegetable biryani is great for diabetics. We recommend you to use brown rice and vegan curd in the preparation which directly puts it in diabetes friendly category. This dish is definitely one of the easy South Indian dinner recipes.
Ingredients
1½ Cup Veggies - (carrot, beans, cauliflower, and capsicum)
1 Tbsp Ginger Garlic Paste
6-8 Green Chilli (Depends upon the spice)
¼ Cup Peanut Curd
1 Tsp Garam Masala
Pinch of Turmeric Powder
½ Tsp Pepper Powder
A Small Piece of Cinnamon
2 Cardamom
Small Star Anise
3 Cloves
2 Onions
1 Tomato
5 to 8 Cashews
1 Tbsp Coconut Oil
A handful of Coriander & Mint Salt
1 cup Brown Basmati Rice
1 Tbsp Coconut Oil
1 Bay Leaf
2 Cloves
Method
Soak the rice for 30 min.
Cut all the veggies, heat the pressure pan with coconut oil, add the spices (cinnamon, cloves, cardamom) and allow to splutter, then add half of the onions, sauté it until it becomes translucent.
Then add all the veggies, ginger garlic paste & crushed green chili, give a quick stir and then add tomato.
Add peanut curd and all the masala powder (garam masala, turmeric & pepper powder) and salt (just enough for the veggies).
Mix it well and put the lid on cooker and cook for 2 whistles.
No need to add water, the water from veggies & curd is enough to cook it.
The veggies should be crunch & don't make it mushy.
Heat the wide pan with little coconut oil, add the remaining onions & sauté until the onions are caramelized.
In the same pan, fry the cashew & raisin until golden brown.
In the same pan, add the coconut oil, fry the spices cinnamon, bay leaf, cloves & cardamom, add water, bring it to boil, then add rice and cook until it's done.
Now take pan, you are going to put the dum.
Add the veggie masala we prepared and then layered with the rice we cooked.
Finally garnish with coriander, mint leaves, caramelized onions, and cashews.
For putting the dum, heat dosa pan, place the rice pan on top of that, cover it with lid and then place some heavy weight on top of that.
Let it cook in slow flame for 5-7 mins.
Tasty & very flavorful Thalassery Biryani is ready to serve.
Serve it with any type of vegan raita you like.
4. Puli Pongal Recipe


Pongal is a popular dish from Tamil Nadu Puli Pongal is a type of pongal made of tamarind and boiled rice. This is a very quick and easy to make recipe.
Recipe features

FFD style Puli Pongal uses brown rice instead of polished rice which is great for diabetics.
Ingredients
1 Cup Broken Brown Raw Rice
1 Lemon Sized Ball of Tamarind
2 Tbsp of Gingelly Oil
1 Tsp Mustard Seeds
1 Tsp Chana Dal
1 Tbsp Peanuts
10-12 Red Chillies
¼ Tsp Turmeric Powder
¼ Tsp of Asafoetida
4-5 Stevia Drops (Optional)
Few Curry Leaves
Salt to taste
Method
Soak Tamarind in hot water for 30 min.
Squeeze out the juice 3-4 times and extract the pulp by adding water again and again.
Let the tamarind water be a little watery and be 2½ times the rice portion.
Heat gingelly oil in a pan add mustard seeds, and chana dal, and allow the dal to brown a little.
Add the peanuts, red chilies, and curry leaves and sauté for just a few sec.
Add the tamarind water and allow it to boil.
Add salt, turmeric powder, stevia drops, add it at the end, and asafoetida.
When the tamarind water stars boiling add the broken raw rice slowly.
Keep stirring continuously till all the water is absorbed.
Otherwise, it might become lumpy.
Once all the water is absorbed lower the flame and cover and cook for 10 mins.
By now the rice would have got cooked.
Grease a thali plate with gingelly oil. Pour the upma it is on the plate and flatten it with a wodden laddle.
Allow it to cool and cut into squares.
Enjoy the tangy upma with some onion raita.
5. Puli Inchi Recipe (Sweet & Sour Chutney)


This is famous chutney from South India that is a perfect accompaniment for any meal.
Recipe features

It is spicy, tangy, and mouth-watering chutney. FFD suggests the use of dates instead of sugar or jaggery which makes it more healthy and friendly for diabetics.
Ingredients
100 gm Ginger (Washed & finely chopped)
50 gm Green Chillies (Finely chopped)
1 Tbsp Dates Paste
60 gm Tamarind Pulp
1 Tsp Red Chilli Powder
1 Tsp Turmeric Powder
2 Tsp Coconut Oil
1 Tsp Mustard Seeds
Salt to taste
Method
Give tadka in a pan with 2Tsp of coconut oil, mustard seeds, curry leaves, ginger, and green chilies, and saute till it becomes crispy.
Add the tamarind pulp with ½ Tsp red chilli powder, 1 Tsp turmeric powder, and 1.5 Tsp salt, and cook for 5 mins.
Now add the dates paste and cook for a while.
Store it in a glass container in refrigerator.
Puli Inchi is ready.
Serve with rice or with chapati/roti and salads.
The above 5 south Indian dinner recipes are just a few from the whole lot. If you want more such recipes, do visit the FFD recipe section. It has a collection of various healthy and diabetes-friendly recipes.
FFD Diabetes Reversal Program - Holistic Transformation Program (HTP) gives you better insights on diet, exercise, inner transformation, and medical assistance in relation to diabetes reversal. Do join our HTP to take your first step towards Life 2.0
Looking for west Indian healthy Diabetes-friendly breakfast, lunch& sweet dish Recipes? Visit here:

1. South Indian breakfast recipes



3. South Indian sweet dish recipes