5 Best South Indian Diabetes friendly Lunch Recipes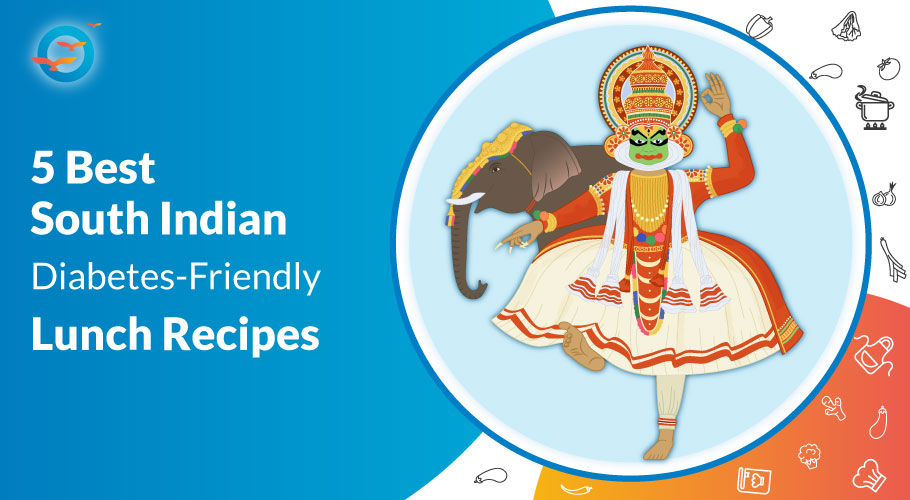 Food is the basic necessity of every human being. The recipes or food items largely depend on the availability of the food and the geography of the region.
Today, we are going to talk about South India. Southern India mainly covers 5 regions like Kerala, Tamil Nadu, Karnataka, Andhra Pradesh, and Telangana. The staple food of this region is rice. The popular and loved foods in the vegetarian section are dosa, idli, sambar, vada, uttapam, rasam, Payasam, etc. Commonly used ingredients are mustard, curry leaves, asafoetida, pepper and peppercorns, tamarind, fenugreek seeds, and chilies. Sambar powder is used to add to the flavour of various dishes.
In the last article, we learned about the breakfast recipes in South India. In this article, we are going to see what are 5 the best South Indian lunch recipes that are diabetes-friendly too.
Here are the 5 best South Indian lunch recipes for diabetics
1. Lemon Rice Recipe


This is a popular South Indian Vegetarian Lunch Recipe item that is also called Chitranna. This is a tangy and tasty easy-to-make dish flavored with lemon juice, fried nuts, aromatic herbs, and spices.
Recipe features

FFD-style lemon rice uses brown Basmatic rice to make it diabetes-friendly.
Ingredients
1 Tsp Coriander Seeds
2 Tbsp Oil
1 Tsp Mustard Seeds
3-4 Curry Leaves
2 Green Chillies (Slit lengthwise)
1 Inch of Ginger (Grated)
¼ Cup Peanuts (Roasted and unsalted)
1 Tsp Turmeric Powder
2 Lemons (Extract Juice)
2 Cups Cooked Brown Basmati Rice
Method
Gently roast and then coarsely grind the coriander seeds into powder.
Set aside.
Heat the oil in a pan and add the mustard seeds, curry leaves, and green chilies.
Fry the mixture until the spluttering stops.
Add the ginger and peanuts.
Fry the mixture for another min.
Add the turmeric powder and turn off the burner.
Add the lemon juice and mix well.
Add the rice, roasted coriander powder and salt to taste and mix.
Variations:
Rice can be replaced by Millets (Proso/Foxtail/ Kodo).
2. Muga Mole Randayi Recipe
This is a favorite dish of most of the Konkanis. A must in all North Kanara functions. Mooga mole means sprouted moong.
Recipe features

The original dish is made using a green turnip along with sprouted moong. We, at FFD, suggest the use of raw bananas, jackfruit or bamboo shoots any one of these as they are more good for diabetics.
Ingredients
2 Cups Sprouted Moong
(Washed nicely to remove the skin)
½ Cup Vegetable Pieces like Raw Banana or Jackfruit or Bamboo Shoots
1 Cup Coconut (Fresh/Frozen)
1 Tsp Coriander Seeds
Pinch of Asafoetida (Hing)
5-6 Red Chilies
½ Tsp Tamarind Pulp
1 Tsp Mustard Seeds
4-5 Curry Leaves
Oil
Salt
Method
Heat oil and fry coriander seeds & red chilies.
Grind with coconut, tamarind and Salt.
Cook moong and vegetable (any one of the vegetables should be used).
Add the ground masala & bring it to boil.
Heat oil fry mustard & curry leaves.
Add this tadka to the above dish & close the lid
3. Aviyal Recipe (Mixed Vegetable In Coconut Gravy)




It is the key dish of South Indian Vegetarian lunch recipes. Aviyal can be described as a vegetable stew.
Recipe features

This dish is rich in vegetables and coconut, all good for diabetes. FFD suggests using ash gourd as one of the vegetables too due to its beneficial properties for diabetics. Also, we use vegan curd instead of regular milk curd in this recipe.
Ingredients
½ Cup Carrot
1.5 Cups Ash Gourd
2 Medium Drumsticks
½ Cup Cluster Beans
1 Raw Bananas
½ Cup Coconut Grated
5-6 Green Chilli
1 Tsp Cumin Seeds (Jeera)
5 Tbsp Vegan Curd
1 Tsp Coconut Oil
8-10 Curry Leaves
Turmeric
Salt to taste
Method
Cut the veggies into 2 cm long pieces.
Steam the vegetables with a small pinch of turmeric powder and salt.
Put coconut, chilli, cumin seeds and add curd to the mixer and grind it without water to make a coarse paste.
Add the ground paste to the vegetables and mix well.
Add salt and water to make a good consistency.
Cook on slow flame for 6 mins.
Give tadka using coconut oil and curry leaves and put it on the mix.
Tasty Aviyal is ready.
Serve with plain brown rice or with khapli wheat chapati/roti.
Variation:
Instead of Vegan curd (yogurt), you can use raw mango.
4. Athikai Kootu Recipe (Anjeer Moong Dal)


This is a south Indian style kootu recipe made from unripe figs / athikai and moong dal.
Recipe features

Figs are a rich source of fiber and vitamins. This choice makes this dish from Tamil Nadu unique. FFD has chosen it as it is diabetes-friendly too.
Ingredients
1 Cup Unripe Figs/Athikai (Cleaned, washed and cut into halves)
¼ Cup Siru paruppu/Split Green Gram/ Green Moong dal
1 Onion (Finely chopped)
1 Tomato (Finely chopped)
3-4 Garlic Flakes
¼ Tsp Turmeric Powder
3-4 Dry Red Chillies or Green Chillies
¼ Tsp Cumin Powder/Jeera (Optional)
Pinch of Asafoetida (Hing)
Salt to taste
1 Tsp Mustard Seeds
5-6 Curry Leaves
1 Tbsp Coriander (Chopped)
Method
Wash figs and soak them in salt water for 20-30 mins.
Cut it into halves and keep aside.
Cook siruparuppu with enough water till it turns a little mushy.
Drain the water and keep dal aside.
You can reuse the water for later purposes as it contains all nutrition.
Heat 1-2 Tsp oil in a pan or deep wok / kadai.
Temper mustard seeds, broken red chilies, and curry leaves.
Add chopped onions and garlic flakes.
Fry for a min on low flame.
Add chopped tomatoes and Sauté for a while.
Now, add chopped figs and turmeric powder.
Stir well.
Add asafoetida, cumin powder, and salt to taste.
Mix well everything.
Add ½ cup water and cook it covered for 15 mins on low-medium flame add cooked moong dal and retain water.
Cook for another 5 mins.
Add more water if needed and adjust the salt.
Garnish with chopped coriander and serve hot with rice.
5. Kadala Curry Recipe


This is a recipe from Kerala which is traditionally served with Appam or puttu at breakfast. It is delicious spicy curry made from kala chana and coconut.
Recipe features

Chickpeas are a good source of fiber, protein, and nutrients. Additionally, this recipe is gluten-free too. All this makes it a good curry item for diabetics.
Ingredients
1 Cup Kadala/Black Chick Peas/Kala Chana (Soaked overnight)
½ cup Coconut Milk
1 Tsp Coconut Oil
2 Medium Onion (Thinly sliced)
1 Ginger ½-inch piece (Finely chopped)
3 Cloves Garlic (Chopped)
¼ Tsp Turmeric Powder
1 ¼ Tsp Coriander Powder
¾ Tsp Chilli Powder
1 Green Chilli (Chopped)
3 Sprigs Curry Leaves
Salt
Method
Heat oil.
Fry onions, green chilies, garlic, ginger, and curry leaves.
Once onions are soft, roast chili powder, coriander powder, turmeric powder.
Add drained Kadala/chana and salt.
Pressure cook the mixture till kadala is cooked.
Add thin coconut milk extract.
Bring to boil till gravy reduces to half.
Add thicker coconut extract and bring to boil again.
Serve Kadala Curry hot with Brown Rice Roti/appam.
To summarize, each and every region has its own set of recipes. The above 5 are just a few from a whole lot of South Indian Lunch Recipes. If you keenly observe, all of them are diabetes-friendly and can help in the process of diabetes reversal.
Our recipe section is a great collection of recipes that are beneficial for health-conscious and diabetics. We request all diabetics to include them in their food list depending on their choice.
FFD diabetes reversal program - Holistic Transformation Program (HTP) is a unique program that helps people reverse diabetes. It does not stop here, it also helps people reverse their co-morbidities like hypertension, thyroid, cholesterol, higher weight, etc. Our success number till date is 12500+ people free of their diabetes medicines and insulin. This huge success lies on our 4 pillars, 4 protocols implemented through a team of experts.
Looking for west Indian healthy Diabetes-friendly breakfast, dinner & sweet dish Recipes? Visit here:


1. South Indian breakfast recipes



2. South Indian dinner recipes