A complete weight loss & health transformation story with FFD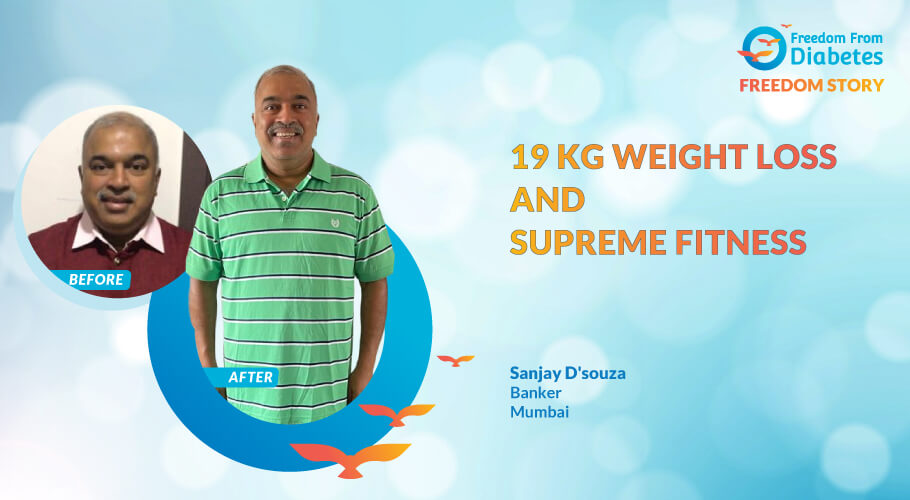 Mr. Sanjay's Weight loss success story
Name- Mr. Sanjay D'souza
Age- 55 years
Profession- Banker

Place - Mumbai
What made me join FFD?

I knew the FFD way but the reluctance of changing lifestyle was restricting me. Finally, I made up my mind, and here I am.
Introduction

Hi friends

I am Sanjay D'Souza, a 55 years young Banker from Mumbai. My job profile requires me to travel a lot. Medical history-wise, I have a history of diabetes on my paternal side. For me, personal stress and lifestyle were the negative points.


Diabetes and difficulties

I became aware of my diabetes in a routine medical checkup done 20 years ago. Having it at a very young age of 35 was not a piece of good news. I too began on oral medicines for diabetes. As the years passed, I also started putting on weight. The year 2018, was another bad year as I was started with medicines for cholesterol and BP too. My other sufferings were low back and shoulder pain.


Mr. Sanjay D'souza
Freedom from Diabetes journey

I knew Dr. Pramod Tripathi for 10-12 years when he did the corporate program for HDFC bank. It was that time when I first met him. So, I was aware that Diabetes Reversal happens but one needs to devote and dedicate time to it and there are a few lifestyle changes involved too. I was just not ready for those changes and kept delaying.
In December 2021, I came across an onboarding program of FFD and tried the simple tips given. Every week, I was seeing benefits. This was the triggering point. Finally, I made up my mind and joined FFD diabetes reversal program HTP.

I started following all 4 protocols religiously and results started pouring in. All my diabetes medicines stopped in 14 days. My other health parameters too were improving and by the end of 3 months, my medicines for cholesterol and BP too stopped.

My weight loss journey has been incredible. Earlier I tried walking 2 hours a day, 1 in the mornings and 1 in the evenings, playing games, everything possible I thought would work but nothing helped. I could not even lose 1 mg nor reduce by 1 mm through these methods. When I joined FFD my weight was 102 kg. In three months, I lost 18 kg of weight. This weight loss was amazing. Now I am 83 kg.


Benefits and suggestions

Even though I travel extensively, I do not miss my exercise. I carry my yoga mat, resistance bands and tubes with me. I also carry smoothie powder with me. FFD staff has also given me travel tips which I find extensively helpful. I can comfortably cycle for a 2-hour duration without really feeling tired, a low impact I pursue as my athletic identity, after a gap of almost 45-plus years. With FFD's guidance, I have reached a level of super energy now.


Takeaways
19 kg remarkable weight loss
Freedom from diabetes, cholesterol & hypertension medicines
Supreme fitness and feeling of wellness.