A dramatic reversal story from Massachusetts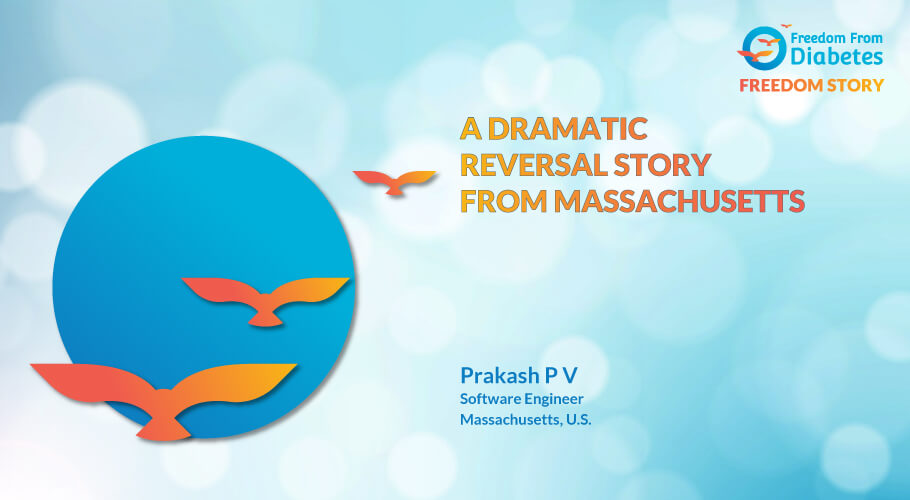 Name- Mr. Prakash P V
Age- 61 years
Profession- Software Engineer
Place - Massachusetts, U.S.
There are a few things that keep disturbing you and bugging you in life. Even though they do not cause grave harm, they keep pinching you. The same happened to me. I came across FFD and am out of that underlying hurting feeling now... completely.
I am Prakash P V, a 61 years young, software engineer from Massachusetts, U.S. I do have a diabetes history from my maternal side but got it pretty late at the age of 50.
In the year 2010, I got my routine medical checkup done. It was at that time, I got to know about my diabetic status. I was already on medicine for hypertension since 2008 and this was another blow for me.
Luckily, I was never on insulin and nothing very complicated happened to me due to diabetes. But as I mentioned in the beginning, the sugar issue was underlying and bugging me. I used to think, that if I could get over it, life would be even more beautiful.
The stress of personal health and blindness would have taken a toll on my health, I think. Interestingly, my blindness is not related to diabetes at all. It is due to a genetic disorder.
So, the fact is I wanted to come out of this sugar problem and a good thing happened to me. I came to know about FFD through my wife who is a member of FFD now, who in turn got the reference from a participant in Bangalore.
We got a fair idea about how FFD works from there and helps people reverse diabetes. See, the world is truly becoming small. I enrolled myself for HTP program batch 78.
For me, the FFD journey has been dramatic. I never expected such a speedy recovery. My body responded instantly, as I followed everything taught at FFD Diabetes Reversal Program - HTP.
By the end of the first week itself, my medicines reduced to half and the end of the second week was the time to rejoice. All my 11 years of diabetes medicines stopped in just 14 days.
HbA1c improved from 7.2 to 5.9. I used to weigh 150-151 pounds. Now I weigh 140-141 pounds, 10 pounds less. It is just great to be associated with FFD. I am in pink of health now and would like if my story is mentioned in the type 2 diabetes reversal success stories of FFD.