A Project Manager's Diabetes Reversal Story of Achieving Freedom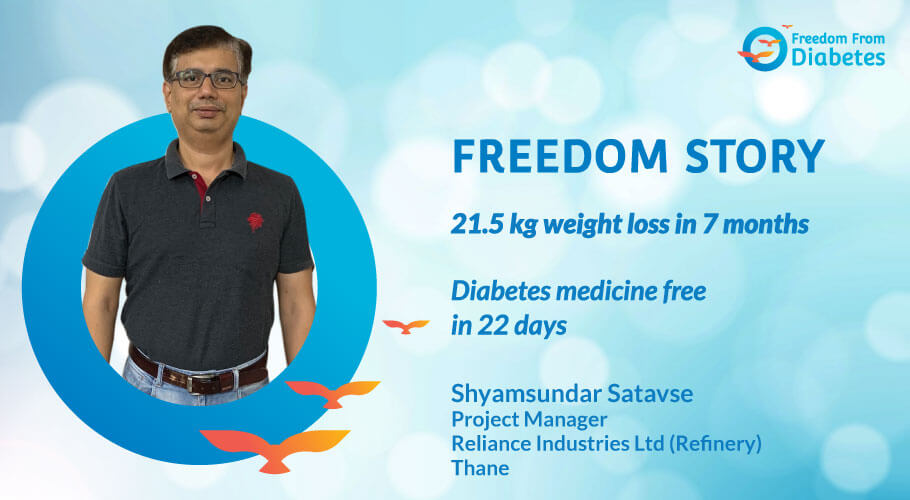 Pre-Diabetes successful Reversal Story of Mr. Shyamsundar
Name- Mr. Shyamsundar Satavse
Age- 41 years
Profession- Project Manager in Reliance
Place - Mumba, Thane
"Freedom cannot be bestowed.. it must be achieved!" Hello, myself Mr. Shyamsundar Satavse, age 41 years, Mechanical Engineer from than, and work as a Project Manager in Reliance Industries Ltd.
We have yearly medical checkups in our office and from previous medical checkups, I had a fair idea that I was in the pre-diabetic category. My fasting sugars used to be in the range of 110 or so.
Last year, in March 2019 during a regular medical checkup my fasting sugars came to be 212 and PP around 364 and I was confirmed to have diabetes.
I was put on Metformin. I also had other problems like tiredness, anger, high cholesterol, hypothyroid, back pain, kidney stone, fatty liver grade 1.
I got to know about "Freedom from Diabetes" from my wife's friend. Soon, I attended the Thane Mega Event in November 2019 and subsequently enrolled myself in Diabetes Reversal Program i.e. Intensive Reversal Program Batch 53 with my wife as a supporting member.
I started following the FFD diet and exercise protocol thoroughly and was told to stop diabetes medication in around 22 days. My cholesterol, as well as triglyceride levels, came down dramatically and I was very happy.
I had put around 96 kg of weight by the time I was diagnosed with diabetes, but after joining the Intensive Program I started losing weight. It gradually came down to 85 kg, then 77 kg in March and now it has come down to 74.5 kg... around 21.5 kg weight loss. Wow!
I would like to tell everybody that FFD's guidance and my persistence have culminated in this level of success. I would also like to thank my wife who supported me in this journey. She prepared all the breakfast, meals, smoothies as per FFD's Diabetes Reversal protocol.
I am really grateful to FFD for all this.