A top story of co-morbidity & diabetes reversal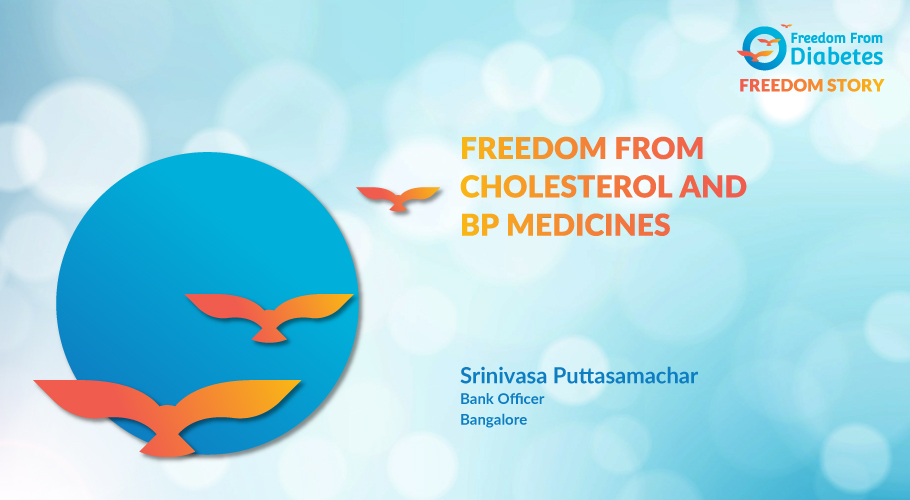 Cholesterol and BP medicines stopped too
Name- Mr. Srinivasa Puttasamachar N
Age- 74 Years Young
Profession- Bank Officer
Place - Bangalore
Hello all,
I'm Srinivasa Puttasamachar N a retired bank official from Bangalore.
My diabetes story


Blood test done in 2001, 21 years ago disclosed I was diabetic. The diabetes symptoms that my body showed were thirstiness and frequent urination.

Family history-wise, my father does suffer from this disorder. I learned that I had both high blood pressure and high cholesterol in 2017, which was two bad surprises.
How did FFD happen?


My son was the one who first informed me of FFD and its work in the area of diabetes reversal.
What made me choose FFD?


I never liked being on medicines. With FFD, I saw a hope of going free of medicines. The introductory webinar by Dr. Pramod Tripathi added to my confidence and I enrolled in Freedom from Diabetes type 2 diabetes reversal program - HTP immediately
Reversal story


The real game changer has been deciding to join FFD. I was able to stop taking sugar pills thanks to prompt advice from a doctor, diet expert, and exercise expert. I never thought this would actually occur.

My HbA1c improved from 8 to 6.1. It was also fantastic that I dropped from 64 kg to 53 kg in weight.

The icing on the cake is that I am free of cholesterol and hypertension medications. I practice all the FFD-recommended activities, including yoga, meditation, and 20 minutes of walking.
I'm doing just fine.
Key quote
'FFD has proved that diabetes reversal is possible'
Key takeaways
Medicine stopped
Cholesterol reversed
BP reversed