Army Veteran's Success Story of Diabetes Reversal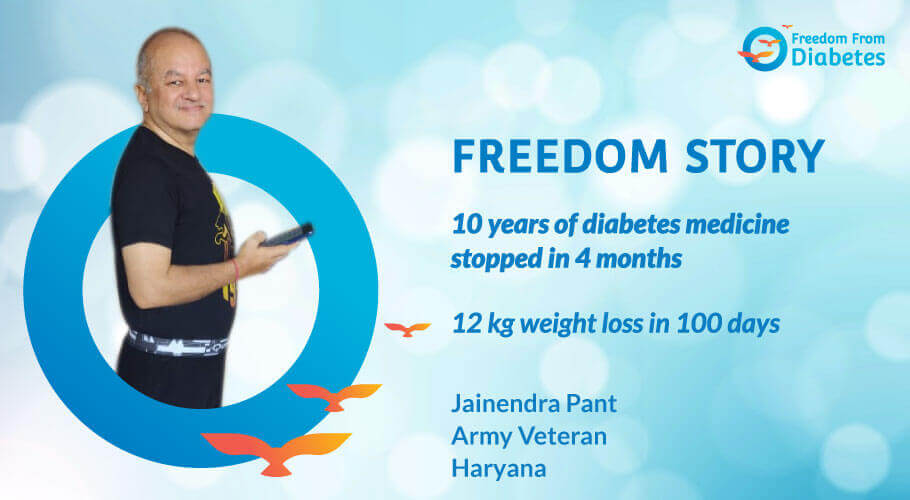 Mr. Jainendra's Diabetes reversal Success Story
Name- Mr. Jainendra Pant
Age- 57 years
Profession- Freelance Trainer in Soft Skills
Place - Haryana
Dr. Pramod Tripathi sir said, "You join the program and we will ensure that BRAIN STROKE doesn't happen again." This was the ASSURING SENTENCE that made me join "Freedom from Diabetes"!
Hello! Myself Jainendra Pant from Haryana, 57 years old, Army Veteran with over 30 years of experience in Corporates like Tata and Reliance. Currently retired but a Freelance Trainer in Soft Skills.
I was diagnosed to have diabetes around 10 years ago during a medical checkup. Like others, I also was started on medicines. Later, I was started on with medicine for hypertension. My problems kept rising and in 2016 I suffered from a stroke that affected my left side. At that time, I was hospitalized for 3 days.
My cousin's doctor suggested "Freedom from Diabetes". She told me to try this out. So I enrolled for the first session in February. During the Discover Reversal Session, I told the Diabetes specialist, Dr. Pramod Tripathi, about my brain stroke and other challenges in my case.
He said, "you join and we will ensure it doesn't happen again." I joined on his one sentence...I joined Holistic Transformation Program Batch 56 and my journey towards good health started.
I followed all that was taught in 4 Diabetes Reversal protocols diet, exercise, inner transformation, and medicine, and started noticing positive changes in me. I became free of diabetes medicines in around 4 months' time.
When I joined FFD, my HbA1c was 10 and now in June it has come down to 5.4, in the normal range, which gave me a feeling of " I DID IT."
I have also lost 12 kg in a span of 100 days which I think is an amazing achievement. Diabetes Specialist Dr. Pramod Tripathi also appreciated me in the following words "Super work done.. you have been a constant source of positive, wise energies".
I am grateful to Dr. Tripathi, my mentor, Dr. Malhar, my doctor ... everybody