Baidyanath karela jamun juice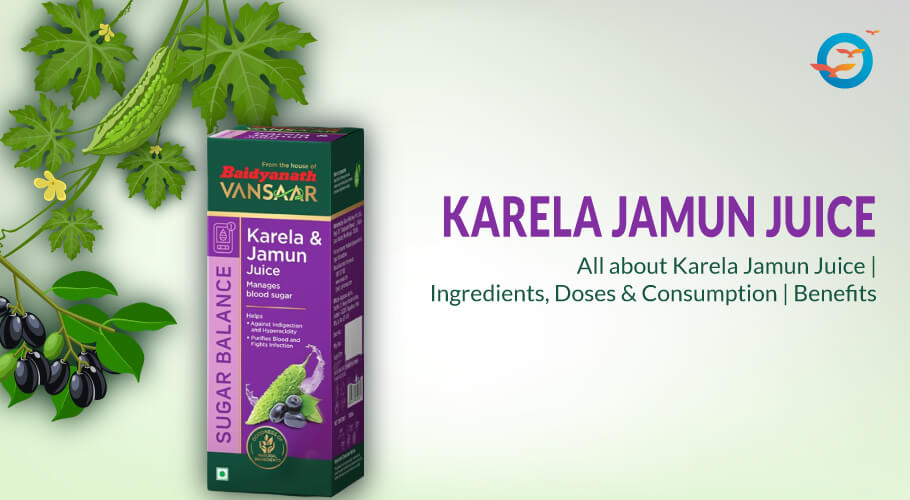 About "Baidyanath karela jamun juice":

Jamun and Karela are commonly found in Ayurvedic anti-diabetic medications. Both are known to have strong blood sugar-controlling properties.
Jamun, or black plum In English, is a wonder fruit for diabetes. The purple-colored fruit is rich in antioxidants called anthocyanin. The fruit, and the seeds as well, as said to be potent anti-diabetic. In addition to helping control blood sugar, jamuns are said to be natural blood purifiers, good for gut health, and overall immunity builders. The fruit is also rich in vitamin C and iron, both of which are good for treating anemia.
Karela, bitter gourd in English, is a formidable anti-diabetic vegetable. It is low in calories and carbs with a rich vitamin and mineral profile (it contains Vitamin A & C, potassium, zinc, iron, and folate), and with a high content of antioxidants, making it excellent produce for diabetics.
Jamun and Karela are both reputed to be excellent anti-diabetic foods; put them together and their ability to control BSL is said to be almost miraculous. This is exactly what Baidyanath Karela Jamun Juice does.
The manufacturer, Baidyanath enjoys a reputation as a brand trusted for pure ayurvedic products, with a range of offerings aimed at boosting health and immunity.
Karela and Jamun have many complementary virtues: Karela is known to help maintain glucose levels while Jamuns help ensures healthy pancreatic function. Together they can work together to help treat indigestion, dysentery, and diarrhea, as well as lower BSL.
Ingredients of
Karela Jamun Juice:
Karela (bitter gourd)
Jamun (Indian plum)
A source of Iron, Magnesium, and Vitamin C
Karela Jamun Juice
Benefits:


Baidyanath Karela Jamun Juice, one of Baidyanath's most popular products, is said to be an excellent blood-glucose-lowering product. The juice is positioned as organic produce with a myriad of benefits. Some of the benefits it is said to offer, include:
Improved sodium retention in the body
Treatment for lung ailments like asthma
Improve skin glow and make your hair healthy and lustrous.
Better purification of the blood and improved heart function.
Improved digestion by increasing the secretion of digestive enzymes in the liver.
Apart from regulating BSL, the juice is said also to help lower LDL (bad cholesterol) levels.
Stimulation of the pancreas to produce more insulin, effectively helping control high blood sugar levels (BSL).
Baidyanath Karela Jamun Juice is said to be rich in powerful antioxidants, which eliminate harmful free radicals and keep them from damaging organs in the body.
Dosage and Consumption:
Shake the bottle well before use.
Mix 30 ml (~two tablespoons) of juice in an equal quantity of water.
The manufacturer recommends drinking one glass of Baidyanath Karela Jamun Juice mixed in water, as described above, on an empty stomach, early in the morning, or before meals.
Precautions:
Keep away from children.
Consume only as per the recommended dose.
Read the label carefully and check the expiry date before using.
Store the product in a cool and dry place, away from direct sunlight.
If diabetic, check your BSL before and after consumption to ensure you do not become hypoglycemic.
Disclaimer
The contents of this article are intended for informative purposes only. We make no claims about the product in any way. Before making any change to your diet or adding any medication, it is recommended that you consult a qualified medical professional.