Chia Seeds benefits in Diabetes Controlling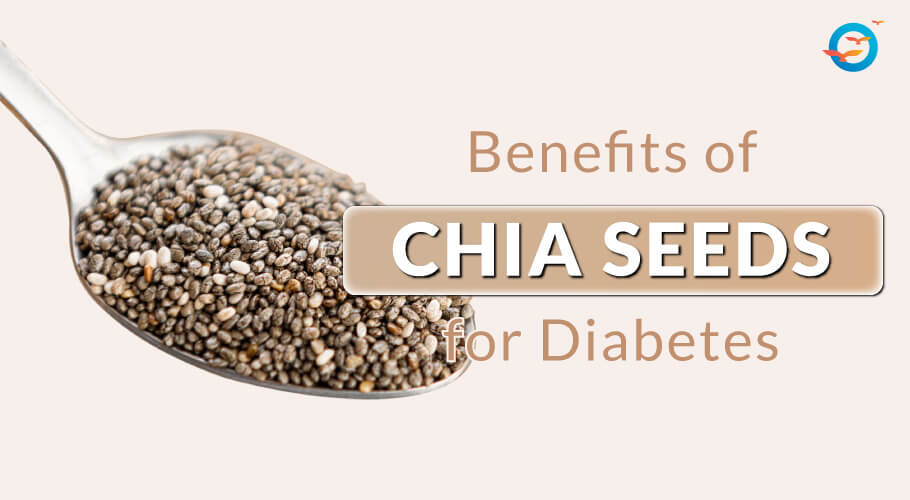 Chia seeds - A superfood in tiny form
You must have heard the common phrase "Chota packet bada dhamaka" There are certain people, items, things, foods which even though are small compared to others have great qualities in them and we just can't ignore them. Chia seeds are one such food item.
Chia seeds are small seeds black in color obtained from the plant Salvia hispanica. It is an important food due to its ability to provide sustainable energy. The fact is it has got its name "chia" from a Mayan word for "strength."
Even though chia seeds have been known for a long time, they have entered as a modern-day superfood only recently. They have become very much popular now and are consumed by health-conscious people all over the world. They are considered the healthiest foods on the planet.
Do not go by their size — they are Chota packet bada dhamaka with a pack of powerful nutritional punch.
Let us study chia seeds in detail-
Chia seeds nutrition facts:
1 ounce of chia seeds contain
Calories = 137 calories
Fiber: 11 grams
Protein: 4 grams
Fat: 9 grams
Calcium: 18% of the RDI
Manganese: 30% of the RDI
Magnesium: 30% of the RDI
Phosphorus: 27% of the RDI
They also contain a good amount of vitamin B1, zinc, vitamin B3 (niacin), potassium, and vitamin B2.
Chia seeds benefits -
1. Loaded with antioxidants -
Chia seeds supersede others due to their high antioxidant content in such a tiny state.
Antioxidants are of great help in protecting the delicate fats present in the seeds along with various health benefits.


2. Interesting fact about carbohydrates in chia seeds -


If you take 28 grams of chia seeds you will get 12 grams of carbs and out of the 11 grams of fiber is non-digestible and neither raises blood sugar nor requires insulin for it.

Even if it is a carbohydrate, it is different from digestible carbs and this quality makes it a low-carb food. Chia seeds have high soluble fiber content and absorb more water giving us a sense of fullness which helps in weight loss. Chia seeds are the best source of fiber (40% fiber by weight) in the world.
3. Quality protein
Chia seeds have a good amount of protein as compared to plants. The essential amino acids present in them help the right usage of this protein.
These qualities make them weight loss friendly.


4. Reduce Blood Sugar Levels


it is seen that chia seeds play an important role in improving insulin sensitivity and blood sugar control by stabilizing sugar levels after meals thus benefitting people with type 2 diabetes.
5. Reduce Chronic Inflammation


Inflammation is the body's normal response to infection or injury. Chronic inflammation can cause a lot of harm in the form of increased risk of heart disease and cancer. it is found from studies that having chia seeds on a daily basis helps in reducing inflammation thus useful in diabetes.
How to use chia seeds in the diet
Since the seeds taste is bland, we can add them to any food item.
One can have chia seeds in the raw form or soaked and used in a smoothie also. One can sprinkle them on salads.
To summarize, chia seeds are rich in fiber, antioxidants, nutrients, omega-3 fat very much useful for everybody's good health.
Interestingly, most of its qualities help people with diabetes also.
If you have not included chia seeds in your diet yet, definitely consider adding them.

Register in the upcoming Discover Reversal Session and learn the diet plans in details


Disclaimer:
This Blog solely serves our marketing purposes, for Authentic knowledge for this topic, Please join our upcoming Discover Reversal Session