Sesame Seeds and Its benefits in Diabetes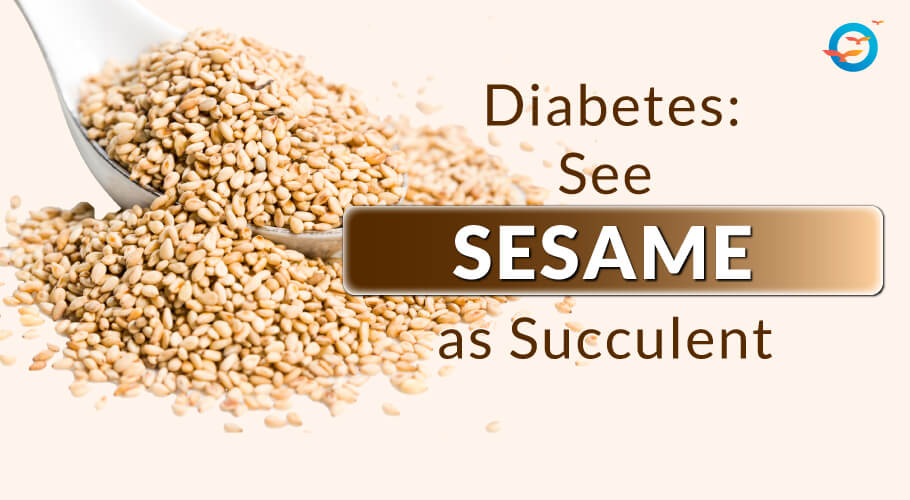 What does "Open sesame " remind you of?
For most of us, it reminds us of Alibaba and his 40 thieves tale. It is a term used in the story of Alibaba to open the den of the robber.
I would say "Open sesame...open sesame " to open the door to the den called "Health" by incorporating sesame seeds into the diet. it have many benefits and have been used in folk medicine for several hundred years.
Diabetes patients are often advised to eat only healthy food and hence it is advisable to include sesame seeds in their diet.
What are sesame seeds?
Sesame seeds are tiny, oil-rich seeds that grow in pods on the Sesamum indicum plant found in tropical and subtropical areas of South America, Africa, and Asia. It is available in an unhulled form which has an edible husk intact, while hulled seeds are without a husk.
They are available in 2 types-


1. White/Natural sesame seeds
2. Black sesame seeds
Compared to other similar crops like soybean, rapeseed, and peanuts, sesame seeds are believed to have a lot of oil.
These are a good source of vitamins, antioxidants, and proteins.


Sesame seeds calories per 100 g - 573 calories
Sesame Seeds Nutrition Facts

3 tablespoons which are 30 grams of sesame seeds contain:
| | | |
| --- | --- | --- |
| | Unhulled | Hulled |
| Calcium | 22% of the RDI | 1% of the RDI |
| Magnesium | 25% of the RDI | 25% of the RDI |
| Manganese | 32% of the RDI | 19% of the RDI |
| Zinc | 21% of the RDI | 18% of the RDI |
| Thiamine (B1) | 17% of the RDI | 19% of the RDI |
| Niacin (B3) | 11% of the RDI | 8% of the RDI |
| Vitamin B6 | 5% of the RDI | 14% of the RDI |
| Iron | 24% of the RDI | 10% of the RDI |
| Copper | 136% of the RDI | 46% of the RDI |
| Vitamin B6 | 5% of the RDI | 14% of the RDI |
Health Benefits of sesame seeds:
Sesame seeds help in reducing risk factors for heart disease.
Hulled sesame seeds are a good protein source useful in building blocks for your body.
These have high magnesium which helps in lowering blood pressure. Antioxidants present in them may help prevent plaque buildup.
Unhulled seeds are rich in nutrients good for bone health which have a high amount of calcium.
Absorption of the minerals is enhanced by roasting, spouting, or soaking sesame seeds.
These seeds and their oil help reduce inflammation.
Thiamine, vitamin B6, and niacin present in sesame seeds help in necessary cellular function and metabolism.
Sesame seeds provide vitamin B6, copper, and iron required for blood cell function and formation.
Sesame seeds may help in blood sugar control due to high-quality protein and healthy fats.
The vitamin E and the plant compound in these act as antioxidants to fight stress in your body.
Sesame seeds are a good source of several nutrients that are important for immune system function as well as thyroid function, including zinc, selenium, copper, iron, vitamin B6, and vitamin E.
Sesame seeds have a compound called sesamin which is found to help a great deal in arthritis of the knee.
Phytoestrogens may benefit women who are undergoing menopause.
If you carefully go through the benefits of black sesame seeds you will realize that they are very much helpful in conditions leading to diabetes.
Like they help in maintaining blood pressure due to their magnesium, help reduce inflammation, have antioxidants to combat oxidative stress, and their quality of being high in protein and healthy fats makes them special.
black sesame seeds even though small have a bundle of benefits for diabetics.
Did you like this blog? Do share it with others.
Do read our special article on Kiwi
You can also visit our Instagram page for event updates and information.


Disclaimer:
This Blog solely serves our marketing purposes, for Authentic knowledge for this topic, Please join our upcoming Discover Reversal Session