Cucumber Salad Recipe | How to Make Cucumber Salad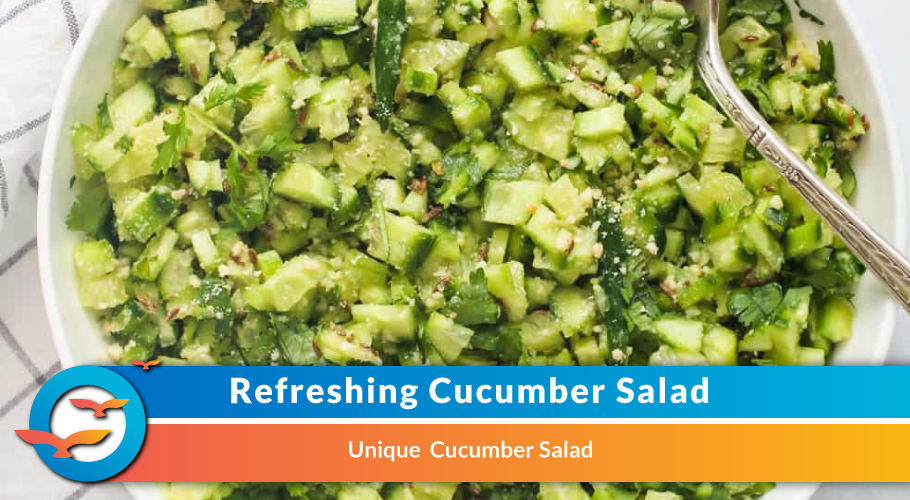 The C
ucumber Salad Recipe |

Diabetes-Friendly Recipe



Including cucumber in your diet regimen is great. The plus point about cucumber is, it is very low in carbohydrates and one can have as many as you want.

It has also been categorized as a non-starchy vegetable which puts it at an upper position in the ladder. Cucumber can be best used in the form of Salad and there are a number of ways in which cucumber salad can be made. Do you know any good cucumber salad recipes?

FFD which has gained its name as 'Diabetes Reversal Specialist' works on 4 protocols - diet, exercise, inner transformation and medical. It has a list of diabetes-friendly recipes amongst which one such is the cucumber salad recipe.

This recipe whose main ingredients are cucumber and peanuts is named "Refreshing Cucumber Salad". It is also known as 'Kakdichi Koshimbir' in Marathi and is very popular in Maharastra.


Recipe features -


A highly satisfying and tasty 0 cooking time recipe.
| | |
| --- | --- |
| course | Main/salad |
| cuisine | Indian |
| preparation time | 10 minutes |
| servings | 1-2 |
Ingredients:
Finely chopped cucumber – 1 cup
Chopped coriander – ¼ cup
Coarse roasted peanuts powder – 1 tbsp
Roughly chopped roasted peanuts – 1 tbsp
Minced chilies – ¼ tsp
Tadka of jeera and hing
Salt
Lemon juice – 2 tsp


How to make cucumber salad?
Mix finely chopped cucumber, coriander, green chillies, and lemon juice.


Add chopped peanuts, peanut powder and salt to the top of the salad.


Heat 1 tsp oil.


Add jeera to it and when it splutters, add hing and switch off the gas.


Pour this tadka over the salad.


Just before serving mix it and add 2 tsp of pumpkin seeds on top.


What is in cucumber salad?


If you observe, FFD-style refreshing cucumber salad contains peanuts as another major ingredient. Peanuts have a good amount of healthy nutrients, fats, and protein in them. Studies have reported that peanuts may even be useful in weight loss and may reduce the risk of heart disease.


Storage/serving suggestion -
Cucumbers are best when eaten fresh. So consuming this salad immediately after preparation is highly recommended. Maximum refrigeration of up to 1 day is allowed.
Cucumbers play a big role in satisfying your appetite and are very much helpful in diabetes also.
Cucumber salad makes a great combination with barley khichdi. Do try this...
You can go through another beautiful, diabetes-friendly salad recipe - Spicy Chickpea Salad Recipe here
FFD has a dedicated team of experts who gives customized treatment. Do enroll in our Discover Reversal Session (DRS) and see how customized Diabetes treatment fast tracks your Diabetes Reversal.
Looking for other healthy Diabetes-friendly Recipes? Try these: