Spicy Chickpea Salad Recipe | Spicy Chickpeas Indian Recipe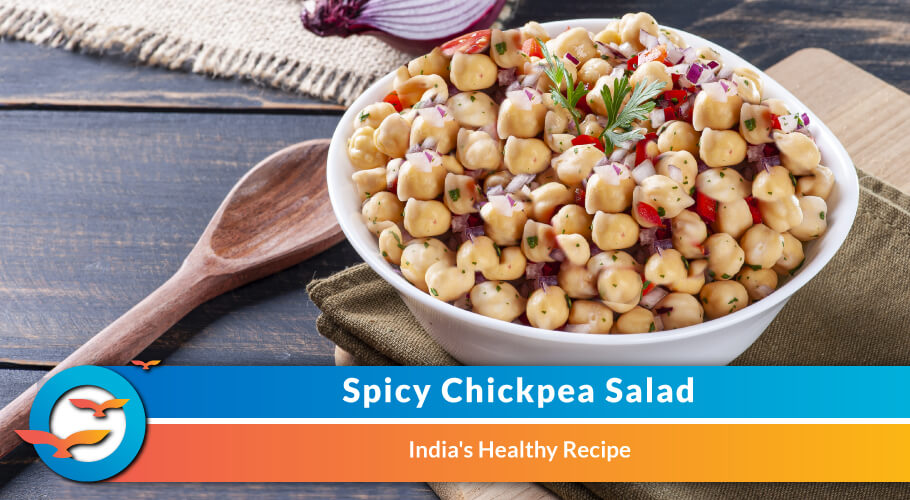 Spicy Chickpeas Indian Recipe | Diabetes-Friendly Recipe

Chickpeas which are also referred to as garbanzo beans are a type of legume. They are mostly round-shaped and beige in color. They contain several vitamins and minerals.
A lot many healthy recipes contain chickpea as the key ingredient in them. We use them in hummus and chana masala. Its flour can be used to make healthy dish falafel.
It is also used in soups, stews, and healthy salads and plays a major role in Mediterranean, Middle Eastern, and Indian cuisine.
But the common question that arises in relation to chickpeas is -
Are chickpeas high in protein?


Yes.!!! Chickpeas are not only a rich source of minerals, vitamins, fiber but are high in protein and considered to be an excellent replacement for meat and a boon for people opting for a vegan diet.
One of the best ways to utilize all the nutrients from chickpeas is to use them raw ..in salad form.


How to make chickpea salad?


Here is an interesting chickpea salad recipe for you all. It also falls in the category of 'diabetes salad Recipe'


Recipe features -


This is a simple, spicy, and tasty salad.


| | |
| --- | --- |
| Course | Snacks/salad |
| Cuisine | Indian |
| Preparation time | 10-15 minutes |
| Cook Time | 0 minutes |
| Servings | 2-3 Person |

Ingredients:
400 gm Chickpeas (Soaked overnight)
1 ½ Tbsp Oil
10 Curry Leaves
½ Tsp Black Mustard Seeds
½ Cup Onion (Quartered and finely sliced)
2 Tsp Dry Red Chilli Flakes
½ Tsp Kashmiri Chili Powder
Lemon Juice
Salt to taste
Few Sprigs Cilantro (Chopped)
2 Tbsp Onion (Chopped)

Method:
Heat oil, splutter mustard seeds.
Add curry leaves, chili flakes as well as chili powder.
Add onions to this and sauté for 4-5 mins until soft.
Add chickpeas.
Mix all the ingredients well, and simmer it for 3 mins.
Garnish with cilantro, chopped onions, and squeeze lemon over it.


Storage/serving suggestion -


This salad is best when consumed fresh. 4-6 hours of refrigeration can be done.
It is reported that nutrients in chickpeas help in a number of health conditions for eg., diabetes, weight loss, etc. and if included in the meal plan does wonder!
Since this dish is very filling in itself one can have it with some light soup like lemon coriander soup, clear vegetable soup.
Looking for other healthy Diabetes-friendly Recipes? Try these: