Stuffed Bhindi Salad | Ladyfinger Salad Recipe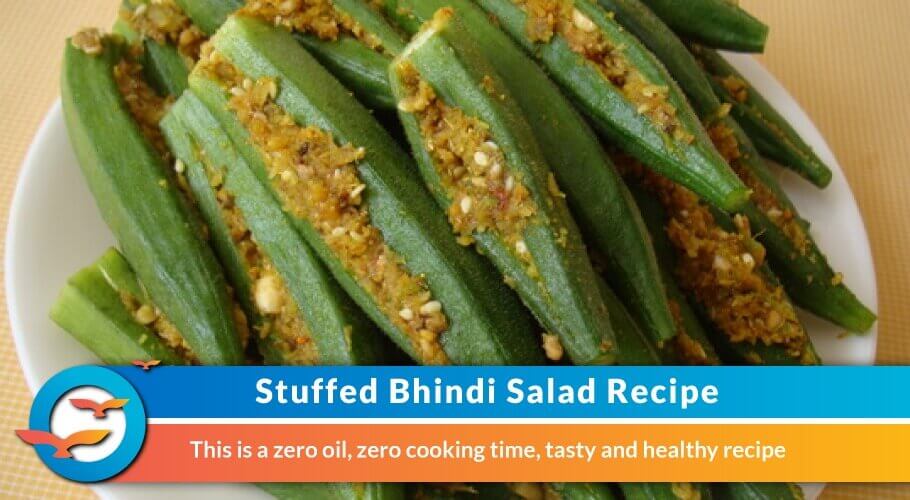 Stuffed bhindi salad | Diabetes-Friendly Salad Recipe
Bhindi or lady's fingers is a great choice for health-conscious as it is low in calories and high in fibre. It contains various minerals and vitamins like potassium, vitamin B, vitamin C, folic acid, and calcium.
Stuffed bhindi is a popular Indian side dish that can be enjoyed with Roti/Paratha & Dal.
In this, bhindi is slit and stuffed with spice mixes such as garam masala and other locally available ground spices. Every region makes stuffed bhindi in its own way with its own special stuffing. Some use onions while some use groundnuts as a filling material.
Here is a healthy, tasty stuffed bhindi salad recipe for you.
Recipe features -This is a zero oil, zero cooking time, tasty and healthy recipe.
Equipment -One large bowl and a plate
| | |
| --- | --- |
| Course | Main course/Snack |
| Cuisine | Indian |
| Preparation time | 15 minutes |
| Cook time | 0 minutes |
| Total time | 15 minutes |
| Servings | 2 People |
Ingredients for Bhindi Salad



For stuffing

Bhindi - 10-12 small tender
Phutana dal or roasted gram dal – ½ cup
Roasted groundnut powder- ¼ cup
Grated coconut – 1 cup
Jeera powder – 1 tsp
Red chili powder – 1 tsp
Lemon juice – 2 tsp
Rock salt as per taste


Method for Preparing Salad:

Mix all the ingredients for stuffing. Remove the tops of the bhindi. Give a vertical slit on each bhindi. Stuff it with the given stuffing. Arrange them on a plate and garnish them with fresh coconut and chopped coriander.

Cooking tips - There is no cooking involved in this recipe.

How to store Bhindi Salad:
This stuffed bhindi salad is best if eaten fresh, but still one can store it up to 1-2 hours at room temperature.
This kind of stuffed bhindi makes a great snack. It is tasty as well as filling and worth adding to the diet regime.
Try it and share the experience.
We suggest you also have 'Lettuce mix salad' with 'stuffed bhindi salad'.


Looking for other healthy Diabetes-friendly Recipes? Try these: