Diabetes, BP, 31+kg excess weight, fatigue, stress, all gone thanks to FFD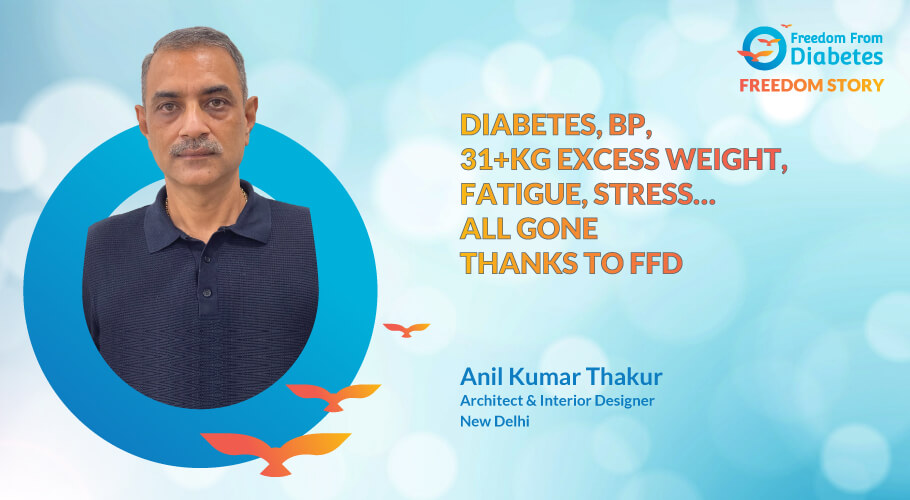 Name- Mr. Anil Kumar Thakur
Age- 53 years
Profession- Architect & Interior Designer
Place - New Delhi
Since 2008, I have been suffering from Blood Pressure. And I've been on medicines for it, since then. In March of 2021, I was also diagnosed with diabetes.
In April of the same year I contracted Covid 19, and my sugar levels rose up further. Meanwhile, my weight had been climbing steadily, as well. By 2021, it had reached an all-time high of 93.5 kilos. I began to suffer from arthritis too. Going up and down stairs became a major issue.
Worries about the future, about losing my mobility, about being on medicines for the rest of my life…these negative thoughts began to drive up my stress levels.
It didn't help when my doctor basically told me that diabetes was for-life and I would be on medicines as long as I lived. It was a truly traumatic experience.
My doctor put me on medicines, and I began watching my diet, but it didn't seem to have much effect. The constant anxiety about diabetes was taking a big toll on my health. I dreamed of being free of medicines, but it felt like an impossible dream.
Mr. Anil Kumar Thakur
One day I came across a video about Dr. Pramod Tripathi and his revolutionary diabetes-reversal program. Intrigued, I researched some more, and excited about what I read and saw, I contacted FFD, and almost immediately joined the Holistic Transformation Program (Batch 73).
It was the best decision of my life. Almost immediately changes began to happen. In just one week's time, the doctor told me I didn't need to diabetes medicines any longer. Soon my BP too normalized. I was overjoyed, and a bit disbelieving. But it was true. I was finally free from medicines!
Almost without my noticing it, my weight had been dropping too. I had started out at a massive 93.5. Now I'm 64 kg! That's a loss of 30 kilos! It's like a dream for me. For the first time in a really long time, I feel happy, healthy, and full of energy.
Words cannot express my gratitude to Dr Tripathi and the entire FFD team. They are engaged in a noble cause; performing a great service to mankind.