Dr. Veerendra Tippanna Mudnoor : An inspirational story from Hyderabad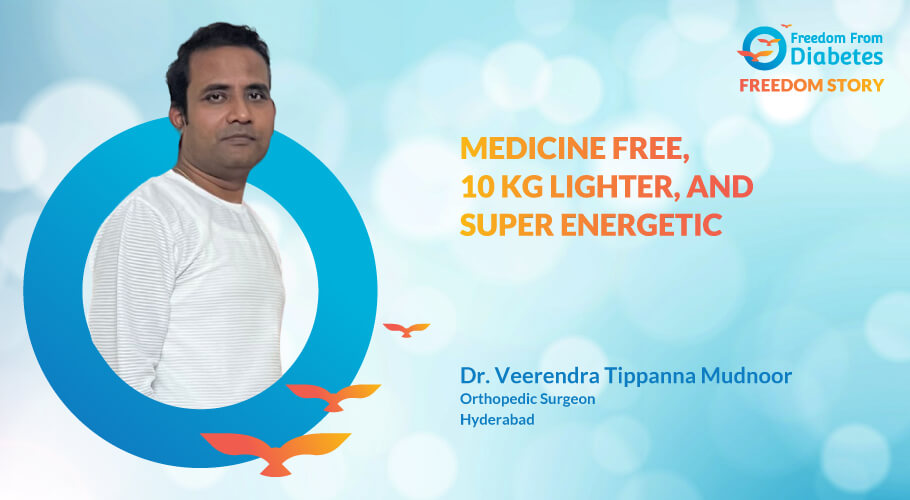 Medicine free, 10 kg lighter, and super energetic
Name- Dr.

Veerendra

Tippanna Mudnoor
Age- 42 Years Young
Profession- Orthopedic Surgeon

Place - Hyderabad, India
Why did I join FFD?
I was trying to manage diabetes and did succeed in reducing medicines too, but I wanted to get rid of them.
Introduction


Hello All
I am Dr. Veerendra Tippanna Mudnoor, a 42-year-young orthopedic surgeon from Hyderabad. I am a decently busy practitioner doing 70-80 surgeries in a month. There is no family history of diabetes.
How did I get to know about my diabetes?


in 2012, around 10 years back, I had a symptom of excess thirst and micturition. So got it tested myself. The blood sugar level was very high at 400mg/dL, a pretty shocking number.
For the first two to three years, I took insulin and tablets. Then shifted to tablets after my HbA1c came down to 8% from 12%. (Normal is below 6.3)

I significantly changed my food habits. Changed my eating pattern, the timing of eating, and regular walking exercises and with this could bring down my HbA1c to 6.1%-7%.
I took the help of my colleagues and was a well-controlled diabetic.
Dr. Veerendra Tippanna Mudnoor
Difficulties I faced


During COVID and post-COVID, I was getting little Vitamin B12 deficiency as I was on Metformin for 10 years. Took B12 shots, and the symptoms subsided but then again had a B12 deficiency.
A surgeon requires to stand for long hours. All this fatigued me immensely so much so that I needed a foot massager to relieve it.
I was also scared I would have a neuropathy problem. Colleague physicians checked me and found there were no such complications but I had decided I wanted to get rid of diabetes medications.

How did I get to know about FFD?


One of my friends whose name is Dr. Prashant gave me information about Freedom from Diabetes. He had come to know about it through his friend in Bangalore.
My FFD journey


I first attended the webinar named DRS by Dr. Pramod Tripathi. When I expressed my wish to join it with my family, they were not convinced. Their thinking was I was already on a stringent diet what more was FFD going to provide?
I thought let me join and see and enrolled in FFD diabetes reversal program HTP. All my diabetes medicines stopped within one month of starting my HTP.
At FFD, I learned many new things regarding fruits, vegetables, muscle-building exercises, and more. I used to weigh around 77-78 kg which reduced to 68-69 kg. There has been a good 10 kg weight loss.

Impression


Joining FFD has made a lot of difference. I got to learn many valuable things concerning health. There has been a significant improvement in energy levels. My fatigue level is 0 and I no longer require the use of a massager at the night.
Dr. Pramod Tripathi is doing a wonderful job. He can motivate and push people without doing one-to-one interaction which I think is very difficult and simply great.
Key Takeaways
Medicine free
Super energetic
Weight loss of 10 kg