Enjoying medicine-free, power-packed life only due to FFD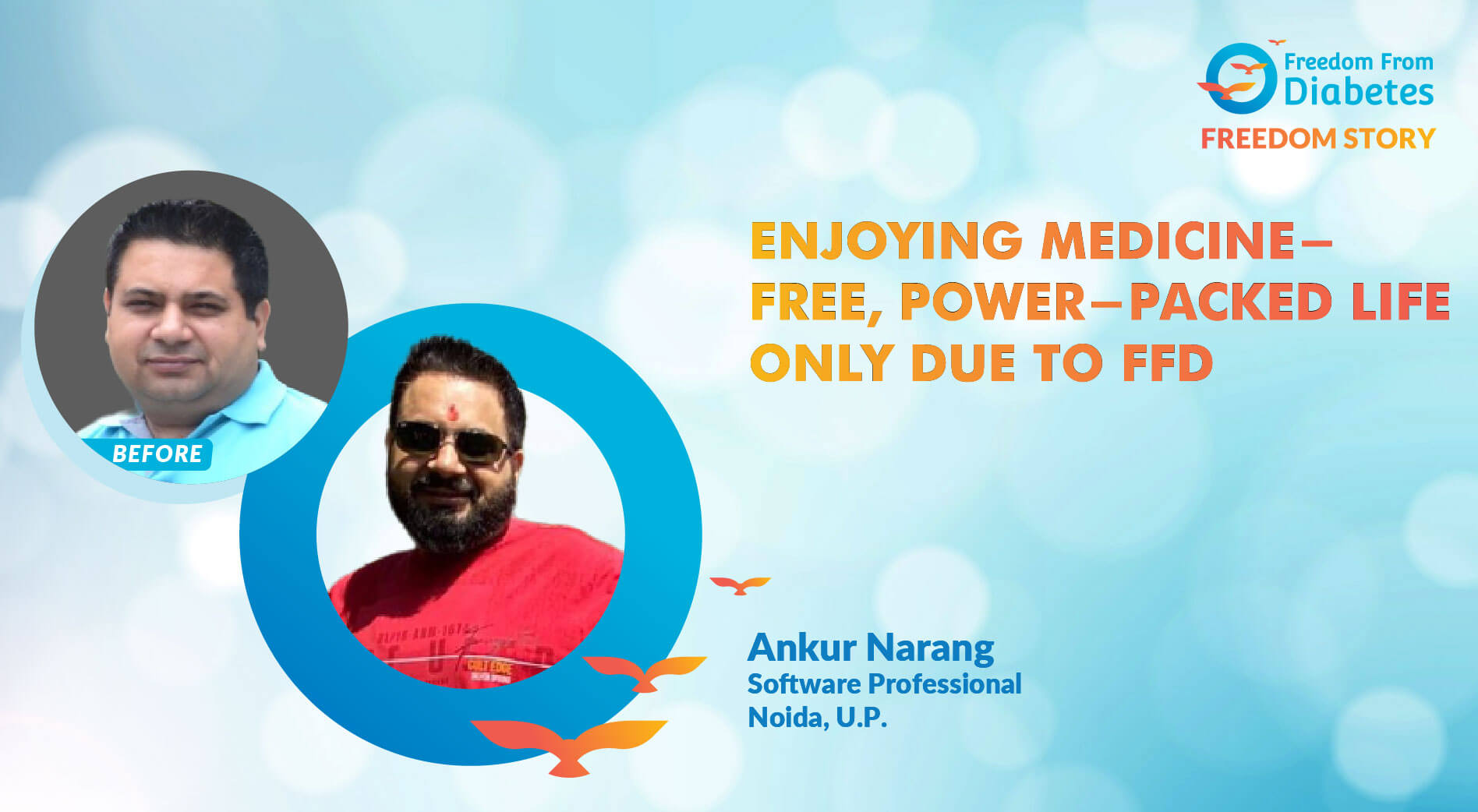 Name- Mr.

Ankur

Narang

Age- 42 years
Profession- Software Professional
Place - Noida, U.P.
I feel great from the inside and outside. My energy levels never go down now. All thanks to FFD. I, Mr. Ankur Narang, a 42 years young, software professional from Noida, U.P. Stress-wise, being in the software industry is definitely stressful.
I got to know about my diabetes in a strange way. I started getting headaches around June 2020. Went for all tests as per the doctor's advice and noted that my Hb1AC had reached about 8.
Fasting BSL was around 135 and PP was around 180-200+. Lack of energy and very strong headaches were my primary concern along with fluctuating sugars.

I was not taking insulin. Was on one tablet each morning and evening. I also was taking a few Homeopathy medicines to keep BSL in control.
Mr. Ankur Narang
One of my friends suggested FFD. He read about it over the internet. Joining FFD has been the best decision of my life so far.
With excellent sessions, a team of doctors, and exercise and diet experts, the journey looked easier though it wasn't an easy transformation. I have become very cautious of what I eat and its impact on my health. This is the best impact I feel now.

The diabetes medicines that I was taking stopped in just 15 days of joining the FFD diabetes reversal program - HTP. Not only that, I have lost around 13-14 kg of weight, about 6 inches in the waist, 4 inches on shoulders and overall body size has reduced from XL to M.

It is a great feeling when people tell you that you have become 10-15 years younger. My body is in better shape now. There has been an immense boost in my energy levels after following the Freedom from Diabetes protocols.
I can go on for 12-14 hours without getting tired. I don't take any medicines. I get up around 6 am, and hit the gym around 6:30 for an hour to an hour and 15 min.
Come back, get ready and go to the office. Reach back home around 6 pm. Go for badminton for an hour or so around 7. Come back, have office calls, and sleep around 10:30-11.
Able to beat all those players in badminton who made me run for the money. Able to use gym equipment that was a distant dream for me earlier. I eat a lot less in general, feel more energetic, able to keep up the smile in all situations.

FFD has given me a life I never dreamt of. Thanks a ton, FFD!