FFD didn't just Reverse my Diabetes; it brought back the Athleticism of my youth.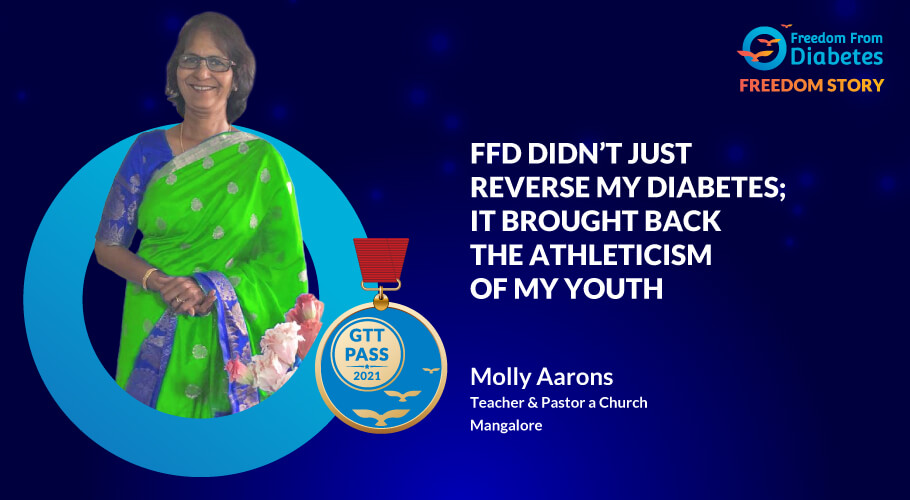 Name- Mrs. Molly Aarons
Age- 62 years
Profession- Teacher, Pastor, and Fitness Buff
Place - Mangalore, Karnataka
I'm a teacher by profession and a pastor in my Church. These are both fairly active occupations, and I am usually up and about, but during mid-2020, I had a fall and injured my feet. During the subsequent treatment, my blood sugar was found to be very high, and I was diagnosed with diabetes.
Since my dad and mum were borderline diabetics since their middle age, I was aware of the dangers, but I've always been avid, I represented my school, winning the second prize in the long jump event and coming in third in running in the inter-school competition in Mumbai.
I remember receiving my medal from the eminent cricketer Farouk Engineer. I went on to play hockey in college and am still just as passionate. With my love for fitness and sports, the diagnosis of diabetes, really took me by surprise.
But the test results showing my random BSL counts at 370 could not be denied. The orthopedic doctor who discovered my diabetes while treating me for my broken leg, told me to consult a general physician and start medication.
But my bandaged foot and the ensuing Covid lockdown gave me reasons to procrastinate, which I regret to say, I grabbed with both hands. The result was that my diabetes brought more health problems. It led to high BP, and neuropathy as well. And I was also putting on weight steadily.
Mrs. Molly Aarons
During this time, I came across an FFD video on YouTube, on diabetes reversal. Intrigued I researched further and discovered a veritable treasure trove of helpful information on various FFD social media platforms. I began following the tips suggested in the videos and articles, and I managed to drop my weight to 60 kg.
I thought I could manage my diabetes in this way, but in 2020, I almost had a stroke. I was still not on medication and had not consulted a physician, but the situation gave me quite a scare and I underwent a complete health check-up. My sugar was found to be very high and so was my BP.
The doctor put me on immediate medication. Unfortunately, I was due to travel abroad to Dubai, and the Customs authorities did not allow me to carry the medicines through. By the grace of God, I had no problem. One strong support I had was FFD.
I had enrolled in the Holistic Transformation Program (HTP) and was following the prescribed diet & exercise protocols. Unfortunately, in addition to the cast on my leg, I had also contracted a tennis elbow, which restricted my exercise further. But I followed my diet strictly.
The results were quick in coming I lost a total of 18 kilos. And by November of 2021, my HbA1C, which was at a high of 10.3 when I enrolled in FFD, came down to 6.1.
Once I was out of my cast, I could take up the exercises too. Thanks to the protocols, I was totally free of diabetes. In fact, I went on to clear the Glucose Tolerance Test (GTT), which is considered the litmus test of diabetes.
FFD transformed my life, and I'm happy to say that I've been free of all diabetes medicines since the HTP program. I follow the FFD protocols of diet, exercise and I meditate every morning. Life is good, and I have FFD to thank for the blessing of good health.