FFD IRP Program with 4 Diabetes Reversal protocols - The Real Pillars of Holistic Health!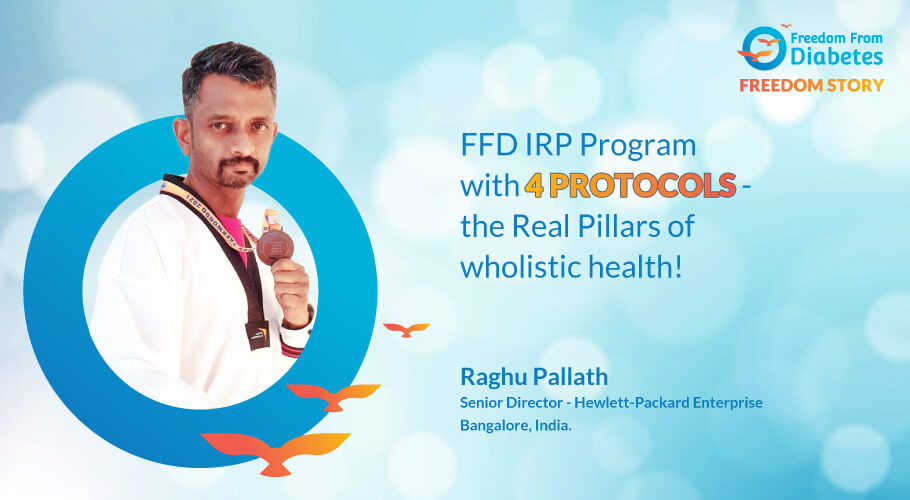 Name- Mr.Raghu Pallath
Age- 47 years
Profession- Senior Director - Hewlett-Packard Enterprise
Place - Bangalore, India
Health is not just one thing. It is the combined effect of all - diet, exercise, lifestyle, mental health, social status, external factors, etc. Focussing on just one thing will never lead one to good health.
I have got great results from FFD. I joined it, implemented protocols, got results and now I can surely say that each protocol, each step, each phase designed by FFD is well thought of.
I am a Senior Director at Hewlett-Packard Enterprise, chiefly handling Global Alliance Sales with a multi-location team & need to travel a lot. Though I am doing good, I must admit, at times it can be stressful to balance professional and personal life. And to understand how to balance it, you need the right help from the right people.
This is my story of how I was able to transform my mind, body & soul to a level that made me a State level Bronze Medal winner in Taekwondo.
In 2013, I thought of applying for an insurance policy. For that, I also needed to get my medical checkup done. It was during this checkup that I found out that I'm diabetic.
Talking about family history, my three grandparents had high sugar, so I am in the vulnerable category. Also, my father has had a Heart attack followed by Angioplasty and my brother is diabetic too.
Other than high sugars, my other concerns were auto-immune skin problems (psoriasis) as well as high cholesterol & triglycerides.
Surviving on medicines was something that my mind was just not acceptable, as it affects my skin condition.
I was always in the quest of finding a sustainable solution to the above when I came across a video clip of Dr. B.M. Hegde whom I have high regards for. He had mentioned Dr. Pramod Tripathi in it and was in great appreciation for him.
So, I researched more on Dr. Pramod Tripathi & joined FFD's Intensive Reversal Program batch 69 with the sole aim of getting freedom from diabetes medicines.
The results were swift, after following the Diabetes reversal protocols dedicatedly, within just 1 month all my medicines stopped. But this was just the start. Something more exciting was to happen in the future.
I had joined Taekwondo classes at RWF Taekwondo Academy, with my 13-year-old twins (Rea & Dev) before coming to FFD. It had helped me gain a lot of Confidence, Concentration & Fitness, and FFD proved to be the real 'Game-Changer' to excel in Taekwondo.
FFD helped me to reduce weight and get into the <54 kg category which was awesome. It also helped me improve balance with Yoga (30-day challenge), strengthen muscles with weighted anti-gravity stairs, resistance bands as well as gym weight exercises (Thanks to Dr. Malhar's advice), and to develop stronger confidence plus mind control through inner transformation.
Just see, how all the 4 FFD diabetes reversal protocols are well thought of. Each one helps enormously!
Of course, HBA1C has now come down from 10.10 in February to 6.1 in August. Triglycerides & Cholesterol have also come within the normal range.
I am off medicines now, unless I am traveling and there are disturbances in my routines or diet plan or daily meditation or exercise program, but there is nothing to worry about at all.
In July 2021, our Taekwondo coach Chandrashekar Sir and head coach Ramu Sir inspired me and nominated us (me and my twins) to participate in the State Taekwondo Championship which was held over the last week of August 2021 at Bangalore Kanteerava Indoor stadium where national events are held.
In the sparring bouts event, all 3 of us (me & my twins) got a good experience of the real live bouts in the actual stadium atmosphere and feel of the thrill of being in a battle.
All the while I was able to maintain equanimity in my thinking, thanks to the effects of meditation guided by your voice.
I also participated in the Non-combat Taekwondo Poomsae sequence event and managed to secure a Bronze medal!
Thanks for your crucial support in every phase of my FFD journey by Dr. Rajesh Wandre, Dr. Ramanand Mantri, Dr. Subhrosuchi Chakraborty, Dietician Ms. Beena & Inner Transformation Guide Ms. Kavita Modi as well as my mentor Ganesh Sridhar in the initial phases.
I am highly grateful for the Invaluable support by team FFD with systematic protocols under Dr. Pramod Tripathi's able leadership.
I would also like to thank my FFD batchmates, especially those who have been actively advising me in my journey, guiding me with their experience, inspiring me with their passion & showering me with motivating love.
My Taekwondo coach Chandrasekar Sir & Head Coach Ramu Sir, played a big role in my journey to win the medal!
As mentioned by Dr. Tripathi, the love of our family plays a key role in the FFD journey. I just couldn't have done this without the wholehearted support of my loving wife, Priya, who helped me maintain the FFD protocol diet and encouraged me through the journey.
Also, the blessings of my parents, Radha & Venugopal as well as their monitoring of my progress, were very motivating. Grateful to my kids Rea & Dev, who was my in-house coaches for Taekwondo.
Thank you, FFD for all the support! i