FFD's customized treatment worked wonders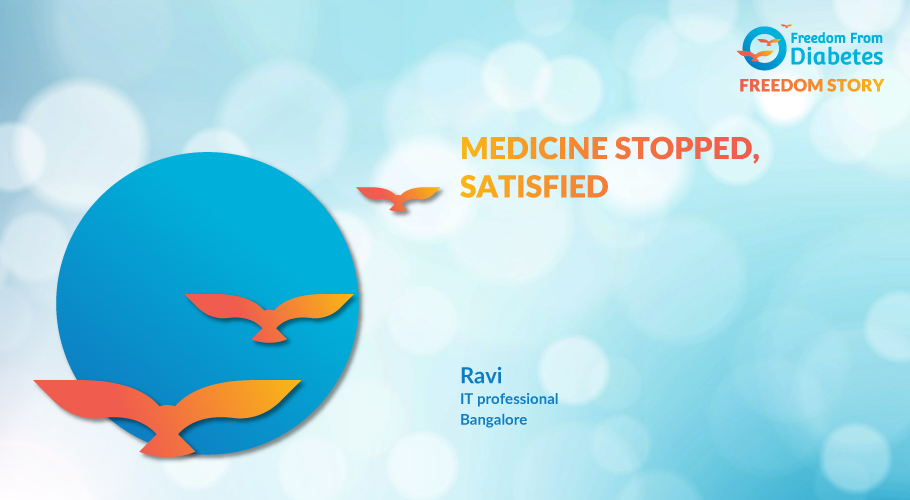 Medicine stopped, satisfied
Name- Mr. Ravi
Age- 39 Years Young
Profession- IT professional
Place - Bangalore
Hello all,

I'm Ravi an IT professional from Bangalore.
My diabetes story

I started noticing my weight loss in 2015. I was aware that it needed to be looked into because it was unintentional. The results of the proactive check were quite shocking. My HbA1c was around 8, and I had high blood sugar levels.

Luckily, diabetes has never run in the family. Other than frequent urination, my body did not exhibit any symptoms of diabetes.
How did I get to know about FFD?

FFD was unveiled on the internet. I just so happened to see some of the Dr. Pramod Tripathi videos that were going around. Why not give it a try, I wondered in my head.
What made me choose FFD?

I never liked being on medicines. With FFD, I saw a hope of going free of medicines. The introductory webinar by Dr. Pramod Tripathi added to my confidence and I enrolled in Freedom from Diabetes type 2 diabetes reversal program - HTP immediately
Reversal story

My sugars started falling in place soon after the program started. Within three months my HbA1c improved from 8 to 5.9 which was amazing. The sugar readings going red to orange and subsequently into the green zone have been a great motivation.

Weight-wise, I was never in the obese range yet I lost 5 kg which is superb. I am in the appropriate BMI range.

One thing I would like to appreciate is all the FFD-associated people are doing a great job. Their prompt response to my readings has been phenomenal.

I like to do cycling and have taken it up with my heart.
Key quote
'Guidance from FFD has been exceptional. There is tremendous positivity.'
Key takeaways
Medicine stopped
Weight loss 5 kg
Exceptional guidance