FFD's Diabetes Reversal Works. I experienced it.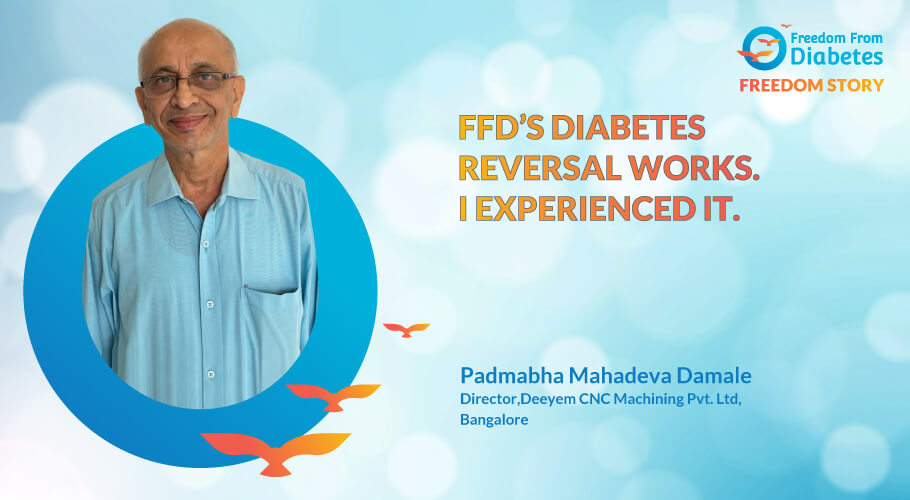 Name- Mr. Padmabha Mahadeva Damale
Age- 62 years
Profession- Director, Deeyem CNC Machining Pvt. Ltd
Place - Bangalore, Karnataka
I always thought of diabetes as a hereditary condition. It is clearly not. Although there is no history of diabetes in my family, in 2011 I was diagnosed with diabetes after a general health check. It was quite a shock. But it did explain the health problems I had been experiencing, like weight loss, general fatigue, and the appearance of spots on my legs.
The doctor immediately put me on oral medicine: Glycomet Trio Forte 2, post-lunch, and Jalra 50/500, after dinner.
Having lived my entire life without any medicine, I felt burdened by my daily medication. Furthermore, it didn't seem to be of much help, as my counts kept increasing, and the fatigue I felt never went away. The doctors told me that my condition was for life, which only depressed me further. I longed to get my health back, but it seemed like a dream.
Until FFD came into my life.

One day a colleague of my daughter's told me about FFD. She was herself a member of FFD and she impressed me with everything she told me about the organization and its success in reversing diabetes—something that I never thought was possible.
Energized and hopeful for the first time since my diagnosis, I attended FFD's Discover Reversal Session. Dr. Pramod Tripathi, FFD's founder, explained the science behind diabetes and the reversal program in a very easy-to-understand manner. I was so impressed; I immediately enrolled in the next Holistic Transformation Program (HTP) batch.
Mr. Padmabha Mahadeva Damale
Finding Freedom

The program is well structured and managed. I received a lot of encouragement and support from the FFD team. I was very impressed with their good attitude and humility. They never ever grumbled or got irritated. Regardless of any situation, they were able to guide me with patience.
On 20th July, I started following FFD protocols and by the end of July, I stopped existing medicine for diabetics. There were brief periods when I was asked to restart a tablet, but by October 2021, the doctor told me I was well enough to stop all my medicine.
I had never imagined that I could be living without medicines, but FFD made it a reality. FFD also exposed me to new diet and exercise protocols, which I follow religiously to this day. My weight loss journey continues. I have dropped 8 kg so far, and have been prescribed an anabolic smoothie to improve my BMI.
The program taught me a lot about meditation, optimism, and Einstein stress management. I feel good about myself, and life in general. It's a great feeling and I have FFD to thank for it all.